ENERGY STAR in the Workplace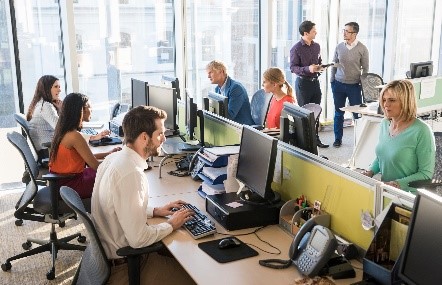 Energy use represents a significant cost of doing business today. Buying energy efficient products, measuring and managing your energy use, and creating a culture of efficiency makes good business sense.
ENERGY STAR certified office equipment, commercial appliances, electronics, lighting, and heating and cooling equipment can reduce operational costs – find out how!
Monitor and optimize your building's energy use, and compare your building to others in its class - in a secure online environment.
Are you among the top 25% for efficient buildings in your class? Learn how to get certified, recognized, and start saving!
Are you in charge of purchasing? Get the best value for your organization by selecting high efficiency products.
See how energy efficient office equipment can reduce overhead costs.
Energy benchmarking activities and methods used to integrate efficiency in your organization.
Calculate how much money and energy you can save with ENERGY STAR certified products, using our savings calculators.
Access tools and resources to train your staff about building energy use to help you measure and control your building's energy performance.
Tools, information, reference documents and training to help you find energy savings.
Learn how to carry out a major upgrade to your building's energy-consuming systems.
Meet the ENERGY STAR family