Flood mapping types and process
The importance of flood mapping
Flood maps are tools used to help prepare for floods and reduce their impacts. They outline potential flood hazards that help decision-makers with:
flood preparedness and mitigation
land use planning
emergency management
public awareness of flood risk
Types of flood maps
Flood maps identify the areas covered by water during actual or potential flood events. They can identify the probability of floods and its impact on structures, people, and assets. The following are the different types of flood maps used in Canada:
Inundation Maps
Maps that show the floodwater extent of real flood events, or that show potential floodwater coverage for flood events of different magnitudes. They are intended to aid in emergency preparedness plans for communities in floodplains and flood hazard zones.
Flood Extent/Emergency Maps
A type of inundation map that shows the distribution or extent of water during real-time events. They aid in emergency response and preparedness for communities situated within floodplains.
Flood Risk Maps
Demonstrates potential negative consequences that communities may face during a flood scenario. Consequences include social, economic, environmental and cultural aspects.
What is the difference between Flood Hazard and Flood Risk maps?
Flood hazard maps indicate geographic areas that could be covered by a flood. Flood risk maps use this information to identify vulnerability and estimate the consequences in terms of people impacted, damage to buildings, and/or other impacts of the hazard.
Federal Flood Mapping Guideline Series
The documents contained in the Federal Flood Mapping Guidelines Series is a resource for floodplain mapping projects and activities undertaken across Canada. These guidelines are meant to advance and standardize flood map activities.
These guidelines aim to provide advice to:
provinces and territories, whose responsibility it is to provide technical guidance to those implementing flood measures
individuals and organizations in Canada that need to understand and manage flood risks and their consequences to communities
For more information on the guidelines, visit Federal Flood Mapping Guidelines Series.
Flood mapping process
The creation of a flood hazard/risk map requires several steps and the expertise of many people. Steps in flood map creation range from community engagement and data acquisition to producing the map. The diagram below demonstrates the different steps of the process to create a flood map.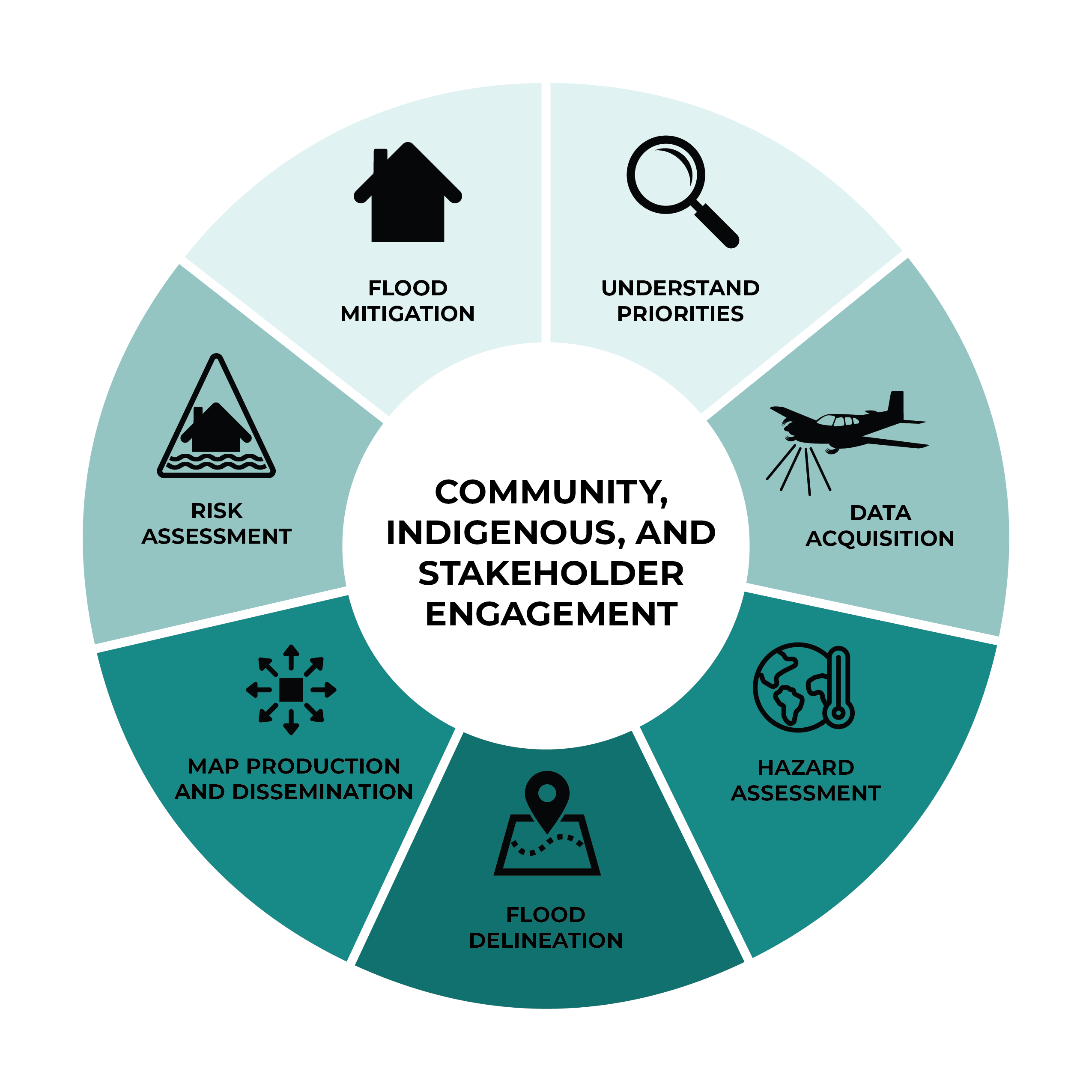 Understand priorities

Identify and prioritize areas at high risk of flooding that require up-to-date flood maps.

Data acquisition

Gather information on the area (such as land elevation (LiDAR), meteorological, and historical data) to help predict where the water will flow in case of flooding. This information is required for hydrologic and hydraulic modelling.

Hazard assessment

Analyze historic precipitation and flow data to understand future floods. Consider climate change, meteorology and other factors that contribute to potential flooding.

Flood delineation

Delineate flood levels and scenarios using hydrologic and hydraulic modelling. Hydrologic assessment estimates a range of potential flood flows, and hydraulic modelling calculates water levels along rivers for those flows.

Map production and dissemination

Produce and disseminate maps based on modelling for easier interpretation.

Risk assessment

Use maps and other relevant information to identify flood risk zones.

Flood mitigation

Implement land-use restrictions and invest in flood mitigation measures.

Involved in all steps – Community and Stakeholder engagement

Inform and gather feedback from community members and stakeholders every step of the way.
Examples of science and research that contributes to flood maps
Making accurate flood maps requires detailed information and a lot of science and engineering. The Government of Canada is dedicated to science and research that can support flood mapping and risk assessment. Below are a few examples of activities from Natural Resources Canada:
Watershed uncertainty and delineation
NRCan undergoes analysis of the uncertainty of watershed size or extent. This analysis is based on errors in digital terrain models representing elevation data, and location of the watershed outlet or pour point.
Artificial intelligence and feature extraction
Earth observation data like satellite and aerial imagery furthers understanding of a territory. Machine learning techniques (a branch of artificial intelligence) allows for the processing of a large volume of images with automatic and rapid identification of elements such as buildings, lakes and rivers, forests and roads. This data can then integrated into flood models to measure flood impacts.
CanFlood
CanFlood is an open source flood risk calculation toolkit designed for Canada. It is freely available online via Github or as a plugin in QGIS software.
Find out more about flood mapping
Reach out to us
For more information, please email geoinfo@nrcan-rncan.gc.ca