Remote Sensing Tutorials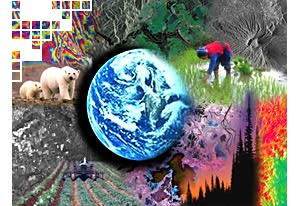 The Canada Centre for Mapping and Earth Observation (formerly Canada Centre for Remote Sensing) is pleased to offer this tutorial on remote sensing technology and its applications. This interactive module is intended as an overview at a senior high school or early university level and touches on physics, environmental sciences, mathematics, computer sciences and geography.
For teachers and students we have additional details and suggestions for using the tutorial.
Is this tutorial available in other formats?
If you want to use a hard copy version of this tutorial, then download the PDF version (PDF, 13.0 Mb) and print it in colour. It can be printed on either 8½" x 11" or A4 paper.
Permission for Use
This educational material within these tutorials is provided as is and may be copied in any form and used for non-commercial purposes provided that the content of the original material is not altered and it is clearly indicated that the Canada Centre for Mapping and Earth Observation (or Canada Centre for remote Sensing), Natural Resources Canada is the originator of this material.
Table of Contents