New report brings experts together for stronger, safer, more resilient communities
People in B.C. are exposed to a wide variety of potentially devastating natural hazards, including landslides, tsunamis, and earthquakes. Now, the first edition of the Resilience Pathways Report provides a better understanding of disaster risk, while considering climate change adaptation and evaluating the potential social and economic impacts on B.C. communities.
October 2022
Canada borders three oceans, spans six time zones and hosts diverse ecosystems and landscapes from mountains, plains, wetlands and forests to Arctic tundra and arid deserts. With recorded temperatures that reach from 45°C down to a chilling −60°C, it might not be surprising that Canadian weather patterns can vary from extreme cases of drought to seemingly endless rain.
With all that climate diversity, the possibilities of severe weather and geological events are a constant reality — especially along Canada's Pacific coast and extensive network of mountain ranges.
Natural Resources Canada (NRCan) and Defence Research and Development Canada (DRDC) have launched the Resilience Pathways Report. It paints a whole-of-society picture of disaster and climate risk in B.C., with insights from more than 70 experts from a variety of fields, working together for a resilient path forward for all Canadians.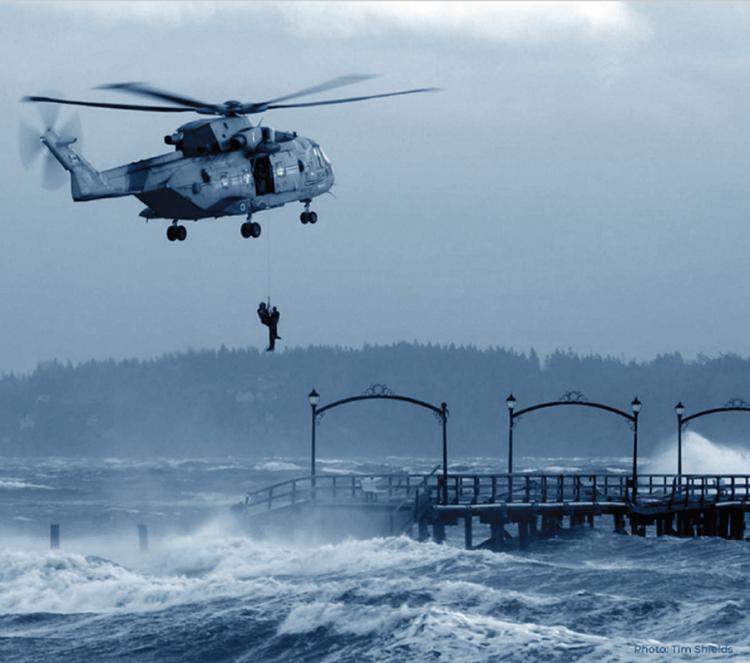 Climate and disaster risk in Canada
When a natural hazard affects Canadians to the extent that the community needs help, the event becomes known as a disaster. Canada is exposed to a variety of possible natural disasters, including wildfires, earthquakes, floods, landslides, avalanches, and volcanoes. To better understand the potential impacts of these natural disasters and prevent losses, a comprehensive understanding of who is at risk and what buildings, bridges and other major structures are in harm's way is key.
NRCan contributes to increasing disaster resilience through research on natural hazard processes. The team develops analytical methods and assesses knowledge on current and future threats. This work supports risk reduction decision-making in the areas of mitigation, adaptation, and emergency planning.
"Disaster losses could increase in the foreseeable future as a result of climate change, critical infrastructure interdependence and rising populations in urban areas in Canada," says Nicky Hastings, National Scale Geohazard Risk Project Leader at NRCan's Geological Survey of Canada. "It is key that we start this work now to help Canadians understand and prepare for disasters, support emergency planning, reduce loss and further the overall discussion on disaster resiliency in Canada."
The road ahead is forged together
The first edition of the Resilience Pathways Report seeks to better understand disaster and climate risk interactions along with socioeconomic development in B.C. by identifying gaps and challenges and by making recommendations for the way forward. It also provides an approach to collaborating and sharing insights on disaster and climate risk that can be applied by other provinces or territories across the country.
"The report provides important background on the state of knowledge and current practices used to understand and address natural hazards risks in B.C.," says Hastings. "It covers various natural disaster risks and also highlights the roles of media and access to open data."
What makes this report unique is the focus on togetherness. It's about bringing together scientists, researchers, policy experts and decision-makers from various backgrounds to work collaboratively. By calling on a wide range of experts to take a whole-of-society approach, this report looks beyond the science to present a detailed picture of the very real impact disasters can have on society.
The Resilience Pathways Report goes hand in hand with the global approach of the United Nations Sendai Framework for Disaster Risk Reduction, which recognizes the impact disasters can have on lives, livelihoods, health, businesses and communities. "Even more important than taking action is the need to define the roles and responsibilities for individuals and organizations," says Hastings. "The Sendai Framework provides guidance based on lessons from around the world to help reduce risks from disasters and meet long-range targets. Our report provides findings and recommendations that could potentially influence future policies and programs."
Future reports may include other important issues such as the role of the private sector, nature-based solutions and specific hazards like tsunamis, drought and extreme weather. This work is a crucial step in the right direction to build a more resilient Canada.
For information on how you can help contribute to a more resilient future in Canada, read more in the Resilience Pathways Report.
Explore:
It takes only seconds to save lives
Canadian Fatal Landslides Mapped