From Nova Scotia to the far North: A scientist's somewhat unexpected career
Ellen Whitman is a forest fire research scientist for the Canadian Forest Service. She works out of Natural Resources Canada's Northern Forestry Centre, Edmonton, Alberta
As a young girl growing up in Nova Scotia, Ellen Whitman was at the top of her class for biology, chemistry and all of her science electives — but she never thought she "fit" the role of scientist.
"Even though I excelled in my classes, I still came out of high school thinking I wasn't cut out to be a scientist," she recalls. "I don't know how I got that message or where that cognitive dissonance came from, but I'm glad I continued working toward it."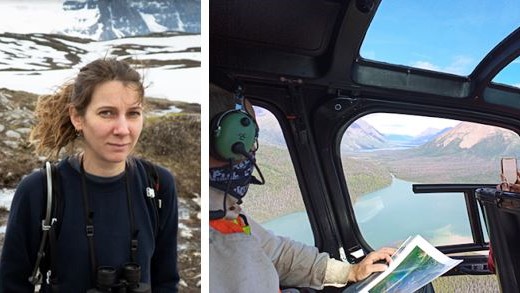 She loved art and exploring natural environments, so she first pursued a degree in urban planning with an honours in environmental planning. "The idea was that I wanted to learn about how humans interact with the environment and how we can balance our interactions to the benefit of both," she says. Recognizing she could use her interests in art through creating detailed maps, Ellen continued to follow her interests into a career working on wildfire ecology and fire remote sensing in northern Canada.
Ellen holds a PhD in forest biology and management from the University of Alberta (2019), where her research focused on wildfire frequency, fire severity and post-fire tree regeneration in the northwestern boreal forest. With this special combination of interests, she still spends a great deal of time conducting research on forests in the Northwest Territories and Yukon.
After her post-grad work, Ellen joined NRCan as an analyst where her excitement about leading science work and becoming a scientist grew into a passion. She is now a champion of encouraging more women to pursue careers in the STEM fields (science, technology, engineering and math).
"If we don't encourage these women, we're missing out on all these amazing scientific contributions, and that's not to anyone's benefit," she says. "There are also still some gaps that exist in terms of representation and pay, so I think we need to continue talking about it."
She believes in attracting inclusive and diverse voices to the world of science to the benefit of all. That's why it's important to her to mentor and collaborate with various underrepresented groups from all backgrounds.
If Ellen could go back in time and offer her teenage self some advice, she might say, "Follow your interests and don't limit yourself." Even though she didn't see herself as a scientist as a teen, in retrospect she says it's been amazing to work in this field. "If you choose to pursue the topics that interest you the most, you will enjoy your work, work hard at it and be successful."
Why did Ellen limit herself as a young girl from pursuing science? This International Day of Women and Girls in Science, NRCan recognizes the crucial role women and girls play in contributing groundbreaking scientific results and the barriers to their participation at all levels of STEM disciplines in Canada and around the world.
For more information:
Explore:
Wildland fires in Canada
Learn more about Ellen Whitman's work on ResearchGate
International Day of Women and Girls in Science