Geological Survey of Canada: Strategic plan and annual reports
At the Geological Survey of Canada (GSC), we provide authoritative geoscience expertise, knowledge and products to those making decisions about Canada's lands and resources. We work in every Canadian region as an integral part of Natural Resources Canada's Lands and Minerals Sector.
Building on our long history and deep connection to Canada's growth as a nation, we will continue to chart the course of a modern geological survey, responding to today's social and technological challenges.
Strategic plan 2018–2023
Our five priority areas
The research activities we conduct under applied geoscience science areas such as minerals, energy, climate change and permafrost, marine and coastal, groundwater and geohazards all map to the GSC five strategic priorities. The first three of those priorities (from left to right below) reflect stable and long-term areas of scientific study. The fourth (far right) is a new area, which expands geoscience's reach into land-use decisions and disaster risk reduction. Our fifth priority area of supporting a high-performing workforce supports the other four priorities.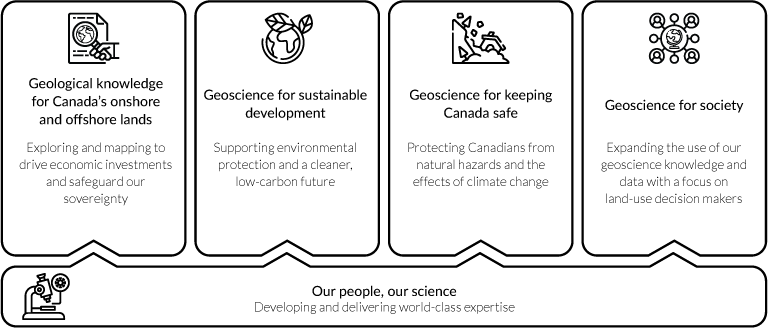 Read or download the GSC strategic plan
Annual reports
Read these reports to get an overview of the GSC, our corporate results and delivery structure, and science and technology program highlights by year. In 2020–2021, our $57 million budget, 474 full-time employees, 14 programs and 494 publications contributed deeply to the NRCan three core, mandated responsibilities: natural resource science and risk mitigation, innovative and sustainable natural resource development and globally competitive natural resource sectors.