I-joists
Product description
Wooden I-joists are engineered structural products used in floor and roof assemblies. They are a proprietary structural wood member in the shape of an "I". I-joists are constructed from two flanges of lumber or engineered wood such as laminated veneer lumber connected by a web of structural panels product using adhesives.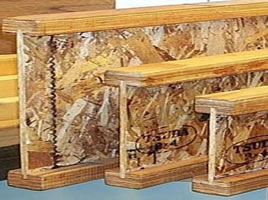 The cross-sectional "I" shape of these structural wood products provides a higher strength-to-weight ratio than traditional solid sawn lumber. I-joists offer an alternative to dimensional lumber in floor joists and roof rafters while using much less lumber than would otherwise be required. This is an example of how I-joists do more with less.
Technical information
I-joists can be manufactured to meet a wide variety of performance standards. Each manufacturer produces I-joists with unique strength and stiffness characteristics. The material used for the flanges (e.g., machine stress rated lumber, laminated veneer lumber or oriented strand lumber) and web (e.g., plywood, oriented strand board), as well as their size can be chosen to meet the floor or roof design requirements of particular uses. I-joists are also dimensionally stable, as they are manufactured with a moisture content between 6 and 12%.
As engineered wood products, I-joists are lightweight, uniform and not prone to warping. They are relatively light weight, meaning that they can be installed manually. However, special connectors are required because of the cross-sectional shape of the beams. Holes for electrical, plumbing or mechanical services may be pre-punched or drilled through the web. The size, number and location of the holes must follow the manufacturer's recommendations.
Exterior rated, waterproof adhesives such as phenol-formaldehyde and phenol-resorcinol connect the web to web and web to flange joints. Different combinations of flange and web materials using alternative connections between the web and the flanges are available from several manufacturers. I-joists are available in lengths of up to 20 m (66 ft) and in depths up to 2 ft.
To ensure that proprietary products have been manufactured under a quality assurance program supervised by an independent third-party certification organization, manufacturers typically have their products evaluated and registered under the requirements and guidelines of the Canadian Construction Material Centre.
Canadian Forest Service publications