Laminated veneer lumber
Laminated veneer lumber (LVL) is made of multiple layers of thin wood veneers bonded with structural adhesives. It is dimensionally stable since the veneers are kiln-dried before pressing.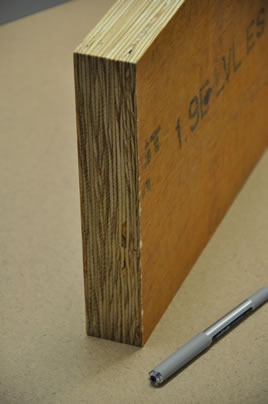 Several softwood and hardwood species are suitable for producing LVL. In North America, these species include:
Douglas-fir (Pseudostuga menziesii)
larch (Larix sp.)
poplar (Populus sp.)
southern yellow pine (Pinus palustris)
LVL can be used as a substitute for dimension lumber, because processing LVL removes or disperses any natural defects.
Laminated veneer lumber is used in:
residential construction
non-residential construction and tall wood buildings

floor and roof decking
shear walls
Other uses include:
roadway signs
scaffold planking
truck bed decks
Technical information
LVL veneers are usually placed parallel to each other. This process is different from plywood, where veneer layers are perpendicular. However, some manufacturers in Europe produce LVL with perpendicular veneers (cross lamination) to provide better dimensional stability, strength and stiffness. This difference in production method results in much stronger bending capacity for strength and deflection.
LVL is produced from graded wood veneers that are coated with a waterproof structural adhesive and formed into billets through heated pressing. Grading individual veneers helps to design the strength characteristics for each piece of LVL. Once processed, the billets are sawn to desired dimensions.
The most common thickness of LVL is 45 mm (1 ¾ inches). However, it is also manufactured in thicknesses ranging from 19 mm (3/4 inch) to 178 mm (7 inches). Wider beams are constructed by fastening multiple LVL plies together. The fastening and connection requirements of LVL are similar to those of solid lumber.
LVL is a proprietary product. Specific engineering properties and sizes are unique to each manufacturer. As a result, LVL does not have common standards of production or design. Design values come from test results analyzed in accordance with the Canadian timber design standard (CSA O86). The Canadian Construction Materials Centre (CCMC) reviews and approves LVL design values.
LVL is one of many products used in mass timber construction projects across Canada.
Canadian Forest Service publications