Hardwood
Product description
Hardwood species are broadleaved (such as oak, maple or teak) and are used to a much lower degree than softwood species (such as spruce, pine or fir) in the Canadian forest industry. Hardwoods have a more complex structure than softwoods and often grow much slower as a result.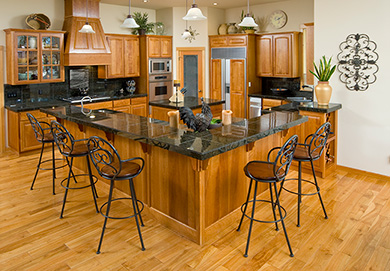 Most of the products manufactured from softwood species can also be produced from hardwoods, but they tend to have different properties. Hardwood species are used more for non-structural, visual applications such as furniture, flooring and cabinet doors because of their greater colouring, grain and overall pleasing appearance. The aesthetic applications of hardwood give it more value than if it was used for structural applications. Some uses of hardwood include:
cabinetry
flooring
furniture
musical instruments
architectural detailing
interior design (decorative flooring/walls)
High-quality hardwoods are made into lumber and veneers, while low-grade hardwoods such as aspen can be used in oriented strand board, plywood and structural composite lumber. There is a recent interest in using hardwood in the manufacturing of structural mass timber products such as cross-laminated timber (CLT).
Technical information
On a global level there are two distinct types of hardwood species: tropical and non-tropical. Tropical species are found in Africa, Asia and Latin America, and non-tropical species are found in North America, Europe and Russia.
Factory lumber, the most common type of hardwood, is sold in random lengths and widths within thickness classes. It is then broken down into smaller pieces known as "cuttings," usually based on the quality of one face meeting appearance grade specifications. The cuttings are then remanufactured or processed into higher-value secondary products such as furniture, cabinets, flooring and millwork.
Hardwood veneers are produced from logs or flitches. They are typically used as decorative surfaces for lower-quality woods or substrates (e.g., particle board and medium-density fibreboard (MDF)) or in applications that require contoured or bent wood (e.g., architectural millwork or furniture). Veneers are also used in the manufacturing of hardwood plywood panels. Non-structural panel products used in applications where the aesthetic characteristics of the face veneers are exposed.
As the name suggests, the wood from these trees is generally stronger and more hard-wearing than that of softwoods, but there are significant exceptions.
Canadian Forest Service publications