Cross-laminated timber
Product description
Cross-laminated timber (CLT) is a new generation of engineered mass timber product. Several layers of kiln-dried lumber stacked in alternating directions are bonded with structural adhesives and pressed to form a solid, straight, rectangular panel.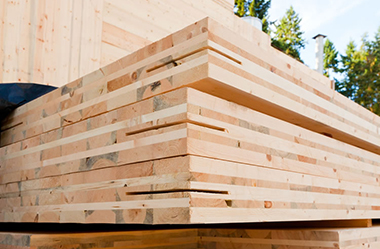 CLT is often used for floor and roof assemblies. It can be left exposed or kept behind drywall. It is used in shear walls and loadbearing walls, as well as beam applications for headers.
By gluing layers of wood at 90-degree angles, the panel delivers excellent structural rigidity in both directions. This allows for two-way bending action when used in floors and roofs. The panels are lightweight, yet very strong, with superior acoustic, fire, seismic and thermal performance.
As a prefabricated building product, CLT offers shorter on-site construction time compared to traditional wood frame or steel and concrete construction systems. The wood used for CLT stores carbon and can be reused or recycled.
Technical information
CLT panels consist of an odd number of layers. However, some manufacturers produce CLT panel layups with 2 outer adjacent, parallel layers in panels with 5 or more layers. The lumber can be visually graded or machine-stress rated.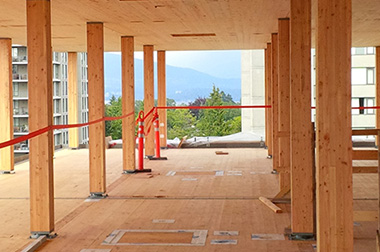 Computer numerical controlled machines cut openings into the panels to arrive ready for installation. Typical sizes are approximately 2.4 m x 12.2 m (8 ft. x 40 ft.). Depending on shipping restrictions, panels can measure up to 3.7 m x 18.3 m (12 ft. x 60 ft.).
Lower-quality lumber is sometimes used for the interior layers of CLT, while higher quality, more visually appealing lumber is used for the outer layers. This provides an economic use for wood degraded by pests and disease, such as wood from trees attacked by the mountain pine beetle.
CLT is one of several products used in mass timber construction projects across Canada.
Canadian Forest Service publications