Edge-glued panels
Product description
Edge-glued panels are non-structural wood products used in the manufacturing of products such as furniture and cutting boards. They are relatively wide and thin, produced by laminating narrow pieces of wood along their edges to create products of greater width using glue.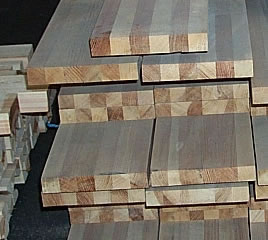 Edge-glued panels are gaining importance as an alternative to non-laminated timber products due to their dimensional stability. They are commonly used for building table tops, doors, benches, chests and wardrobe cabinets.
Technical information
The narrow pieces of wood used for edge-glued panels might come from waste products of other processing operations, or could be cut from larger pieces of wood to remove visual defects such as knots. The finished panel is more stable than a single piece of wood of the same dimensions. It resists warping, cupping and twisting because of the random orientation of the grain in the adjacent pieces.
Edge-glued lumber continues to have the natural characteristics of solid wood, but the reaction to swelling and shrinkage, warping, and bowing, is minimized by a proper machining and gluing process.
Edge-glued panels are produced from both hardwoods and softwoods. The gluing process means that the raw wood material keeps all of its natural features and is rendered more stable and durable. Individual wood pieces may also be finger-joined along their length to allow smaller lengths of wood to be incorporated into the finished product. The glues commonly used produce light-coloured glue lines, which are desirable since the products are used in primarily visual applications.
Canadian Forest Service publications