Finger-joined lumber
Product description
Finger-joints are used to join short pieces of wood together to form pieces of greater length. The joint is composed of several meshing wedges or "fingers" of wood in two adjacent pieces and is held together with structural adhesives.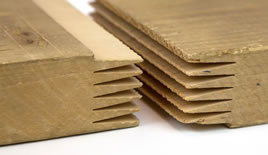 Finger-joined lumber is used for both structural and non-structural products. Structural product uses include vertical studs and horizontal plates in residential platform-frame construction and the manufacturing of cross-laminated timber and glue-laminated timber. Non-structural uses include moulding and trim.
Technical information
After defects are cut and the finger profiles are machined, glue is applied to individual wood pieces. The two parts of the joint are pressed together as the glue cures. This approach permits side grain at the finger locations to be glued together. This produces a much stronger bond compared to the product made by simply gluing the end grain of two pieces together in a butt joint.
The fingers are cut to a greater depth in structural joints than in non-structural joints. The fingers may be cut parallel to either the wide or narrow face of the wood being joined. Appropriate glues are used either for interior applications or for products that may experience exterior environmental conditions.
Since the grain pattern along the length of finger-joined lumber is randomized by the inclusion of several shorter pieces of wood, the finger-joined lumber is less likely to warp than dimension lumber. As a result, finger-joined lumber may command a higher price than single pieces of dimension lumber.
Canadian Forest Service publications