Glue-laminated timber
Product description
Glue-laminated timber (glulam) is an engineered structural product composed of multiple pieces of dimension lumber (or other types of wood lumber, such as machine stress rated lumber) glued together into a desired form. While glulam can be considered as a substitute for softwood timber or steel beams, it can also be produced in far larger sizes than any individual piece of timber can attain and is a much more consistent product.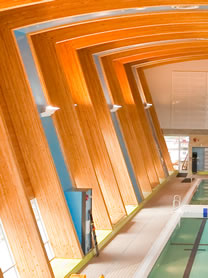 Glulam is used primarily in non-residential structural applications and is also often incorporated into the architectural or aesthetic design of a structure. In addition, it can be used in residential construction to span large spaces like three-car garages.
Technical information
Glulam is made from high-quality dimension lumber ("lamstock," usually 1½ inches thick) glued together so that the grain of all laminations runs parallel to the length-wise direction of the finished product. The laminations are usually non-destructively tested (that is, they are machine stress rated rather than tested to destruction), so that engineered beams of predetermined strength can be fabricated. Laminations are finger-jointed to increase their length and edge-glued to increase their width.
Glulam is produced from strong softwood species such as Douglas-fir, lodgepole pine, western hemlock and southern yellow pine. Typical glulam members range in depth from 6 inches to 8 feet or more. Lengths of up to 130 feet may be formed, but practical limits of transportation clearance may restrict the length of a glulam member. Curved members may be produced by bending the laminations to their desired shape using forms during lay-up of the laminations.