Land Cover

Canada's land surface is covered with different vegetation types, built environments, water, desert, rock, ice and snow formations. Natural Resources Canada uses remote sensing data to accurately and efficiently map this vast area.
Studying Canada's Land Cover from Space
The Canada Centre for Remote Sensing (CCRS) at Natural Resources Canada uses data collected by Earth observation satellites to produce accurate, efficient and cost-effective data and images of Canada's land cover.
How it works
To produce land cover datasets, remote sensing scientists compile cloud-free mosaics from thousands of satellite images collected in the short summer months when snow and ice cover is lowest. Then, using advanced machine learning techniques and complex algorithms developed and verified through fieldwork, CCRS scientists use high performance computing to identify land cover types within the images.
The result is a collection of continental, national scale and regional land cover products encompassing different time periods and frequencies, and at different spatial resolutions.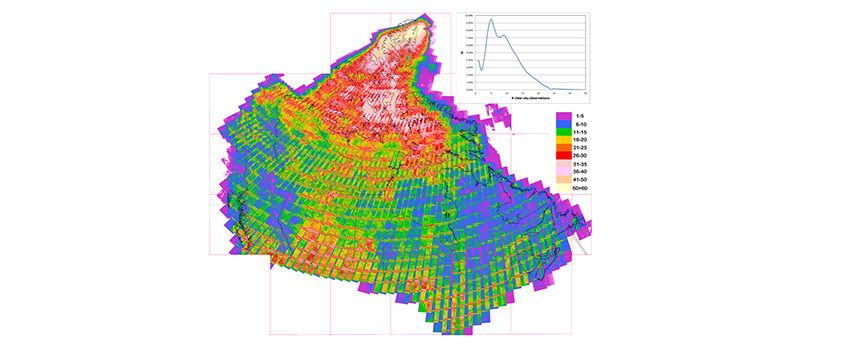 Available number of clear-sky observations per pixel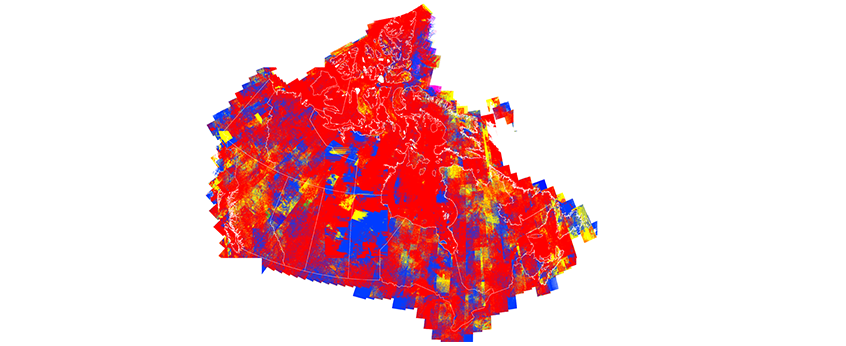 Year of selected observation

Number of available Landsat scenes 2009-2011 during July-August period

Pixels used in the new composite, by tile and acquisition year
Why is land cover important?
Land cover characterizes many environmental and economic elements, including weather, migration patterns, agriculture and forestry production, where people can live, the availability of clean water, and the frequency and severity of natural hazards.
Understanding land cover means knowing where surface features on the earth are located, where one type of land cover ends and another begins, and how they are changing over time. Understanding land cover is vital to:
Inform emergency preparedness strategies, resource development and ecosystem studies
Understand environmental change and cumulative effects (the effects of human activities on the landscape
Monitor the impacts of climate change and inform adaptation
Land Cover Publications
Canada's Land Cover Web Map (Atlas of Canada)
Explore Canada's land cover through this interactive web map.
Canada's Land Cover Poster (Version 2010) (Version 2015)
Download and print a copy of Canada's Land Cover, including descriptions of land cover classifications.
Multi-temporal land cover mapping for Canada: methodology and products
Read about the methodology used to produce land cover maps of Canada for 1985, 1990, 1995 and 2000 from advanced high-resolution radiometer sensors (AVHRR).
Development and assessment of a 250 m spatial resolution MODIS annual land cover time series (2000-2011)
Discover the scientific approach used to develop an annual land cover time series (LCTS) covering Canada for 2000-2011.
Circa 2010 Land Cover of Canada: Local Optimization Methodology and Product Development
Learn about the mapping approach used to create Canada-wide land cover dataset; Canada's contribution to the North American Land Change Monitoring System (NALCMS).
Arctic circumpolar mosaic at 250m resolution using MODIS/TERRA imagery
A description of methods used to create the first clear-sky mosaic for Canada's Artic circumpolar zone for International Polar Year (IPY).
Northern Land Cover of Canada – Circa 2000
Support applications related to land cover in Canada's north with this dataset of land and vegetation cover derived from Landsat data.
North American Land Change Monitoring System "Remote sensing of land use and land cover: principles and applications" (pp 303-324)
Learn how remote sensing can be used for land-cover mapping, monitoring and characterization from local to international scales.
Earth Observation for the Sustainable Development of Forests Map
Access this map of Canada's forested land cover generated from Landsat satellite data.