Refrigerators
An ENERGY STAR® certified fridge (refrigerator) uses 9% less energy, on average, than a standard model. Saving energy saves money and reduces your carbon footprint.
Benefits of ENERGY STAR certified refrigerators
A top-freezer refrigerator that is ENERGY STAR certified uses less energy than a 60-watt light bulb.
Improvements in insulation and compressors contribute to energy savings.
Refrigerator types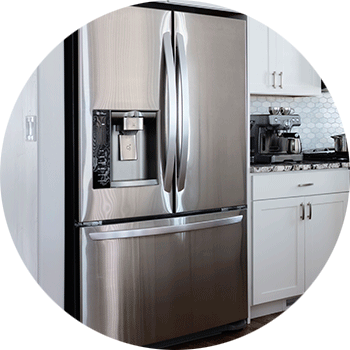 Refrigeration units fall into three main groups:
Models without automatic defrost—standard-size refrigerators and refrigerator-freezers
Models with automatic defrost—standard-size refrigerators and refrigerator-freezers
Compact models—refrigerators and refrigerator-freezers with total refrigerated volumes of less than 219.5 L (7.74 cu. ft.) and overall heights of less than 91.4 cm (36 in.)
For more information on types, see the energy efficiency standard table for refrigerators, and refrigerator-freezers.
The ENERGY STAR Promise
All ENERGY STAR certified products are tested to meet strict efficiency specifications and are certified by an independent third party. They perform the same as or better than standard products without compromising performance in any way.
Start your research using the ENERGY STAR Product Finder tool to find and compare certified refrigerators (You will be redirected to the U.S. ENERGY STAR website).
Why should you choose ENERGY STAR?
Reduce your at-home energy consumption
Keep your home comfortable
Reduce your carbon footprint
Tips for choosing an energy efficient refrigerator
When you buy a new fridge, recycle the old one instead of reusing it elsewhere (even in the garage or at the cottage). An old refrigerator uses about 35% more energy, on average compared to a model that has earned the ENERGY STAR certification.

When choosing between similar models, take a close look at the EnerGuide label to learn how much energy they'll use each year and over the lifetime of the product. And remember… the lower the number the better!

Refrigerators that have earned the ENERGY STAR Most Efficient designation are the best of the best – they'll save you more energy than standard models.
How to use your refrigerator efficiently
Position your fridge away from heat sources. This includes ovens, dishwashers, heating vents and direct sunlight.

Set the fridge between 1.7° and 3.3°C (35° and 38°F) and the freezer at -18°C (0°F). These temperatures promote maximum efficiency and food safety.
Clean the condenser coils regularly. Accumulated dust and pet hair can restrict airflow, causing the motor to work harder and use more energy.

Allow for airflow inside. Avoid overfilling the fridge or freezer compartment.
Keep the door seals clean and tight. If a sheet of paper placed in the door slides around or slips out, or if light from a flashlight placed inside can be seen through the seals, it's time to replace the seals.
Regulations set the energy efficiency minimum
Refrigerators, refrigerator freezers and miscellaneous refrigeration products such as coolers and wine chillers are subject to Canada's Energy Efficiency Regulations, which set a minimum performance standard for their energy efficiency. Find details in the Guide to the Regulations.
Connect with us
Follow us on any of our social media channels for energy-efficient tips, rebates, giveaways and much more.
---
The ENERGY STAR name and symbol are trademarks registered in Canada by the United States Environmental Protection Agency and are administered and promoted by Natural Resources Canada.