Biorefineries: Helping Transform Canada's Forest Industry
By Chantal Hunter
Pulp and paper mills across Canada are transforming themselves into modern biorefineries by producing a wide range of new forest products.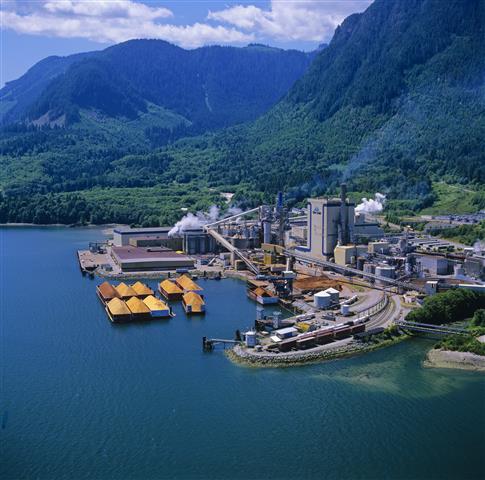 Canadian pulp and paper mills have been reinventing themselves in recent years in response to increased international competition and reduced global demand for forest products such as newsprint.
As a result, many mills have started integrating biomass conversion processes and equipment into their operations to produce a wide range of biobased, non-traditional products. Dubbed "forest biorefineries," these mills have begun producing biofuels, materials, and a host of biochemicals.
Nanocrystalline cellulose (NCC) and cellulose filaments (CF) are two such materials with vast potential. They can improve existing industrial products such as textiles, enhanced papers, plastics and specialized coatings. These products are derived from wood fibre. Other examples include bioethanol and biomethane.
Turning Kraft Mills into Forest Biorefineries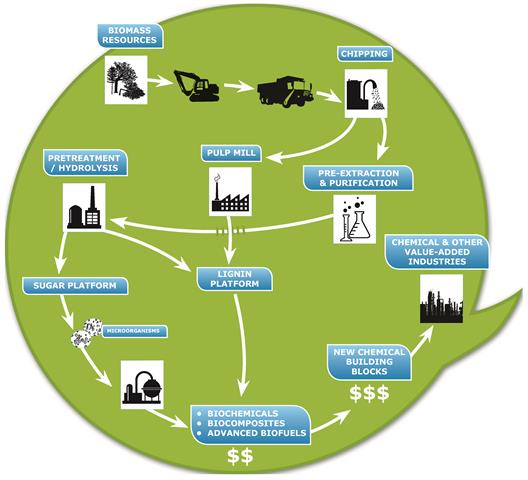 A kraft pulp mill in Boyle, Alberta, is transitioning toward becoming a biorefinery. In fact, Alberta Pacific Forest Industries Inc.'s facility has begun producing commercial grade biomethanol. The gas will be sold and also used in its operations, thus allowing the mill to expand its product offerings while producing a green industrial product.
Partnering for Forest Biorefineries
Scientists and researchers at Natural Resources Canada are working with industry to support this transformation. For example, scientists at CanmetENERGY are partnering with industry and other stakeholders to develop tools that will help evaluate the economic viability and environmental impacts of integrating various biorefinery strategies into existing pulp and paper mills.
As well, a new software program being developed by CanmetENERGY will help mills determine which biorefinery equipment best meets their needs, as well as identify the optimal location within the mills to implement this equipment.
"Implementation of biorefinery technologies in pulp and paper mills involves a series of successive operations that process and transform biomass, such as wood previously left behind from harvesting activities, milling operations and pest infestations into a variety of commercial products that impact the mills' energy profile," says Eric Soucy, a director with CanmetENERGY's Industrial Systems Optimization branch. "Our research will help pulp and paper mills select the best biorefinery technology and give them access to a variety of bioproducts adapted to each mill."
Biorefinery Research for the Future
NRCan and FPInnovations are conducting research with partners such as universities and utility companies. This research benefits from the FPInnovations Biorefinery Initiative, which allows many pulp and paper plants to offer and share data required for analysis.
"The ultimate goal is to contribute to the revitalization of the pulp and paper industry by enabling the mills to access new bioproduct markets while remaining competitive on the traditional pulp and paper market," says Glenn Mason, Assistant Deputy Minister, Canadian Forest Service.
For more information, visit the Natural Resources Canada Web site