Pacific Forestry Centre arthropod reference collection
The Pacific Forestry Centre arthropod reference collection (PFCA) is the largest repository of forest invertebrates in Western Canada. This collection includes approximately 153,800 specimens (8,300 species) of insects, mostly Coleoptera, Lepidoptera and Hymenoptera, collected primarily from British Columbia and the Yukon between the late 1940s and today.
The goal of the collection is to provide reliably identified reference specimens to:
document biological diversity,
to support identification of arthropods of concern to forest health, and
support quarantine policy administered by the Canadian Food Inspection Agency.
Available to scientists, academics and researchers via loan requests, this long-standing collection can provide historical information such as the first occurrences of invasive forest pests or if outbreaks are cyclical.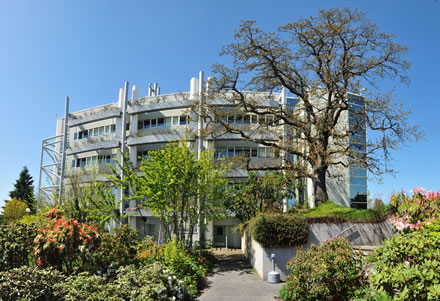 What's in the collection
The collection includes pinned, pointed, inflated, ethanol preserved, slide mounted specimens, damage samples and photographs of specimens.
All life stages (eggs, larvae, pupae, adults) are represented where possible.
Species collections try to capture morphological variation, habitats, hosts, geographic and temporal distributions.
The entire collection is electronically data-based and includes the number of specimens of each species, its life stage and preservation method.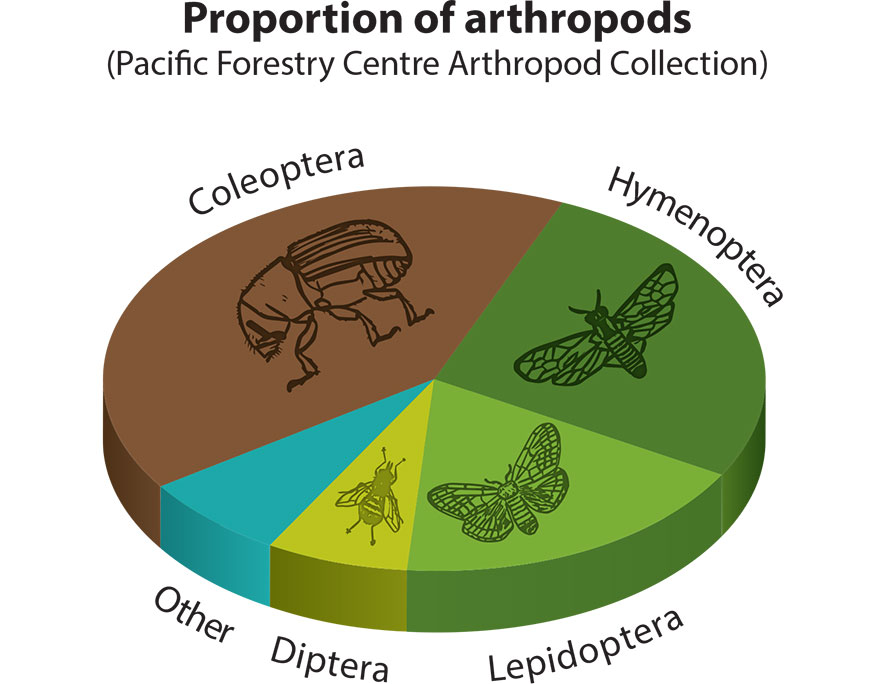 Text version

Infographic: Proportion of arthropods (Pacific Forestry Centre Arthropod Collection)

Of the 153,800 specimens that presently make up the Pacific Forestry Centre arthropod reference collection: 41% Coleoptera, 27% Hymenoptera 18% Lepidoptera, 7% Diptera and 7% other orders.
History of the collection
Many of the specimens were collected in British Columbia and the Yukon by forest rangers of the Forest Insect and Disease Survey (FIDS) between the late 1940s and mid-1990s. From the mid-1990s acquisitions shifted from native species to exotic insects associated with forests and forest products. With increasing globalization and the worldwide transfer of pest species, the focus of the collection has shifted to include major pest species from temperate jurisdictions.
Accessing the collection
The collection is available to scientists, academics and researchers via requests from universities and research institutions.
Requests should include the researcher's name and institutional affiliation, the reason for borrowing the material and the names of the specimens requested. Loans are for six months. All specimens must be stored in dermestid-proof cabinets and treated carefully. They should remain in their protective boxes except during actual examination.
For more information, to request a visit or a loan of specimens for scientific research, contact Meghan Noseworthy.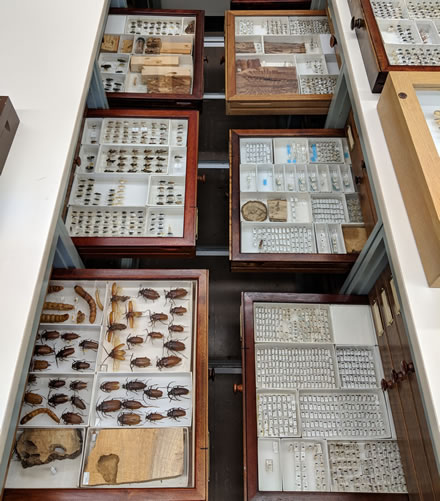 Contributing to the collection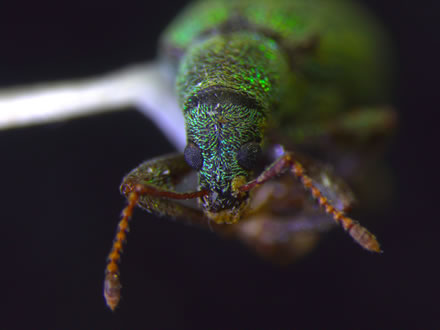 Voucher specimens documenting species in forestry related publications can be deposited in the collection. Additionally, novel records, particularly specimens that are biologically unique or represent a new distribution or range extension for a particular species are also of interest.
Contributions must be in good condition, clean and properly preserved, mounted and labelled (based on Insects and Arachnids of Canada Part 1 Collecting, Preparing and Preserving).
Label information for a specimen must include location (latitude/longitude), date collected, collection method, collector's name, habitat or substrate found on, or the trapping method used, identification and determiner's name. Larger collection submissions accepted if fully databased.
Other Canadian Forest Service (CFS) arthropod collections