Forest land ownership
The majority of Canada's forest land, about 94%, is publicly owned and managed by provincial, territorial and federal governments. Only 6% of Canada's forest lands is privately owned.
This means that all those jurisdictions – provincial, territorial and federal – together have the ability to create and enforce the laws, regulations and policies required to meet Canada's commitment to sustainable forest management across the country.
Overview of forest land ownership in Canada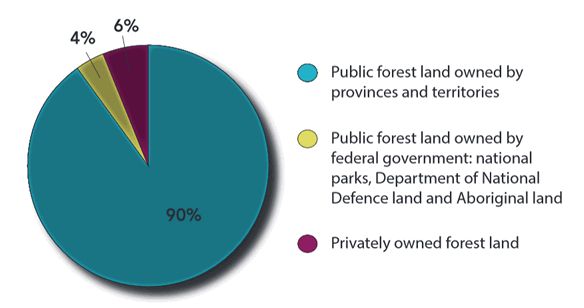 Public forest land owned by provinces and territories: 90%
For the 90% of Canada's forests they own, the provinces and territories have many responsibilities and powers. They:
develop and enforce forest laws
set up a licence or timber supply agreement with forest companies that want to harvest timber in publicly owned forests
specify the responsibilities of the forest companies that are given access to public forests
monitor the activities of those forest companies to ensure that laws, lease agreements and forest management plans are complied with
collect royalties from forest companies for the timber they harvest from public forests
manage designated protected areas, such as provincial parks and conservation areas
Forest management planning is a key tool used to ensure that Canada's publicly owned forests remain healthy and vibrant and are managed sustainably. Learn more about forest management planning in Canada.
Public forest land owned by federal government: 4%
The 4% of Canada's forests owned by the federal government are located mainly in national parks, on lands owned by the Department of National Defence, and on lands held in reserve for, or otherwise controlled by, Aboriginal Peoples.
The federal government departments responsible for regulating and managing forestry operations on these lands include:
Aboriginal Affairs and Northern Development Canada
Department of National Defence
Natural Resources Canada
Parks Canada
Privately owned forest land: 6%
Although only 6% of Canada's forests are privately owned, they contribute substantially to the country's wood products sector.
This category is made up of large forests owned by forest companies, notably in the provinces of New Brunswick, Nova Scotia, Ontario, Quebec and British Columbia.
The rest of the private ownership category includes small family-owned forests and woodlots.
One-tenth of the timber harvested in Canada comes from private lands.
Learn how forest laws govern forest management in Canada
Canada's forest laws ensure that sustainable forest management practices are followed across the country on publicly owned forest lands. On privately owned land, government, landowner and community oversight efforts help influence and regulate forest practices, with the aim of seeing sustainable forest management carried out as widely as possible. Read about the forest laws in Canada.
Related reports and statistical data