Joining forces internationally to better understand and fight forest fires
Wildland fire challenges in Canada and around the world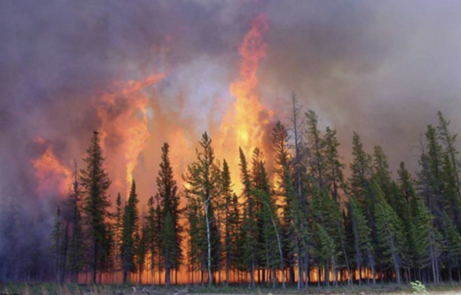 Wildland fires have the potential to be at once harmful and beneficial. They can cause forest degradation and may result in the loss of human lives, economic devastation, social disruption and environmental deterioration. Yet wildland fires are a natural part of the forest ecosystem and important in many parts of Canada for maintaining the health and diversity of the forest. As we understand more about wildland fires and improve our ability to predict and manage both their positive and negative effects, we will be better able to co-exist with this powerful force of nature. In some cases, fire can be prescribed as a valuable resource management tool for enhancing ecological conditions while limiting potential damage and costs. This makes wildland fire management a vital component of both sustainable forest management and emergency management in Canada.
British Columbia, the prairies and northwest Ontario experienced extended drought in 2021.
In June 2021, when the temperature reached 49.6°C in the village of Lytton, British Columbia, many were shocked to hear of such record-breaking heat in Canada.
Wildland fire activity is increasing around the world. Because of climate change, fire-prone conditions are predicted to increase over much of the globe, and as this happens, risks to lives, livelihoods, communities, nature and biodiversity will continue to increase. Canada is no exception and is already experiencing the effects of climate change (warmer temperatures, unpredictable precipitation, and drier forest conditions) that are resulting in longer fire seasons and, on average, a cost increase of about $150 million per decade since data collection started in 1970.
In this context, it is of utmost importance to better understand and manage wildland fires. To achieve this, Canada is working hard to enhance its own firefighting capacity. One way of doing so over the last decades is through the development of partnerships within the country and around the world. Together with our "friends," we can learn from each other and try to help people and ecosystems prepare and adapt in response to shifts in wildland fire frequency, severity, and size. Ultimately, this will result in a better management of forests and protection of surrounding communities.
How often do we "call a friend" for help?
Since 1982, there are only a few years when there hasn't been support one way or the other.
Noteworthy Canadian mobilizations to the United States:
In 2000, over 1,300 Canadian personnel mobilized to the United States in what was a truly record-setting year.
In 2020, 594 Canadian firefighters and specialist staff participated in deployments to the United States.
United States mobilizations to Canada:
2017 – 47 personnel
2018 – 12 personnel
2019 – 418 personnel
Calling a friend in a time of need
When fire hazard is high and firefighting resources in Canada are inadequate for the anticipated fire load, Canada is able to efficiently "call a friend" when needed through formal international arrangements. For example, Canada and the United States have a long history of cooperation and robust reciprocity through the Canada/United States Reciprocal Forest Fire Fighting Arrangement, signed in 1982. Similarly, resource exchange and cooperation arrangements are also in place with countries such as Mexico, Australia, New Zealand, South Africa and Costa Rica. Within Canada, fire agencies share firefighting personnel and equipment, such as pumps, hoses and aircraft on a formal basis under the Canadian Interagency Mutual Aid Resources Sharing (MARS) Agreement.
Valuable partnerships from around the world
During the 2018 fire season, Canada received more than 840 international personnel through these arrangements, totalling more than 19,800 person-days of work – representing 38% of the total person-days dedicated to wildland firefighting in Canada during the 2018 season.
Similarly, in 2021, 367 international personnel were deployed to various provinces in Canada to assist with wildland fire challenges – 203 personnel from Mexico; 55 from Australia; 109 from South Africa. Collectively, these international personnel totalled 17,778 person-days and accounted for 37% of the total person-days dedicated to wildland firefighting in Canada during the 2021 season.
Sharing knowledge and building partnerships around the world
Canadian science used around the world
The Canadian Forest Service developed the Canadian Forest Fire Weather Index (FWI) System, which is the most widely used fire danger rating system in the world. This advanced intelligence information allows time to implement fire prevention, detection, and pre-suppression action plans before disaster fires occur, including the coordination of resource-sharing and mobilization within and between countries.
The Canadian Forest Service (CFS) has a long history of active involvement in international fire initiatives beginning with research collaborations between scientists in Canada, the United States and Australia. These were scientists who anticipated the growing importance and threat of global wildland fire and started the involvement of CFS in international fire management and research committees.
Through these collaborations, and particularly after the 1960s, the CFS came to be recognized worldwide for its extensive field-centred experimental burning programme as exemplified by the International Crown Fire Modeling Experiment, which provided foundational knowledge to develop new fire danger and fire behaviour prediction systems.
CFS is widely recognized for sharing fire science and technology (S&T), particularly with countries in the developing world, and for collaborating on multi-national research projects. The Canadian Interagency Forest Fire Centre, which represents all federal, provincial and territorial fire agencies, also engages internationally on wildland fire management issues.
International Crown Fire Modeling Experiment in the Northwest Territories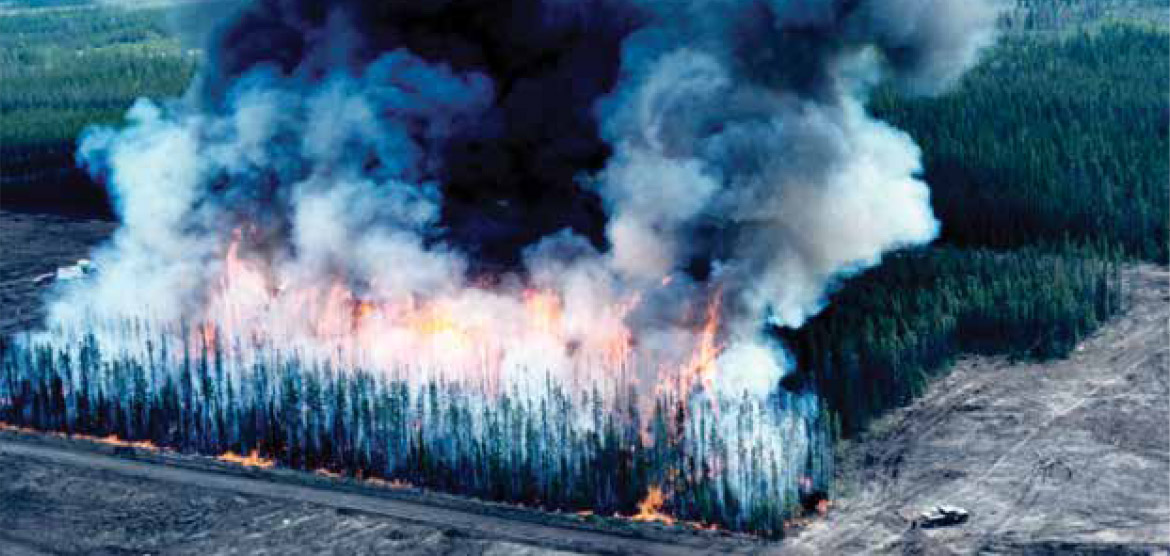 Countries around the world who help to better understand and manage wildland fires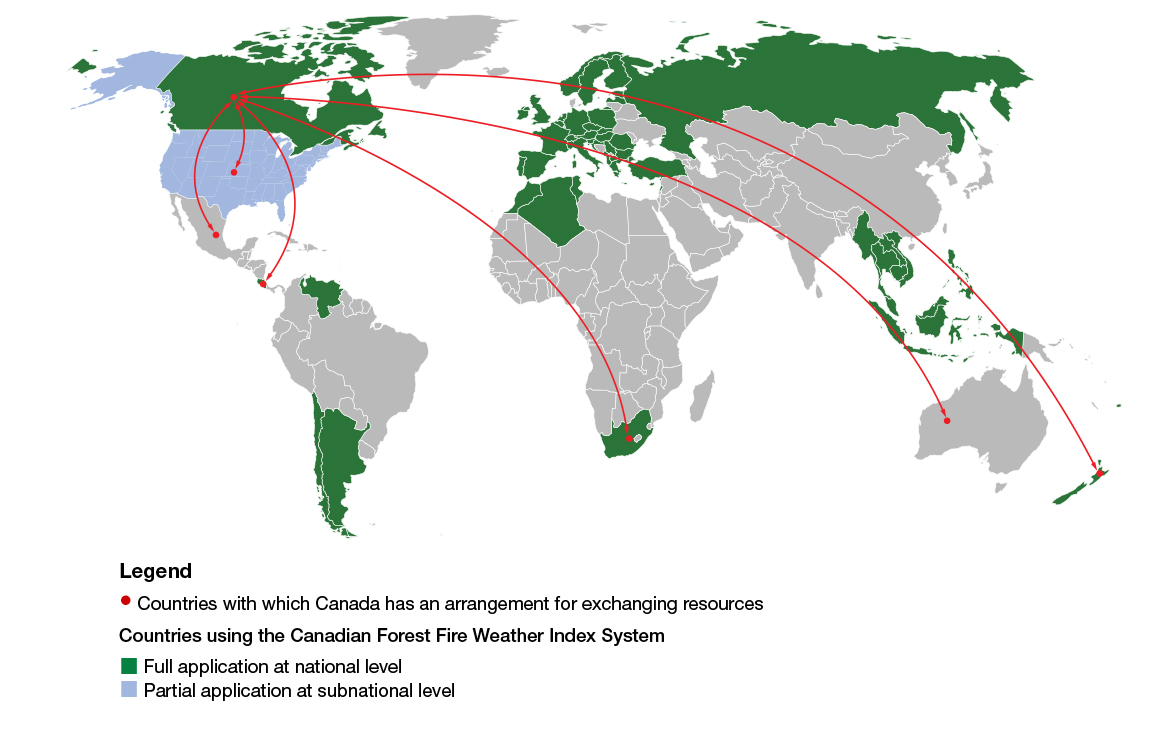 Foundations for the future
As the challenge of managing fire in populated landscapes increases around the globe, there is increasing recognition that we need effective international cooperation to develop solutions that will allow us to better manage risks and increase resiliency.
Fire does not respect national boundaries, and no single jurisdiction has the solution to effectively managing wildland fires.
With its long history of wildland fire research, development and applications, and technology transfer to the fire management community, many countries expect Canada to step up and play a leading role to enhance international cooperation on fire management and information sharing. Many would view this as a key step in the evolution of a new, better-informed, and interconnected global fire community. For Canada's part, strengthening our engagement in international fire-related research and management issues would also strengthen both our own prevention and response capacities to wildland fires, helping 1. to anticipate the coming challenges and enhance our ability to mitigate fire risks before they occur and 2. to improve our forest and landscape restoration practices and approaches following wildland fires.