Wood-cement composites
Product description
Wood-cement composites, also known as fibre-cement, is a composite building material composed of cement, various types of wood fibres, aggregates and water. Wood-cement composites have been used in the manufacturing of building materials for more than 60 years. They are produced by mixing small pieces of wood fibres with cement then pressed to the right shape/size depending on the application.
This strong, versatile material has mainly non-structural uses such as acoustic ceiling tiles, siding and roadside noise barriers or structural uses such as concrete-filled insulating forms.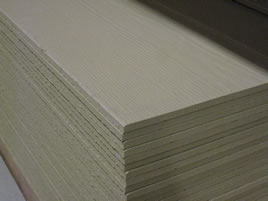 Technical information
Wood-cement composites can be made from a variety of different-sized and -shaped wood fibres. A porous, low-density panel is made from wood wool fibres (long thin slivers of wood), while a product more similar to conventional particleboard is made from wood particles and shavings. Sawdust and fibres can be used to make moulded products.
Wood-cement composites use much less wood than other wood panels. The wood component of the product can sometimes be considered as filler, which decreases the amount of cement used and the overall weight of the panels. Not all wood species are suitable as sugars and other chemicals in the wood may inhibit the curing of the cement.
Wood-cement composites have good moisture resistance and dimensional stability as long as the edges are sealed, but are more difficult to cut and fasten than traditional wood-based composites.
Uses have focused primarily on the advantages that wood-cement composites offer, such as resistance to decay and insects, acoustical properties, and thermal insulating properties. This strong material has also superior fire resistance, has a long service life, and has several possible applications such as finishing and providing additional insulation for the façade and roof, while being budget friendly.
Canadian Forest Service publications