Site preparation science supporting tree planting
The 2 Billion Trees program (2BT) shares up-to-date science news and knowledge products with program recipients and the broader public to inform tree planting projects across the country. Research and knowledge on site preparation topics can help with site selection and site preparation to improve tree growth, survival rates and maximize long-term carbon sequestration.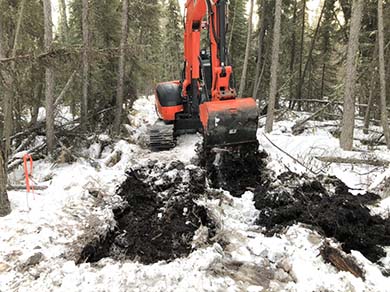 Preparing planting sites
Between 6 to12 months before planting a tree, it is essential that the planting site is prepared to increase the chances that a tree will survive and then thrive in optimal conditions. Site preparation begins with assessing the factors that limit or prevent plant growth at the planting site. These factors can include:
compacted soils
competition from other vegetation
availability of soil nutrients
soil moisture levels
temperature
Limitations are addressed using a variety of site preparation methods and techniques to improve the growing conditions of the site.
Benefits of fast-growing species
In afforestation sites, particularly contaminated sites, decommissioned mines and gravel pits, landfills, and sewage treatment facilities, fast-growing species—such as willow and poplar—can play a pivotal role as a pioneer species in forest landscape rehabilitation, site restoration and phytoremediation. For example, willow can be an effective choice in places where other tree species will have difficulty establishing and growing without intensive site inputs.
Fast-growing tree species can offer multiple environmental, social and economic benefits including:
Storing higher rates of carbon (17.8 to 24.3 tonnes per hectare per year versus 6 tonnes per hectare per year for mature forests)
Improving soil in sites degraded by industrial activity
Treating sewage wastewater, landfill leachate and municipal and industrial organic biosolids at a lower cost than other methods
Reducing the risk of groundwater contamination, and wind and soil erosion
Providing forested areas and food sources for wildlife
Increasing some forms of biodiversity (e.g., butterflies, beetles and ground vegetation), landscape heterogeneity, and connectivity between wildlife habitats and forested recreational areas
In progress and upcoming knowledge products and activities to support site preparation
Silviculture toolkit on afforestation
Guides for landowners and contractors on afforestation for GHG reductions
Research project - Linking site conditions to black ash growth and wood quality
Additional resources
Our knowledge inventory provides a collection of Canadian Forest Service publications that can help inform tree planting activities.
This toolkit presents restoration approaches, offers techniques, tips and methods for site assessment and site preparation, and provides virtual tours of land restoration.
This series of technical notes published by the Northern Alberta Institute of Technology's (NAIT's) Applied Research Centres on site preparation for forest reclamation and boreal reforestation can also help guide tree planting initiatives.