Pipeline Safety Regimes in Canada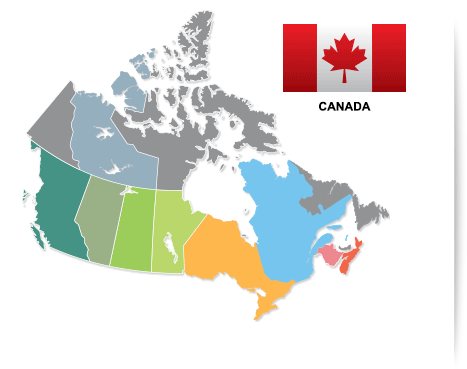 98 pipeline companies regulated by the Canada Energy Regulator

73,000 km of pipelines regulated by the Canada Energy Regulator

$106 billion/year - the value of energy products transported via pipeline (2015)

1,339 million barrels/year of oil transported via pipeline

6,200 billion cubic feet/year of natural gas transported via pipeline
A product of the Energy and Mines Ministers' Conference
Federal Pipeline Regulatory Regime
With 825,000 kilometres of transmission, gathering and distribution pipelines in Canada, most provinces have significant pipeline infrastructure. Close to 100 pipeline companies are federally-regulated and operate approximately 73,000 kilometres of pipelines in Canada.
Federal Pipeline Regulator
The Canada Energy Regulator (CER, formerly the National Energy Board) is an independent federal agency that regulates cross-border pipelines in Canada. The role of the CER is to make sure pipeline companies meet strict requirements to keep Canadians and the environment safe.
Prevention
The Canadian Energy Regulator Act is the legal framework that ensures that federally-regulated pipelines are designed, constructed, operated and abandoned in a manner that is safe for the public and the environment. Regulations made under this Act require that companies design safety management, environmental protection, emergency management, third-party crossing, public awareness, and integrity management programs, which are reviewed by the CER.
Pipelines and equipment regulated by the CER must meet Canadian Standards Association specifications. The CSA Standard Z662 — Oil and Gas Pipeline Systems sets out the technical standards for the design, construction, operation, maintenance, and decommissioning of Canada's oil and gas pipelines.
The CER is also responsible for conducting environmental assessments for the projects it regulates in accordance with the Impact Assessment Act.
The CER requires pipeline companies to have integrity management programs in place to ensure the physical condition of the pipeline is monitored and maintained so that releases do not occur.
The CER conducts ongoing pipeline monitoring, inspections, and site visits to confirm compliance to regulatory requirements. Where necessary, the CER can issue mandatory compliance orders or use other appropriate tools to enforce these requirements.
The CER also tracks the safety record of pipelines under its jurisdiction to demonstrate continual improvement, and posts compliance and enforcement actions online.
The Pipeline Safety Act came into force on June 19, 2016. The Act enshrines the polluter-pays principle into law, clarifies audit and inspection powers of the CER, and ensures companies remain responsible for their abandoned pipelines. The Government of Canada has also sought the CER's guidance, through a study and report, on the use of best available technologies in federally regulated pipeline projects. This includes materials, construction methods, emergency response techniques, and environmental considerations.
Preparedness and Response
The CER requires companies to have an emergency management program that anticipates, prevents, manages and mitigates conditions during an emergency that could adversely affect property, the environment, or the safety of workers or the public.
Companies must also develop, review and update emergency procedures manuals, and submit these manuals to the CER. The regulator requires key emergency response information to be made public and has ordered all pipeline companies to publish their emergency procedures manuals on their websites by the end of September 2016.
The CER must be notified immediately of any release that occurs from federally-regulated pipelines. In an emergency situation, the CER's top priority is to make sure that people are safe and secure, and that property and the environment are protected.
Pipeline companies must have incident first-responders and continually educate all first-responders, such as fire departments and police, on procedures to be followed in the event of an emergency.
When an emergency occurs, the CER:
The Pipeline Safety Act requires companies to demonstrate that they have financial resources to match at a minimum their level of absolute liability. A portion of these resources will need to be readily accessible to help ensure rapid incident response.
Liability and Compensation
Pipeline companies regulated by the CER are liable for all remediation costs if at fault or negligent. Regardless of fault or negligence, companies are required to address and mitigate pipeline incidents, and the CER can issue orders to this effect.
Companies may be subjected to administrative penalties or other enforcement actions if they do not comply with regulatory requirements
For example, companies can be prosecuted for certain violations of the Canadian Energy Regulator Act, with fines ranging from $100,000 to $1 million and imprisonment from one to five years. The CER can also impose Administrative Monetary Penalties to individuals or companies for infractions, ranging from $25,000 to $100,000 per day per violation.
The Pipeline Safety Act enshrines in law the "polluter pays" principle, under which companies have unlimited liability when at fault or negligent; introduces absolute liability for all CER-regulated companies, meaning that companies will be liable for all costs and damages up to set limits ($1 billion for companies operating major oil pipelines) without proof of fault or negligence; provides governments the ability to pursue pipeline operators for the costs of environmental damages; authorizes the CER to order reimbursement of costs and expenses incurred by others in taking actions related to an incident; and, allows for the CER to take control of incident response in exceptional circumstances, if a company operating a pipeline is unwilling or unable to shoulder its responsibilities. In such a circumstance, costs are to be recovered fully from industry.
Disclaimer:
Users are reminded that this publication has no legislative sanction. It has been consolidated for convenience of reference only. Original Regulations should be consulted for all purposes of interpreting the law.