2017 NGTL System Expansion Project
Decision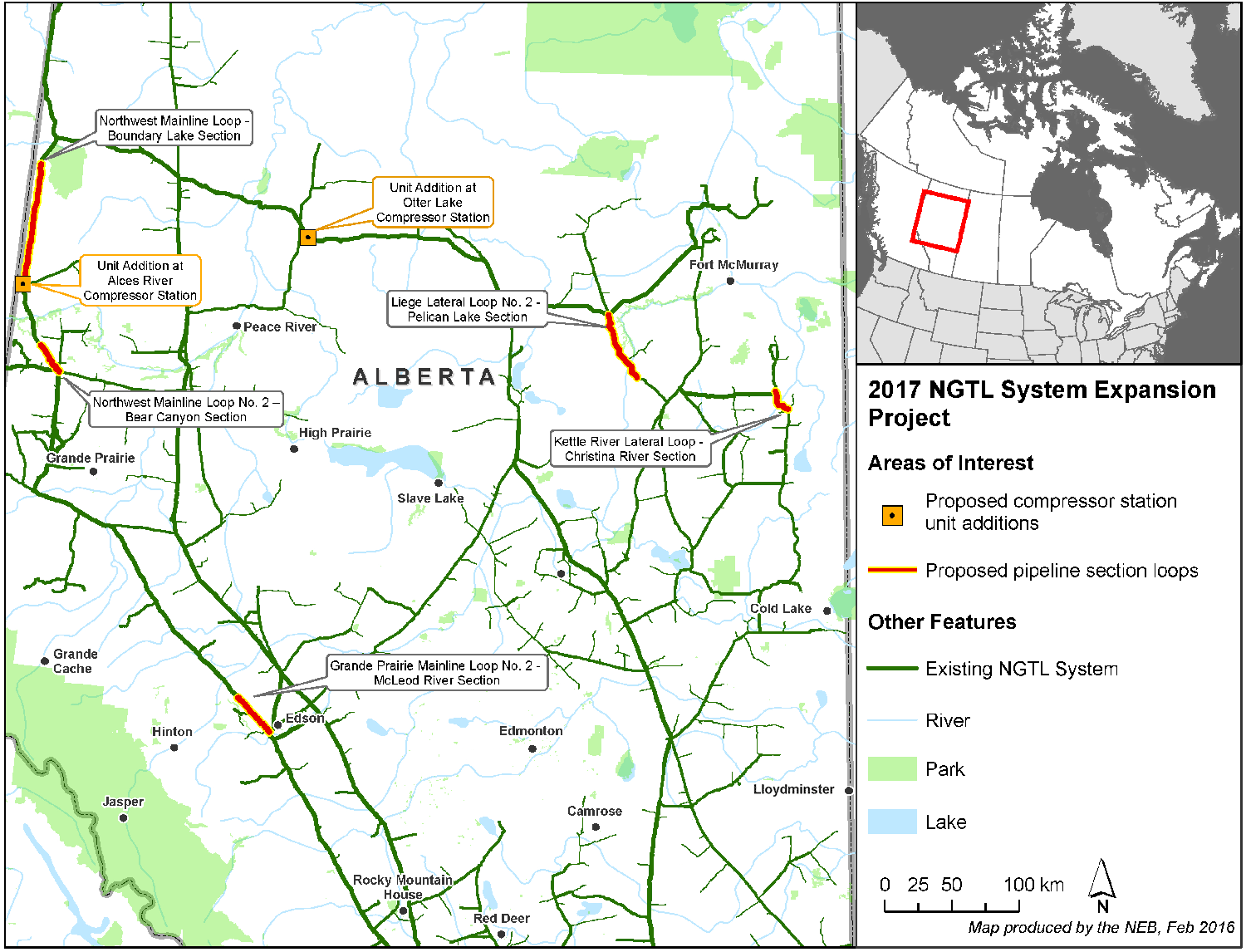 The Government of Canada approved NOVA Gas Transmission Ltd.'s (NGTL) request to expand its current natural gas pipeline system in northern Alberta in order to connect new gas fields and continue to supply local customers and North American markets. This project is an expansion of existing pipeline infrastructure – 91 per cent of construction will be on land already in use for pipelines and roads.
Rationale
This project will contribute to Canada's prosperity, creating up to 3,000 jobs during construction, adding more than a billion dollars to Canada's economy, and making sure we have the infrastructure to bring Canada's resources to market.
But this decision isn't just about boosting the economy. The Government has a responsibility to ensure the right infrastructure gets built, in the right way, the environmentally responsible way.
Consistent with the principles announced in January 2016, the Government considered evidence from a wide range of sources, including:
The views of Canadians gathered through an online questionnaire;
Consultations with Indigenous peoples;
The National Energy Board's report, which recommended approving the project, subject to 36 conditions to address environmental and social concerns about it; and,
Environment and Climate Change Canada's assessment of the greenhouse gas emissions that will be generated from fossil fuel production as a result of this project.
After reviewing all these sources, the Government decided that this project is in the public interest – it meets the twin imperatives of protecting Canada's rich natural environment, while ensuring Canada's energy sector remains a source of jobs, opportunity and prosperity.
Key Concerns and Conditions
The government has heard the concerns of Canadians, Indigenous peoples, industry organizations and environmental groups throughout the review of the project.
There are 36 National Energy Board conditions that will help ensure the project operates safely. These conditions will address the key concerns, including:
Emergency Response: NGTL will develop an Emergency Response Plan to ensure emergency response measures are adequate in the unlikely event of a leak. (Conditions 9, 15)
Waterways: NGTL must seek authorizations under the Fisheries Act, and ensure water sources will not be impacted by crossings and the fish populations will not be threatened. (Conditions 12,19, 22, 23, 24)
Caribou: NGTL must develop a Caribou Habitat Restoration Plan and take measures to limit disturbance to caribou and their habitat. (Conditions 6,7,18,31,32,33,34)
Engaging Indigenous Communities: NGTL will incorporate traditional knowledge of Indigenous peoples, provide employment opportunities and continually engage with and respond to feedback from Indigenous communities throughout the life of the project. (Conditions 5, 8, 12, 13, 34, 36)
Wetlands and wildlife: NGTL will take measures to reduce the disturbance of vegetation, wetlands and wildlife during the construction, operation and decommissioning of the project. Nova Gas must work with local Indigenous communities to monitor and evaluate activities. (Conditions 6, 11, 12, 16, 18, 36)
Review the full the list of 36 conditions for this project to proceed from the National Energy Board (See Appendix III).
Related Project Information
View the summary of NRCan's public consultations on this project.
Read the summary of the Government's consultations with Indigenous groups.
Read the NEB's decision and recommendations.
View the assessment of possible greenhouse gas emissions for this project.