Tools - Solar Photovoltaic Energy
To facilitate exchanges between the Canadian PV industry and users, the PV energy research group encourages you to consult and to register your company in the Marketplace database, maintained by RETScreen International.
Photovoltaic (PV) potential and insolation web-based maps
This web mapping application gives estimates of photovoltaic potential (in kWh/kWp) and of the mean daily global insolation (in MJ/m2 and in kWh/m2) for any location in Canada on a 60 arc seconds ~2 km grid.
The photovoltaic (PV) potential represents the expected lifetime average electricity production (in kWh) produced per kilowatt of installed photovoltaic DC capacity rated at Standard Test Conditions (STC) for grid-connected PV systems without batteries.
The maps are presented for each month and for the entire year, for six different PV array orientations: a sun-tracking orientation, a horizontal orientation and four fixed South-facing orientations with latitude, vertical (90°) and latitude ± 15° tilts. Data can also be obtained directly for individual municipalities from a list of over 3500 municipalities or downloaded for all municipalities at once.
Guides
Buyer's guides from Natural Resources Canada provide information on the characteristics of renewable energy technologies, and recommendations on their use. Photovoltaic Systems: A Buyer's Guide can help you to determine if a PV system will meet your electricity power supply requirements.
The Stand-Alone Photovoltaic Systems Design Manual provides information to help you better understand the principles of designing and operating PV systems.
For more information on how solar panels work, see the International Energy Agency Photovoltaic Power Systems Programme Website .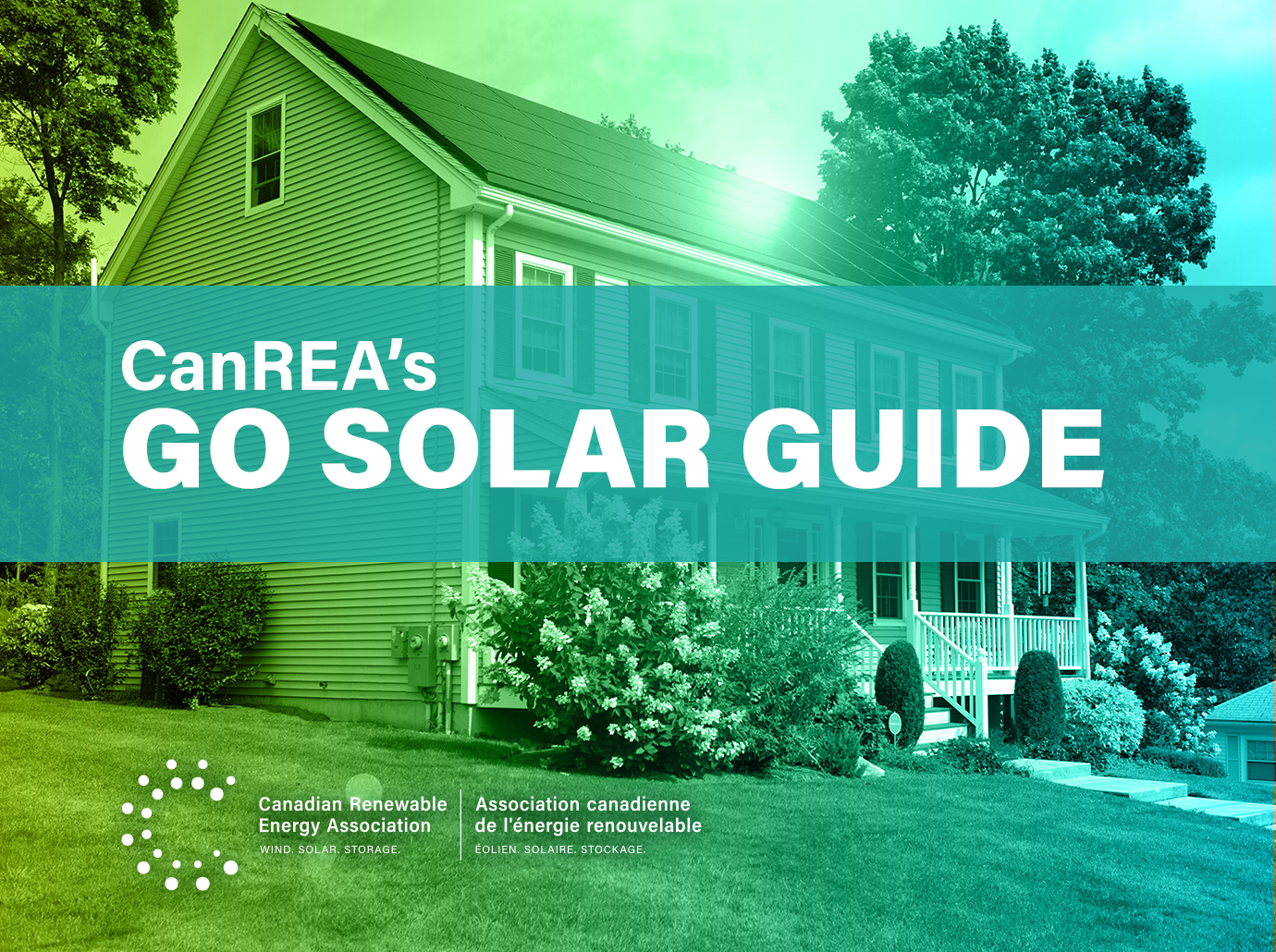 CanREA's Go Solar Guide: Thinking of going solar? The Canadian Renewable Energy Association (CanREA) is pleased to launch an all-new Go Solar Guide 2023 – the Canadian homeowners' go-to resource for installing solar PV. It features everything you need to consider before going solar, plus a listing of 63 solar installers serving a range of provinces across Canada. This makes it easy to find a CanREA member company near you to install your solar PV system.
To download your copy of the Go Solar Guide, visit the CanREA website.
RETScreen International
The RETScreen Clean Energy Project Analysis Software is a unique decision support tool developed with the contribution of numerous experts from government, industry, and academia. The software, provided free-of-charge, can be used worldwide to evaluate the energy production and savings, costs, emission reductions, financial viability and risk for various types of Renewable-energy and Energy-efficient Technologies (RETs). The software (available in multiple languages) also includes product, project, hydrology and climate databases, a detailed online user manual, and a case study based college/university-level training course, including an engineering e-textbook.