Solar Photovoltaic Energy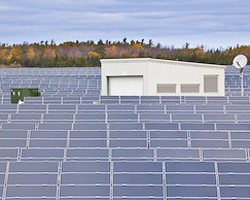 In Canada, Photovoltaic (PV) technology has become a favoured form of renewable energy technology due to a number of social and economic factors, including the need to reduce greenhouse gas (GHG) emissions, deregulation, and the restructuring of electric power generating companies. The rapid growth in the deployment of photovoltaics in recent years indicates that the technology is quickly gaining ground in Canada.
Our primary mandate is to help develop and deploy photovoltaic energy technologies in Canada. To this end, two strategic approaches are being taken. The 1st is to accelerate the deployment of solar power in Canada, while the 2nd aims at exploiting solar energy's potential, both nationally and internationally.
CanmetENERGY carries out work to provide stakeholders with the necessary information to make informed decisions. This includes the coordination of various research projects, participation in international committees on the establishment of photovoltaic standards, and producing information that will support capacity-building in Canada. Our team's work and research aim to generate knowledge and facilitate its communication to decision makers in Canada.
Our projects include:
CanmetENERGY also actively contributes its expertise through innovative partnerships within the industry. Most research projects are carried out, on a cost-sharing basis, with industry, universities, research groups, quasi-public agencies, and other departments and governments. We share our expertise by participating in international committees on photovoltaics, participating in joint projects with industry, developing software to assist in feasibility studies, as well as developing information and training tools.
We are responsible for the scientific aspects of work on photovoltaic energy for Natural Resources Canada.

Additional Resources: