Electric vehicle charging
Making the switch to an electric vehicle (EV) is exciting, but what about charging? Charging an EV is simple but there are a few new elements to consider. These include charging levels, home and public charging, connectors, and network operators. Best of all, many EV drivers can charge their vehicles at home.
EV charging basics
EV chargers deliver electricity to the on-board batteries of both all-electric vehicles (BEVs) and plug-in hybrid electric vehicles (PHEVs). There are two main types of EV chargers: Alternating current (AC) chargers provide electricity to the vehicle via Level 1 and Level 2 chargers. Direct current (DC) chargers, also known as Level 3 fast chargers, provide electricity to the vehicle at a much faster rate.
All BEVs and most PHEVs are compatible with all charging levels (1–3). It's important to check if your PHEV is capable of DC fast-charging.
EV charger options
Options
Level 1
Level 2
Level 3
(fast charger)
Input
120 V
208/240 V
480 V
Outlet type
Standard electrical outlet (for example, phone charger)
Special electrical outlet (for example, stove or dryer plug)
DC outlet (not found in homes)
Time to charge

Footnote

*
8–50+ hours
4–10 hours
25–30 minutes
Range
(per hour of charging)

Footnote

*
3 km to 8 km
16 km to 50 km
Up to maximum driving range of vehicle
Typical uses
Home charging and back-up situations
Home charging, charging at businesses and public spaces
Charging at dedicated stations, public spaces, and highway corridors
The ins and outs of EV charging connectors
Level 1 and 2 connectors
Most EV chargers and vehicles have a standard connector and receptacle known as the SAE J1772. Any vehicle with this plug receptacle can use any Level 1 or Level 2 EV charger in Canada and the United States. All major vehicle and EV charger manufacturers support this standard**.
**Tesla vehicles come with a proprietary connector that requires a separate Tesla to J1772 adapter (included with purchase) to use standard Level 2 chargers. Likewise, Tesla's proprietary Level 2 chargers can be used by Tesla vehicles without an adapter but can also be used with other vehicles using an adapter.
Level 3/DC Fast-Charging Connectors
Depending on the make and model of your EV, you may have one of three fast charger connector types; however, they are not interchangeable. It's important to know the DCFC connector type used by your vehicle before charging at a Level 3 station.

SAE Combo connector: This connector, which combines the AC (SAE J1772) and DC charging inlets into one, is used by most automakers except Tesla.
Compatibility: Check vehicle specifications

CHAdeMO: DC-only connector; not widely used by vehicle manufacturers, except Nissan and Mitsubishi.
Compatibility: Check vehicle specifications

Tesla Supercharger connector: Propriety connector for Tesla charging systems.
Compatibility: Tesla vehicles only
It's worth noting that electric vehicle charging systems continue to evolve towards greater compatibility for all connector types. Still, as access to this technology continues to improve, it's important to become acquainted with your vehicle's specifications, as well as the compatible charging options available in your driving range.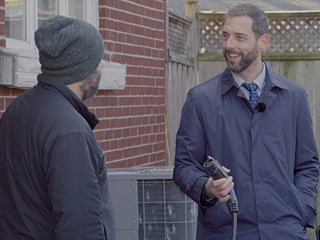 Want to learn more about charging an EV?
How do you charge an electric vehicle? What are your options? How long does it take to charge? Is it safe? Check out NRCan's Simply Science ZEV video series to learn more about charging a ZEV, typical home charging stations, and the different options available to consumers.
Watch Charging Zero-Emission Vehicles (ZEV Series – Part 2)
Looking for an electric vehicle charging or hydrogen refuelling station?