Tablets
Compared to desktop or notebook computers, tablets are the most energy-efficient choice for browsing the internet or streaming content, because that's what they were designed to do. In fact, ENERGY STAR® certified tablets use significantly less energy than any other device you might use to stream videos!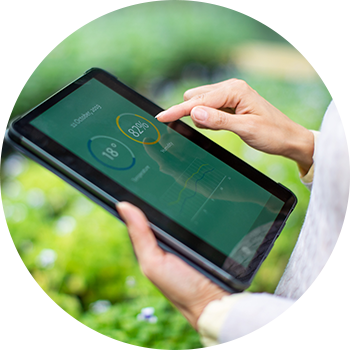 Key features
Operate efficiently in multiple modes of operation (off, sleep, long idle and short idle).
Power management features.
Use 10 times less power to stream content than a game console.
Use 7 times less power than a television.
Use 6 times less power than a desktop computer and monitor.
The ENERGY STAR Promise
All ENERGY STAR certified products are tested to meet strict efficiency specifications and are certified by an independent third party. They perform the same as or better than standard products without compromising performance in any way.
Start your research using the ENERGY STAR Product Finder tool to find and compare certified tablets. (NOTE: You will be redirected to the U.S. ENERGY STAR website. Click 'Slate/Tablet' under 'Type' when searching.)
Helpful tips
Lower brightness: Powering the screen takes a lot of energy, so set your tablet to the auto-brightness setting so it is automatically adjusted based on ambient light.

Stay updated: Keeping your devices regularly updated will ensure they are equipped with the most up-to-date energy saving systems and programs.
Related Blog Posts
Connect with us
Follow us on any of our social media channels for energy-efficient tips, rebates, giveaways and much more.
---
The ENERGY STAR name and symbol are trademarks registered in Canada by the United States Environmental Protection Agency and are administered and promoted by Natural Resources Canada.