Make small changes that add up
Save energy and money by making modest investments and minor changes around your home. Improvements can be found outside and inside your home.
Kitchen and bathroom
Kitchen
Use the microwave to reheat food: it's the most efficient
Dishwasher:

Buy an ENERGY STAR® certified dishwasher: use 12% less energy
Scrape dishes, don't rinse: let the dishwasher do the rest
Use the "air dry" feature
Assess each load: use the setting with best cleaning in least amount of time

Install an ENERGY STAR certified range hood to use 50% less energy than a standard one
Fridge:

Shop for an ENERGY STAR certified fridge: use 10% less energy
Allow air to flow: don't overfill your fridge
Keep fridge away from heat sources: e.g. vent, oven, sun
Bathroom
Install a water-saving shower head to use less hot water. Look for one that has a flow rate of less than 7.6 litres per minute. Take a shower instead of bath to save on hot water costs
Use a low-flow toilet that uses 4.8 litres per flush to save water
Switch to ENERGY STAR certified ventilation fans to use 50% less energy than standard models
Buy a faucet aerator to use less hot water; choose aerators that deliver 3.0 to 5.7 litres per minute of water
Install a timer switch for your fan
Living room, dining room and office
Living room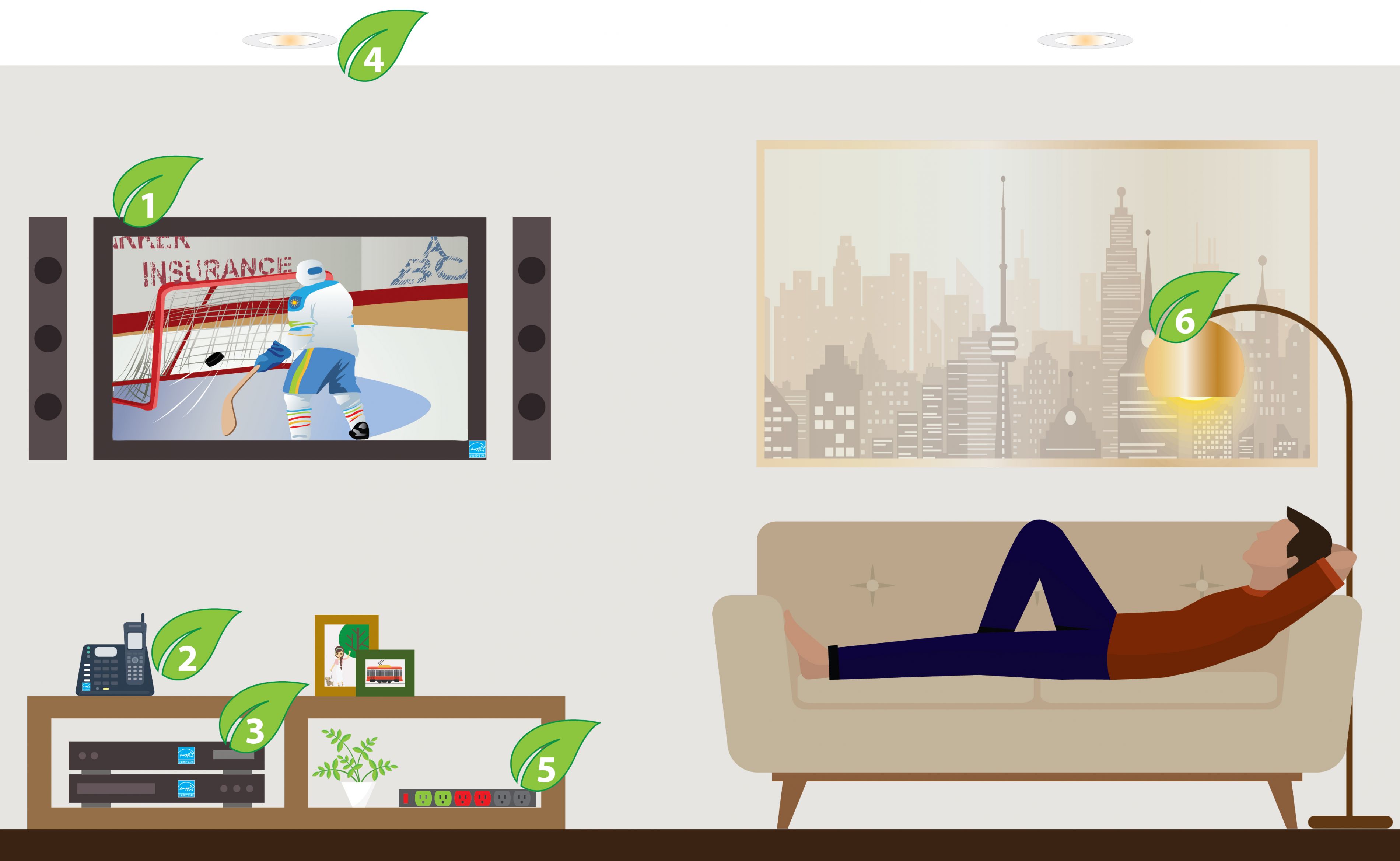 Look for ENERGY STAR certified models when buying a new TV to use 25% less energy
Find the ENERGY STAR symbol when you buy a cordless phone (40% savings compared to other models)
Find the ENERGY STAR symbol when you buy audio/video products (up to 70% savings compared to standard models)
Buy ENERGY STAR certified recessed lighting fixtures (pot lights): use up to 90% less energy than traditional models with incandescent bulbs
Use a "smart" power strip to cut power to devices not in use
Choose ENERGY STAR certified LED bulbs: they last 15 times longer than incandescent ones
Dining Room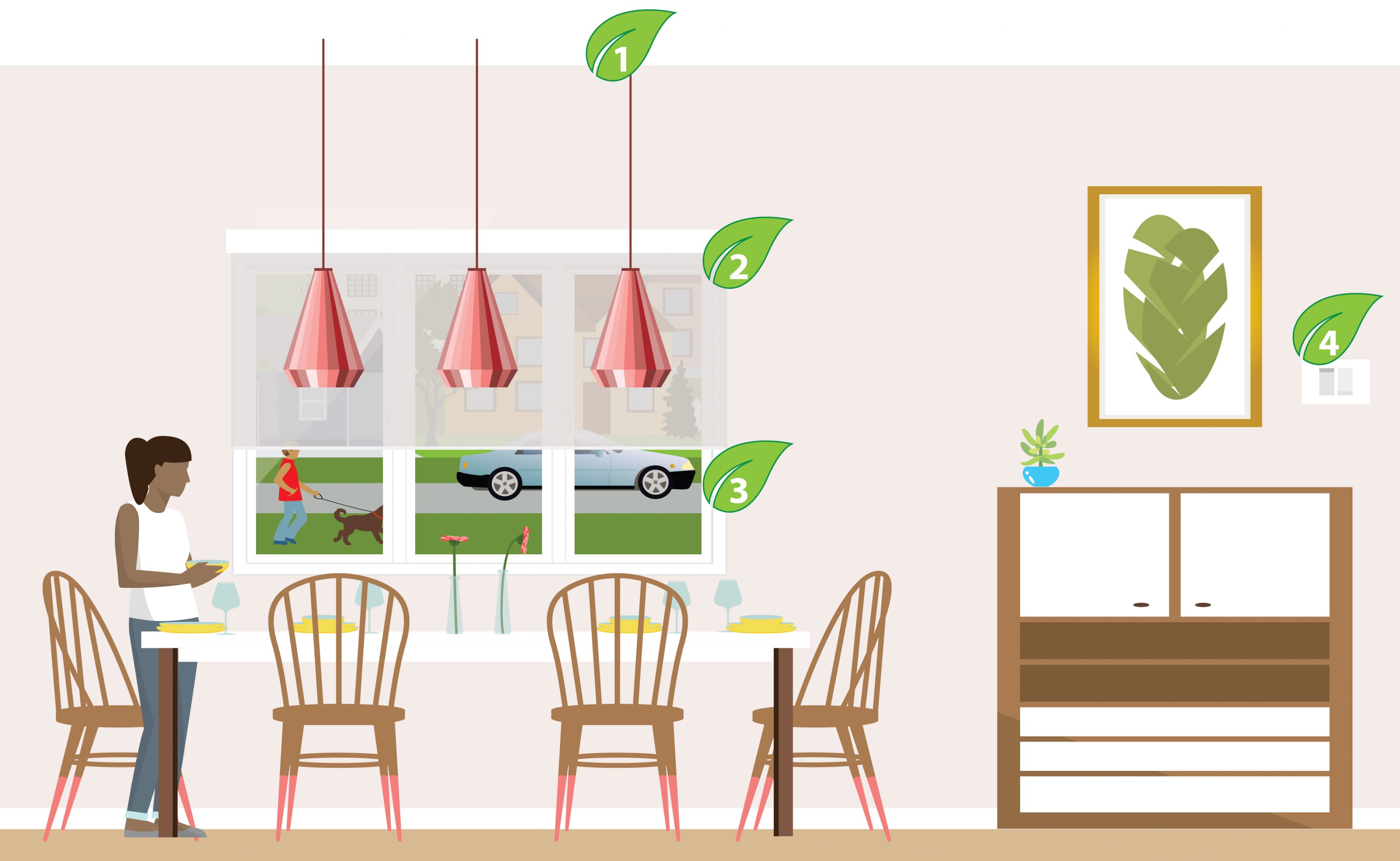 Choose ENERGY STAR certified light fixtures, search and compare: www.energystar.gc.ca
Use awnings, blinds or drapes to keep direct rays of sunshine from overheating the room in the summer
Read Keeping the Heat In to learn more about options for upgrading your windows: www.nrcan.gc.ca/kthi
Set the mood: use compatible dimmer switches with your ENERGY STAR certified bulbs to reduce light use. Check if your baseboards have individual thermostats then set each thermostat at the desired temperature. Set higher temperatures to save.
Office
Enable low power settings to save energy and help your battery last longer
Use a "smart" power strip to reduce energy waste when equipment is on stand by or off
Buy ENERGY STAR certified light fixtures to use up to 90% less energy than traditional models using incandescent bulbs
Seal areas of air leakage around all window and door casings, mouldings, and baseboards to stop wasting cooled air. Learn how: www.nrcan.gc.ca/kthi
Purchase ENERGY STAR certified office equipment to use up to 30% less energy
Bedrooms
Master bedroom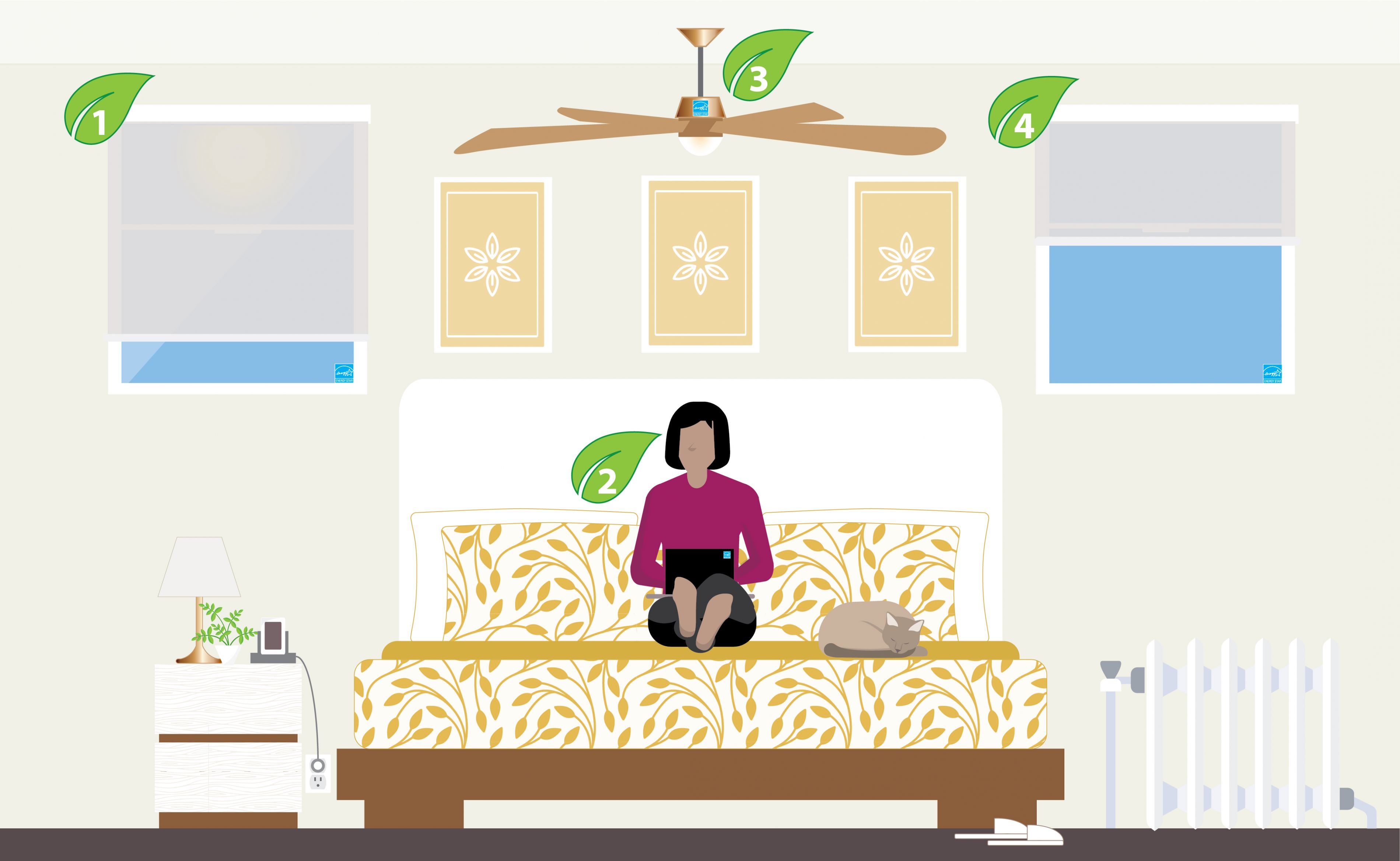 Install windows with triple glazing on the east and north facing sides of your house to minimize heating or cooling waste
Use ENERGY STAR certified electronics to stream a movie and get 25% more energy savings
Purchase ENERGY STAR certified ceiling fans to use 60% less energy. Set your ceiling fan to counter clockwise in summer for maximum comfort
Choose ENERGY STAR Most Efficient windows which are up to 89% more efficient than standard windows
Empty or "bleed" the air from radiators once or twice a year so they can fill fully with water and work more efficiently
Children's room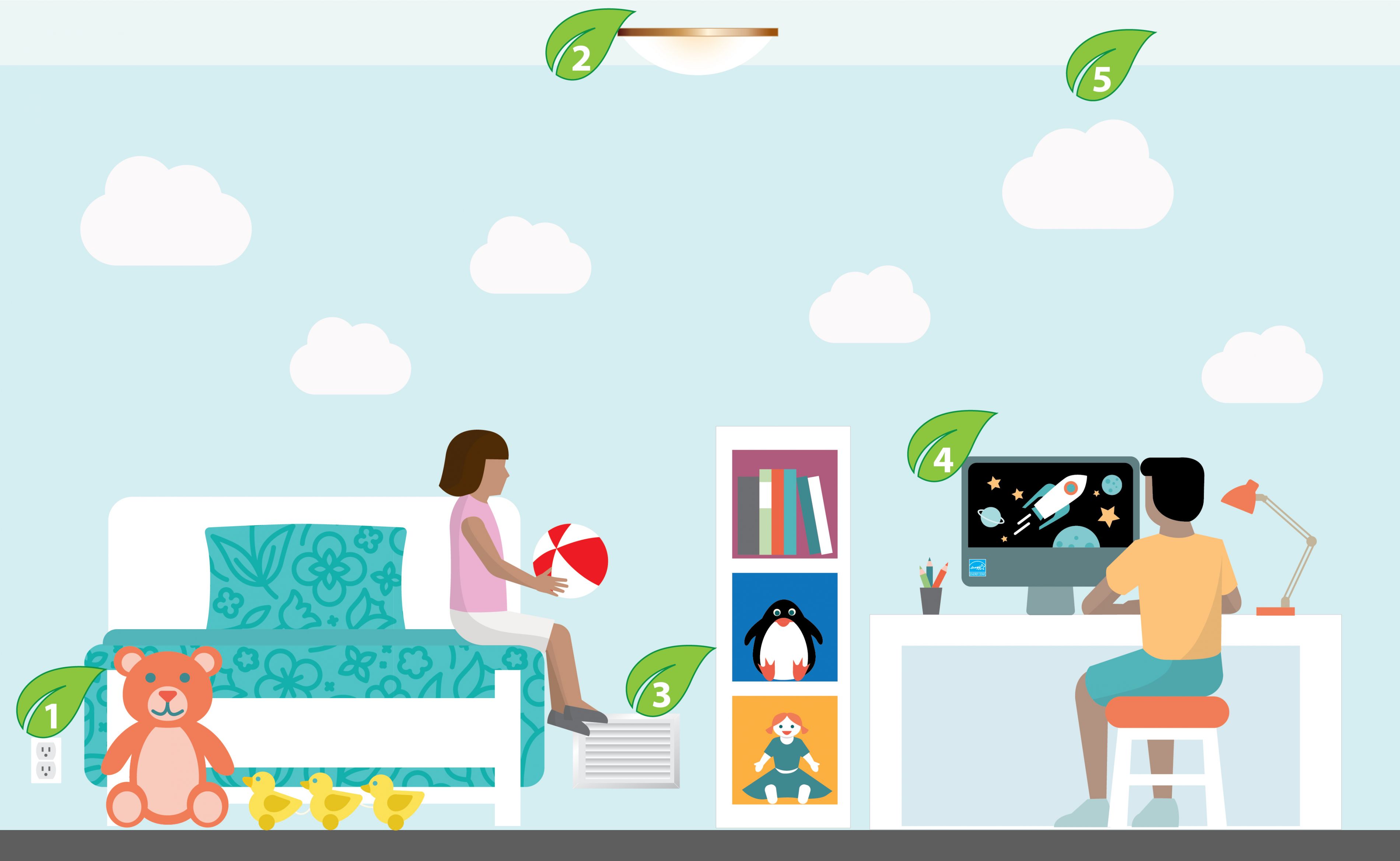 Install foam insulation gaskets behind electrical outlet faceplates. Learn how: www.nrcan.gc.ca/kthi
Switch to ENERGY STAR certified light bulbs and save up to 90% more energy than incandescent ones
Keep air flowing by not obstructing vents or return air grilles with furniture
Use ENERGY STAR certified computer monitors to save 25% more energy than standard models
Seal cracks and penetrations on the walls, ceilings or floors to prevent air from escaping into the walls and roof
Laundry room and hallway
Laundry room
Washer:

Buy an ENERGY STAR certified washer: save 25% more energy, use 33% less water than a standard model
Choose high-speed or "extended spin": more water out reduces drying time
Fill but don't overfill: washers operate most efficiently when full
Wash in warm or cold water: save energy to heat water
Pre-soak stained clothes: avoid re-washing

Dryer:

Shop for an ENERGY STAR certified dryer: save 20% more energy compared to other models
Clean the lint trap after every load: increase air flow
Avoid over-drying: use the sensor setting or time it just right
Don't overfill: ensure airflow and reduce strain on motor
Sort by thickness: light items in one load, thick items in another

Pick ENERGY STAR certified light fixtures: use up to 90% less energy than other models using incandescent bulbs
Install a motion sensor to reduce your light use
Try air drying clothes including delicates and silks
Hallway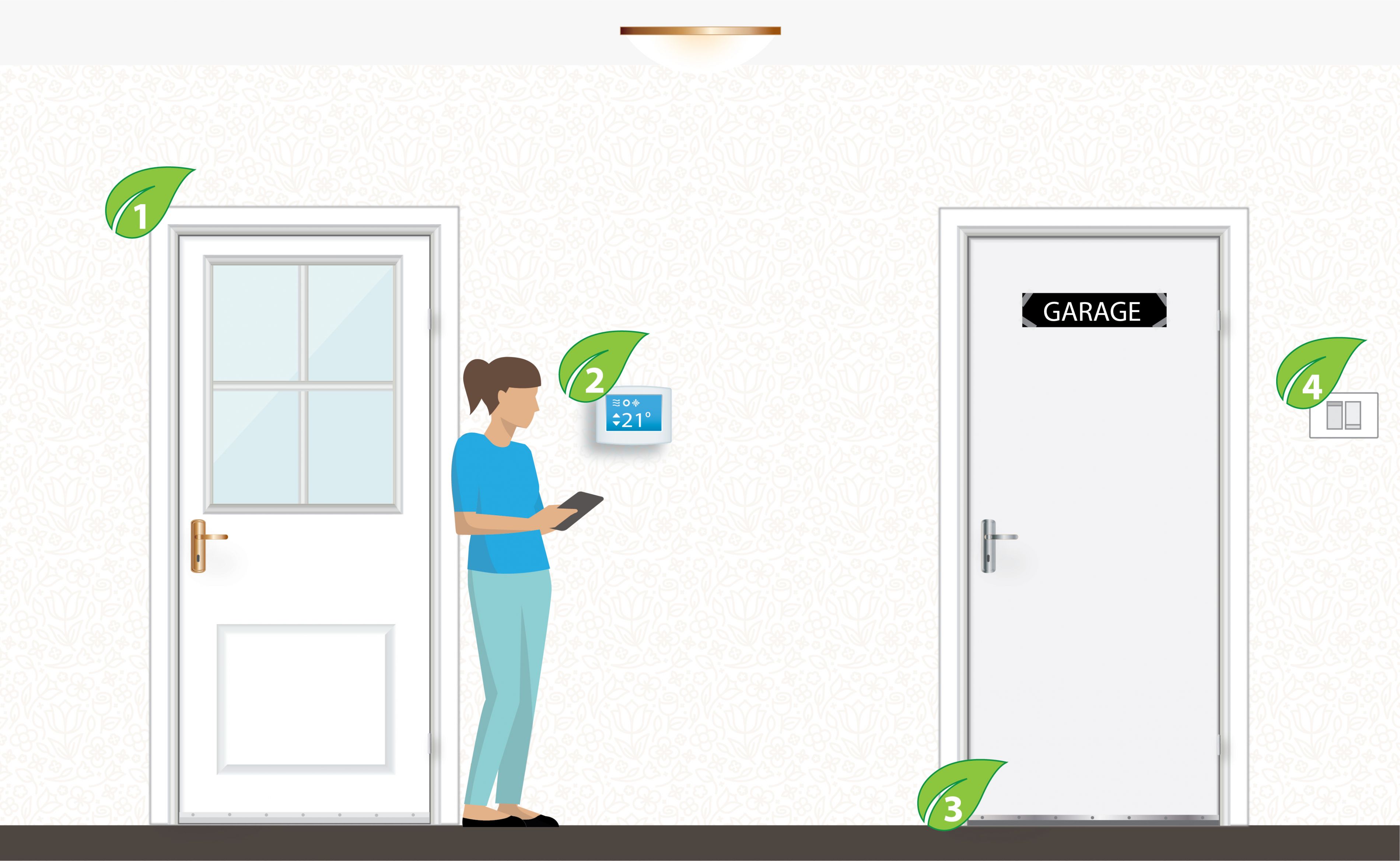 Choose a 25% more energy efficient door with an ENERGY STAR exterior door for better insulation, which helps keep cooled air indoors
Install an ENERGY STAR certified "smart" thermostat to take control of your cooling
Apply weatherstripping around older exterior doors to waste less cooled air
Turn off lights when not in use
Mechanical room*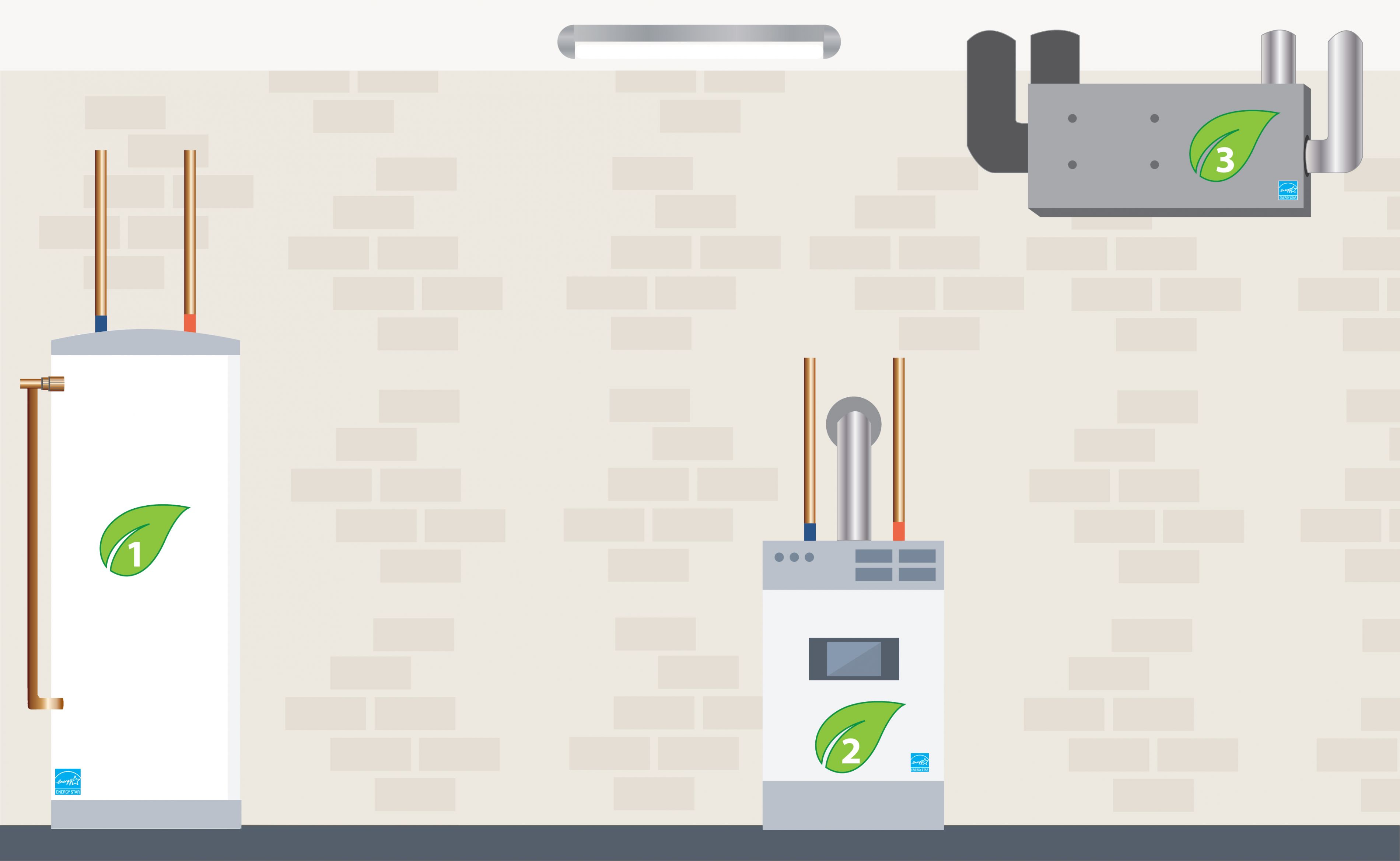 Hot Water Tank. Ways to reduce water heating costs and water usage:

Insulate hot and cold water pipes by covering the first two metres with foam sleeves or insulating wrap with a min. of RSI 0.7 (R-4) insulation. Leave a 15 cm (6-inch) clearance between insulation and vent pipes on fuel-fired water heaters.
Buy an ENERGY STAR certified gas-fired tankless water heater: uses 30% less energy since it heats water only when it is needed.
Install a drain-water heat recovery unit and recover enough heat to save 15-20% of the energy required for hot water.

Boiler:

Insulate hot water pipes to save on heating costs.

Heat recovery ventilator (HRV) or energy recovery ventilator (ERV)

Clean the filters of your heat or energy recovery ventilation system (HRV or ERV) every 3 months to ensure air is being filtered and clean the core annually.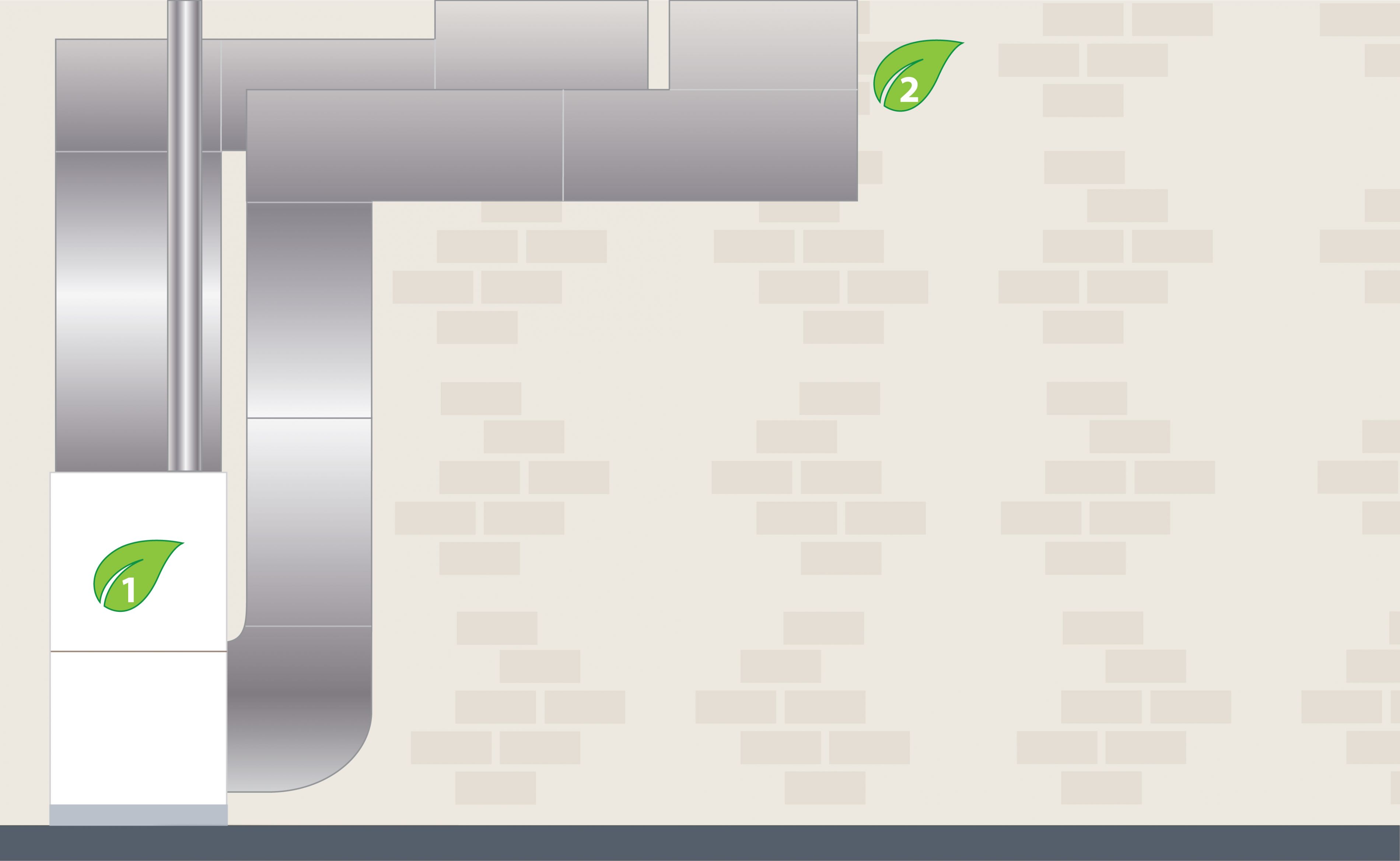 Furnace:

Choose an ENERGY STAR certified furnace with an efficiency rating of at least 95% for gas, 85% for oil.
Look for the ENERGY STAR Most Efficient designation to save even more when buying a new gas furnace.
Change or clean filters every 3 months or as they become dirty.
Clean and service regularly: Oil-fired furnaces need annual maintenance, natural gas and propane furnaces should be serviced at least every two years.

Ducts:

Seal all supply ductwork with aluminum foil duct tape, approved flexible plastic tape or water-based mastic to improve comfort.
Make sure heating, cooling, and ventilation ducts running through basements, crawl spaces, or unheated attics are sealed and insulated.
Ensure your heat, cooling, and ventilation distribution system is balanced: undersized ductwork, leaking ducts, inadequate or poorly placed return air grilles can mean discomfort and higher heating bills. Find a professional to inspect your system should you suspect a heating or cooling problem.
*Important: Consult your owner's manual for maintenance of all heating, cooling and ventilation equipment.
Outdoors
Front Yard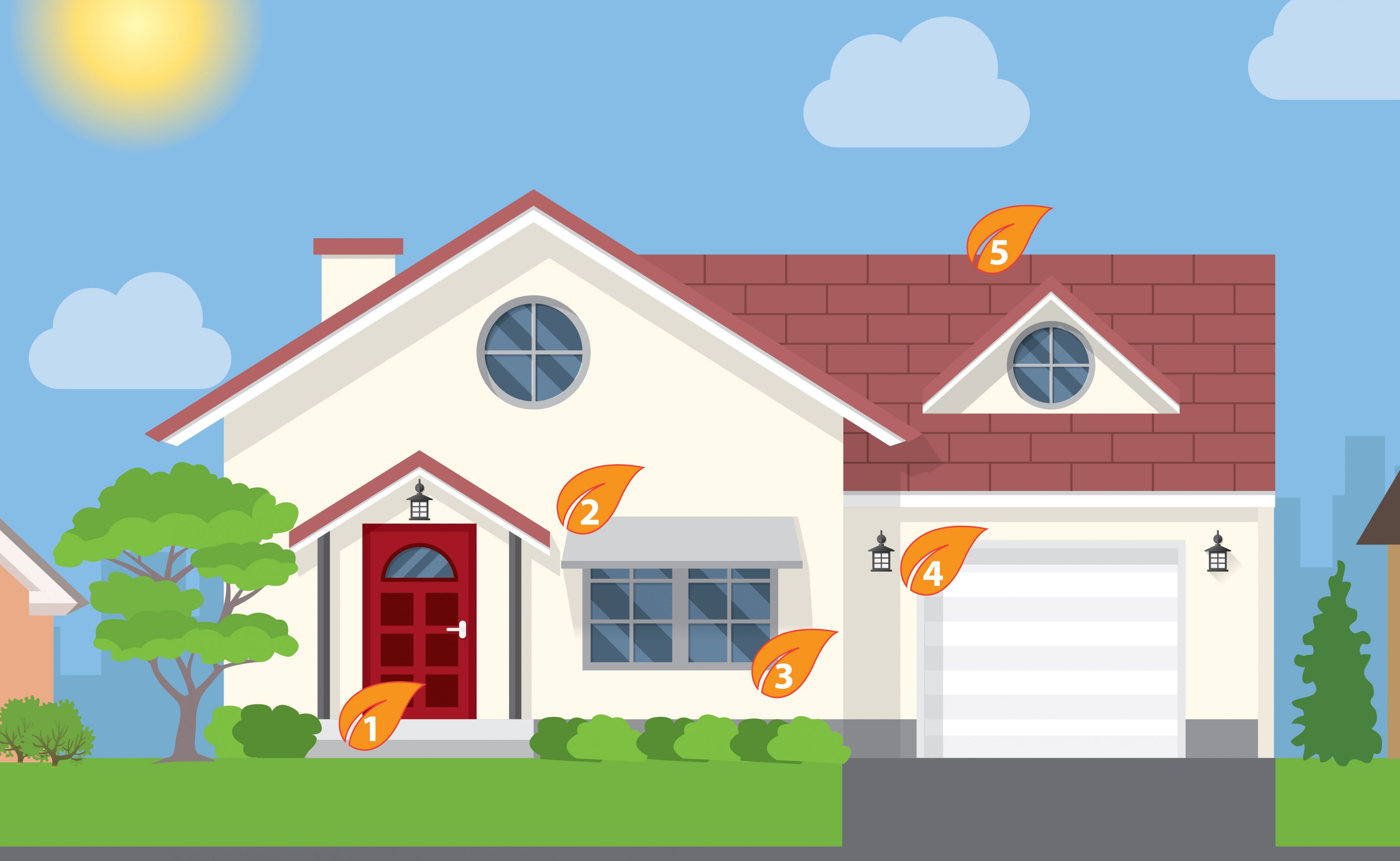 Weatherstrip doors to keep cool air inside
Use awnings or strategically positioned trees to help keep direct sunlight from overheating your home in the summer
Seal joints of window casings with flexible caulking if you suspect air is leaking
Buy ENERGY STAR® certified outdoor light fixtures or bulbs
Upgrade insulation and air seal your home as these are some of the most cost-effective home improvements.
Backyard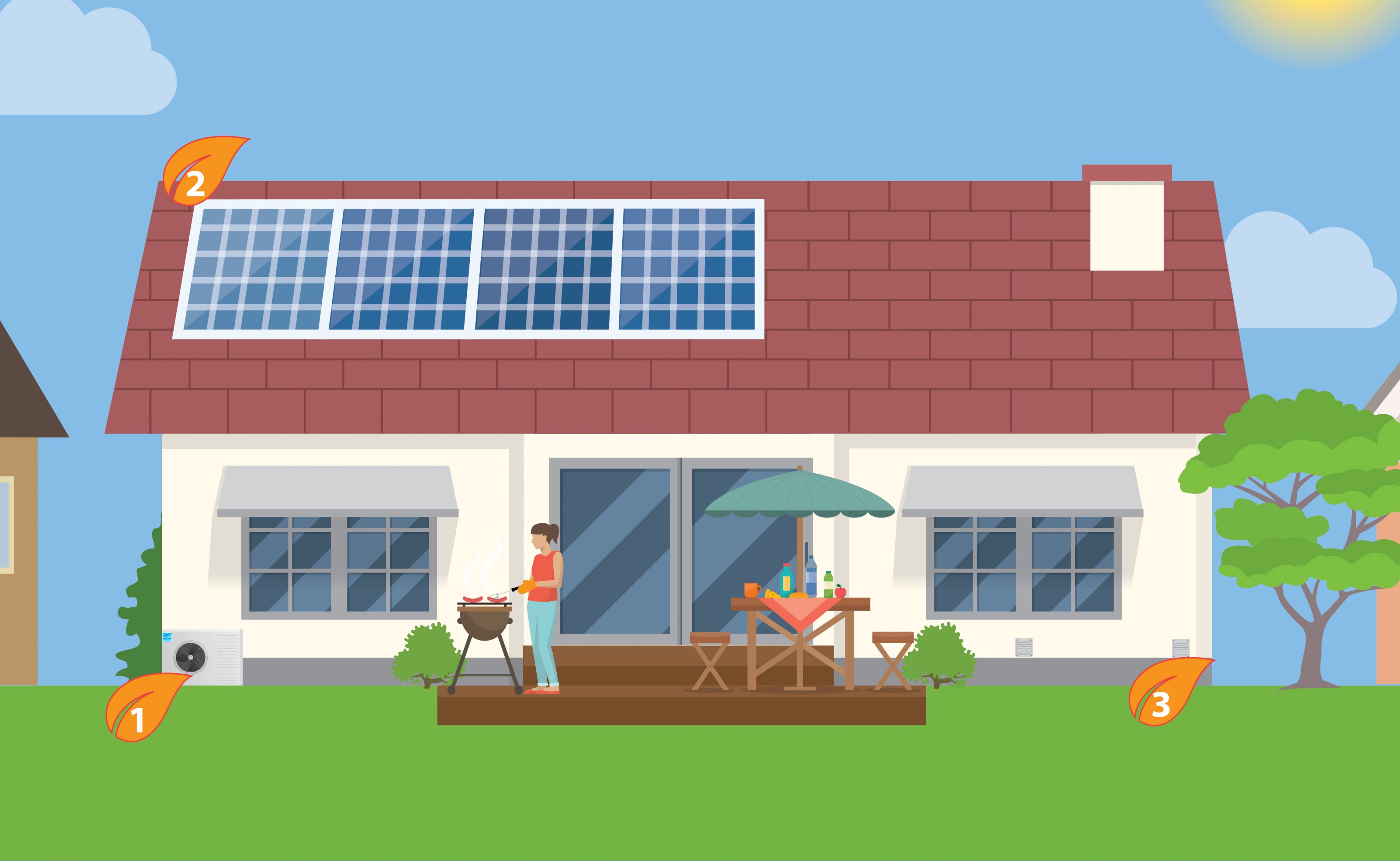 Look into an air source heat pump (ASHP): it is energy-efficient and can supply both heating and cooling for your home. Keep your ASHP or A/C clear of bushes or debris that could restrict air flow
Say yes to installing a solar energy system: a safe, reliable, low-maintenance source of electricity that helps reduce your electrical costs and produces no on-site pollution or emissions
Keep your heat or energy recovery ventilator running smoothly by inspecting and cleaning outside hoods and screens
Important: Consult your owner's manual for maintenance and details of all heating, cooling and ventilation equipment
Garage
Install a motion sensor to use less energy
Walk or bike to work to save costs
Drive fuel efficiently to save fuel, money, and reduce greenhouse gas emissions. Get tips from: vehicles.nrcan.gc.ca
Buy the most fuel-efficient vehicle that meets your needs