EnerGuide-rated new homes
Why choose an EnerGuide-rated new home?
Investments you make in energy efficiency at the construction stage will pay off in lower energy bills.
An EnerGuide rating, label and report will help you better understand your home's energy performance, which may help you lower your energy use.
An EnerGuide label is an official record of your home's energy performance, and may help increase its resale value.
EnerGuide is backed by the Government of Canada, and all participating builders must be registered with Natural Resources Canada.
Become part of the solution for reducing greenhouse gas emissions and addressing climate change.
Choose a builder who uses the EnerGuide Rating System to improve the energy performance of their homes.
Talk to your builder about the energy performance of your home and ask for an EnerGuide rating.
How EnerGuide's gigajoules rating scale works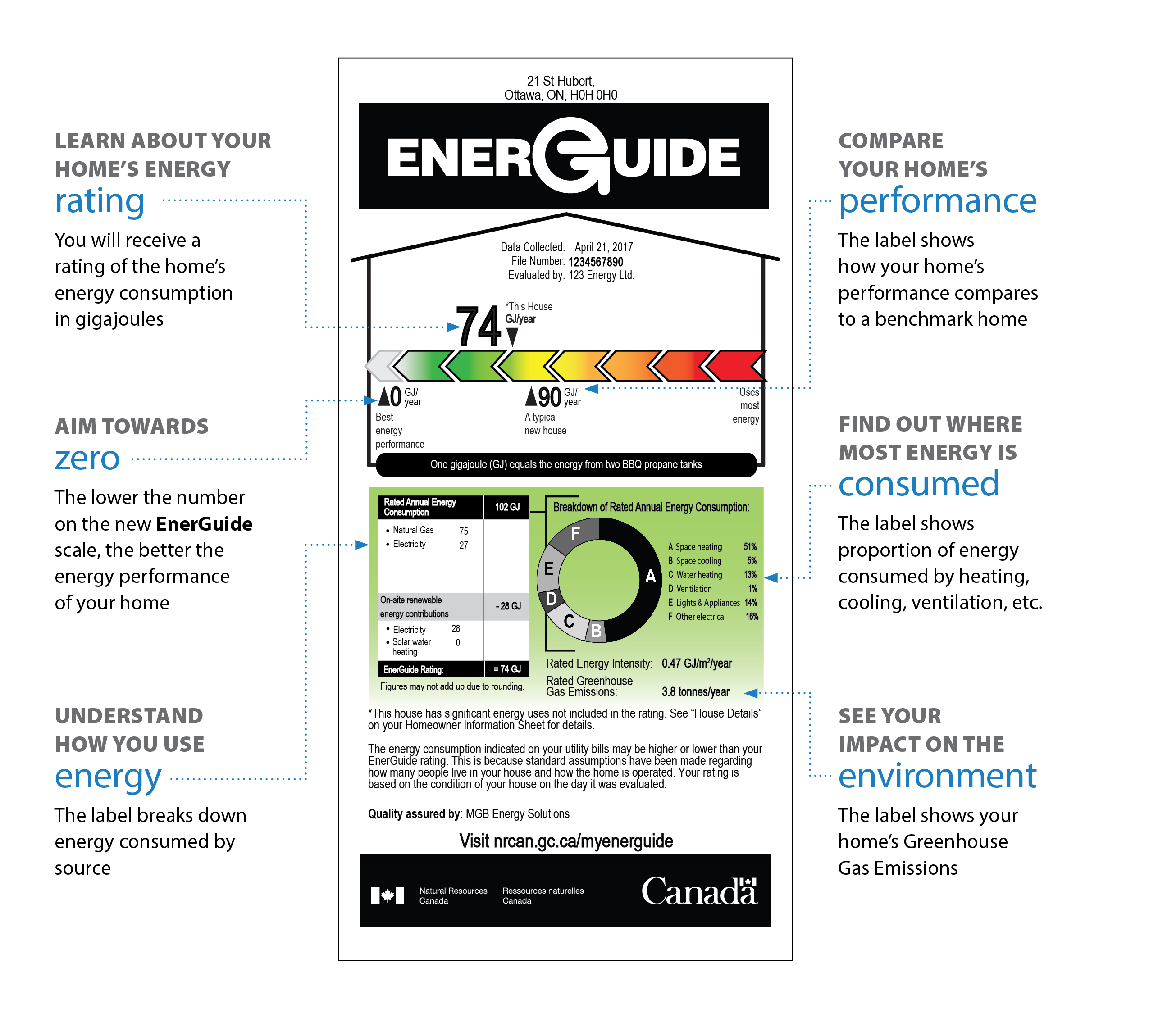 Text version

Learn more about your home's energy through the "rating" (you will receive a rating of the homes's energy consumption in gigajoules); Aim towards "zero" (the lower the number on the new EnerGuide scale, the better the energy performance of your home); Understand how you use "energy" (the label breaks down energy consumed by source); compare your home's "performance" (the label shows how your homes' performance compares to a benchmark home); find out where the most energy "consumed" (the label shows proportion of energy consumed by heating, cooling, ventilation, etc); and see your impact on the "environment" (the label shows your home's Greenhouse Gas Emissions)
Learn how Natural Resources Canada's EnerGuide makes homes more energy-efficient, more valuable, and more comfortable at nrcan.gc.ca/homes
The EnerGuide gigajoules rating shows the energy performance of a home:
The lower the number, the better the energy performance of the home.
Zero (0) is the best energy performance a home can get. It indicates a home that produces as much energy as it consumes.