Introduction to Compressed Air Systems
Compressed air systems consist of a number of major subsystems and components. Compressed air systems can be subpided into the Supply and Demand side.
The Supply side includes compressors, air treatment and primary storage. A properly managed supply side will result in clean, dry, stable air being delivered at the appropriate pressure in a dependable, cost effective manner. Major compressed air supply subsystems typically include the air intake, air compressor (fixed speed and/or variable speed), aftercooler, motor, controls, treatment equipment and accessories.
Controls serve to adjust the amount of compressed air being produced to maintain constant system pressure and manage the interaction between system components. Air filters and air dryers remove moisture, oil and contaminants from the compressed air. Compressed air storage (wet and dry receivers) can also be used to improve system efficiency and stability. Accumulated water is manually or automatically discharged through drains. Optional pressure controllers are used to maintain a constant pressure at an end use device.
The Demand side includes distribution piping, secondary storage and end use equipment. A properly managed demand side minimizes pressure differentials, reduces wasted air from leakage and drainage and utilizes compressed air for appropriate applications. Distribution piping systems transport compressed air from the air compressor to the end use point where it is required. Compressed air storage receivers on the demand side can also be used to improve system pressure stability.
As a rule of thumb, for every horsepower (HP) in the nameplate capacity, the air compressor will produce approximately 4 standard cubic feet per minute (scfm).
A simplified diagram illustrating how some of the major components are connected is shown in Figure 5.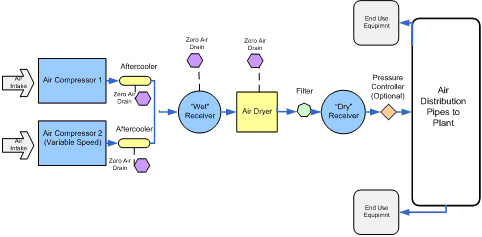 Text version

Figure 5 - Common Air Compressor System Components
diagram showing air compressors, aftercoolers, "wet" receiver, air dryer, filter, "dry" receiver, pressure controller, air distribution pipes, and end use equipment.
a. Compressed Air Use
Compressed air is used for a perse range of commercial and industrial applications. As it is widely employed throughout industry, it is sometimes considered to be the "fourth utility" at many facilities.
In many facilities, compressed air systems are the least energy efficient of all equipment. There is a tremendous potential to implement compressed air energy efficiency practices.
It has been common practice in the past to make decisions about compressed air equipment and the end uses based on a first cost notion. Ongoing energy, productivity and maintenance costs need to be considered for optimal systems. In other words, best practice calls for decisions to be based on the life cycle cost of the compressed air system and components.
Improving and maintaining peak compressed air system optimization requires addressing both the supply and demand sides of the system and understanding how the two interact.
Properly managing a compressed air system can not only save electricity, but also decrease downtime, increase productivity, reduce maintenance, and improve product quality.
Optimal performance can be ensured by properly specifying and sizing equipment, operating the system at the lowest possible pressure, shutting down unnecessary equipment, and managing compressor controls and air storage. In addition, the repair of chronic air leaks will further reduce costs.
For a typical compressed air end use, like an air motor or diaphragm pump, it takes about 10 units of electrical energy input to the compressor to produce about one unit of actual mechanical output to the work.
For this reason other methods of power output, such as direct drive electrical motors, should be considered first before using compressed air powered equipment. If compressed air is used for an application, the amount of air used should be the minimum quantity and pressure necessary, and should only be used for the shortest possible duration. Compressed air use should also be constantly monitored and reevaluated.
Previous | Table of Contents | Next