12 Days of ENERGY STAR
Giveaway summary
ENERGY STAR® Canada will be hosting a giveaway of ENERGY STAR certified products on Facebook and Twitter, sponsored by ENERGY STAR Canada Participants.
This year, the giveaway will launch on December 5, 2022 at 9 a.m. EST and close on December 19, 2022 at 8 a.m. EST.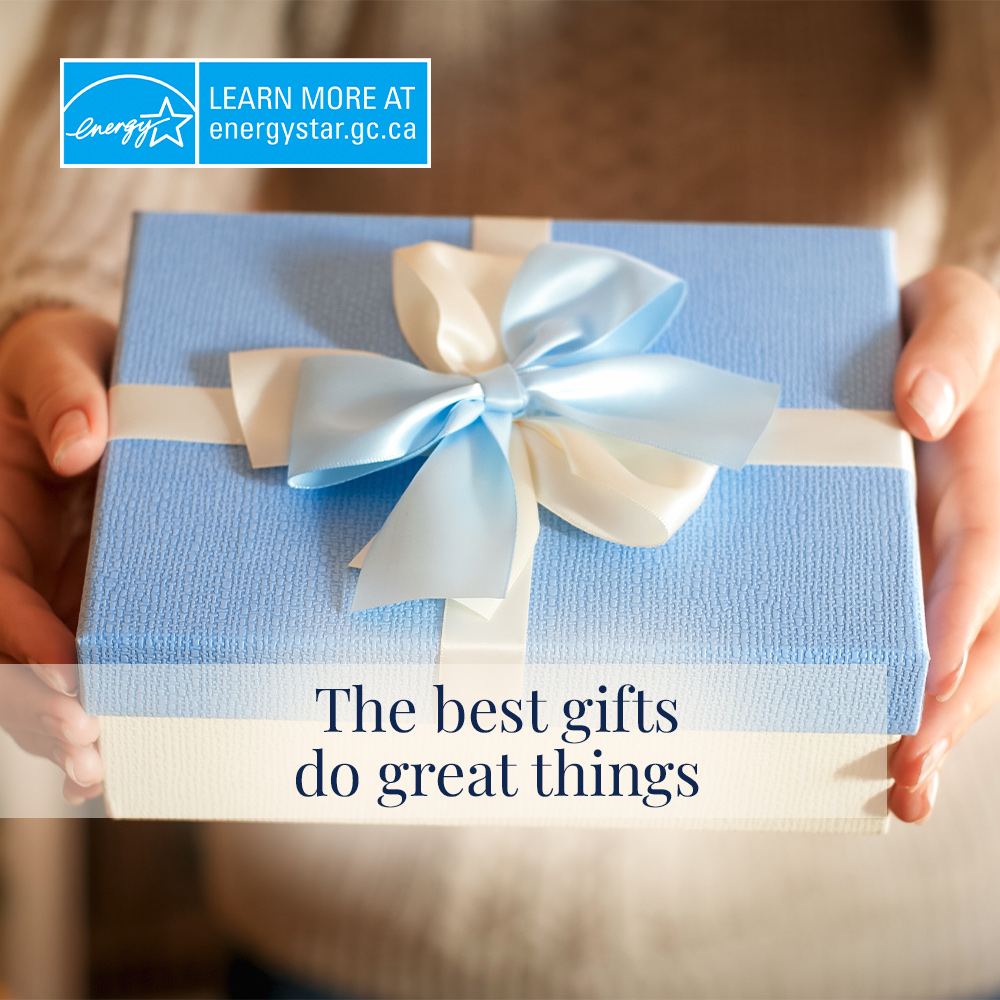 The giveaway and prizes will be announced across the following ENERGY STAR Canada social media platforms:
Facebook:
Twitter:
Eligibility
ENTRY IN THE GIVEAWAY CONSTITUTES ACCEPTANCE OF THESE RULES.
To be eligible to win a prize, at the time of entry into the giveaway a person must be:
An individual legal resident of Canada, and
Aged 18 or over.
ENERGY STAR Canada has the right at any time to require proof of identity and/or eligibility to participate. Failure to provide such proof may result in disqualification. ENERGY STAR Canada reserves the right to disqualify any entrant should such an entrant at any stage supply untruthful, incomplete, inaccurate, or misleading personal details and/or information. Employees of ENERGY STAR Canada for Products are not eligible to participate in the giveaway.
How to enter
NO PURCHASE NECESSARY. To enter for a chance to win, entrants must submit their full name, email address, and confirm their age and province/territory of residence through the entry platform. This personal information is collected for contacting purposes and eligibility verification only and will not be shared with any other entity. For more information about the collection of this data, please see the privacy notice below.
There will be different prizes available each day from December 5 until December 18. Entry for one prize does not constitute entry for all prizes across the 12 days. Individuals who enter the campaign may only win one prize over the duration of the campaign. Entry for prizes will open at 9 a.m. EST and close at 8 a.m. EST the following day. Only one entry per applicant per prize is permitted.
Winner selection and notification
Winners will be selected by random draw under the supervision of ENERGY STAR Canada. Winners will be notified by email within 24 hours following selection of winner. ENERGY STAR Canada shall have no liability for a winner's failure to receive notices or for a winner's provision of incorrect or otherwise non-functioning contact information. If a winner cannot be contacted, is ineligible, fails to claim the prize within seven (7) days from the time the prize notification was sent, the prize may be forfeited, and an alternate winner will be selected. ENERGY STAR Canada will verify the winner's eligibility and request contact information including shipping address and phone number to ship the prize to the selected winner.
ANY VIOLATION OF THESE OFFICIAL RULES BY A WINNER (AT ENERGY STAR CANADA'S SOLE DISCRETION) WILL RESULT IN A WINNER'S DISQUALIFICATION AS A WINNER OF THE GIVEAWAY, AND ALL PRIVILEGES AS A WINNER WILL BE IMMEDIATELY TERMINATED.
Sponsoring participants
Whirlpool Canada LP
L'Image Home Products Inc.
Samsung Electronics Canada
Best Buy Canada Ltd.
Conglom Inc.
Ricoh Canada Inc.
Bazz Inc.
Emerson Commercial & Residential Solutions
Am-Cam Électroménagers (Corbeil)
HP Canada
ecobee Inc.
Danby Products Ltd.
Pentair Water Pool and Spa, Inc.
Panasonic Canada Inc.
Terms and conditions
The aforementioned eligibility and entry criteria and the below terms and conditions are hereinafter referred to as "the Giveaway Rules."
ENERGY STAR Canada reserves the right, in its sole discretion, to cancel, terminate, modify, or suspend the giveaway should non-authorized human intervention, fraud, or other cause beyond ENERGY STAR Canada's control corrupt or affect the administration, security, fairness, or proper conduct of the giveaway. In such case, ENERGY STAR Canada may select the winner from all eligible entries received prior to and/or after (if appropriate) the action taken by ENERGY STAR Canada. ENERGY STAR Canada reserves the right, in its sole discretion, to disqualify any individual who tampers or attempts to tamper with the entry process or the operation of the campaign or website or violates these terms and conditions.
Acceptance of the prize
All prizes must be accepted as described and may not be transferred to another person, substituted for another prize, or exchanged in whole or in part for cash.
Privacy notice
Natural Resources Canada (NRCan) is committed to protecting the privacy rights of individuals, including safeguarding the confidentiality of information provided by individuals.
To enter the 12 Days of ENERGY STAR giveaway, you will be required to provide your name and email address through our service provider, Microsoft 365. Once you complete the participant form and click Submit, you allow NRCan to share the information with Microsoft 365, and its third parties. This information is being collected and used under the department's legislative authority of the Natural Resources Act, and it will be used to facilitate the giveaway and contact winners. The personal information you provide is protected in accordance with the Privacy Act. Submission of your personal information constitutes your consent to the collection, use, storage, and disclosure of your personal information by NRCan.
Microsoft 365 will generate a contact list with the information on the form. Microsoft 365, or its third parties, will host the contact list on their servers located in Microsoft Azure data centres in Toronto and Quebec City, so your information is subject to provincial and federal laws. By participating, you agree to Microsoft 365's privacy policy and licensing terms. As Microsoft 365 may change these policies, visit their website regularly because these policies apply to you. You can learn more about how Microsoft 365 manages this information here: https://learn.microsoft.com/en-us/dynamics365/get-started/gdpr/.
The information you provide will be retained until such time that winners are selected and successfully contacted, or a request is received to remove your information from the database. The personal information collected is described in NRCan's personal information banks EnerGuide for Houses and EnerGuide for Houses Retrofit Incentive Programs (PPU 090) and outreach activities (PSU 938), which is detailed under the Info Source.
In cases where services are provided by organizations outside of the Government of Canada, such as social media platforms, search or mobile applications, IP addresses may be recorded by the third-party service provider. Please refer to the terms and conditions on NRCan's website for more details.
Individuals to whom the personal information pertains have the right to access their personal information under the Privacy Act. For inquiries concerning the treatment of personal information in the custody of NRCan, or to exercise your right of access, individuals may contact NRCan's Access to Information and Privacy Office at 580 Booth St., 11th Floor, Ottawa, Ontario, K1A 0E8 or by email at nrcan.atip-aiprp.rncan@canada.ca. In addition, individuals have the right to file a complaint with the Privacy Commissioner of Canada regarding the institution's handling of the individual's personal information, for more information please visit www.priv.gc.ca.
Connect with us
Follow us on any of our social media channels for energy-efficient tips, rebates, giveaways and much more.
---
The ENERGY STAR name and symbol are trademarks registered in Canada by the United States Environmental Protection Agency and are administered and promoted by Natural Resources Canada.