Room air conditioners
Buy ENERGY STAR® to save you money!
An ENERGY STAR certified room air conditioner (A/C) uses 10% less energy, on average, than a standard model. Room air conditioners that have earned the ENERGY STAR Most Efficient designation are the best of the best – they'll save you more energy than standard models. Saving energy saves money and reduces your carbon footprint.
Heat pumps with a reverse-cycle feature can be used for air conditioning as well as space heating. Find more information on air-source and ground source heat pumps.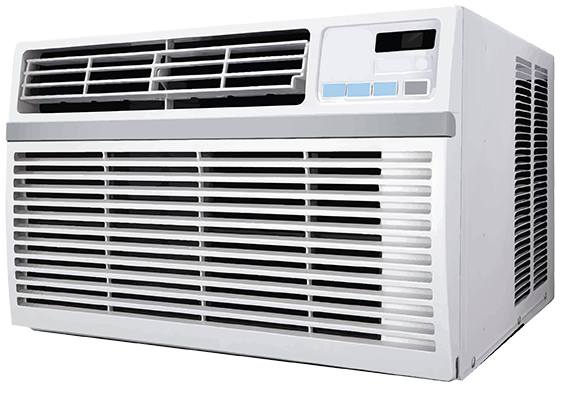 Key features
Better materials and clearer instructions to improve sealing and insulation around the unit, so costly and uncomfortable air leaks are minimized.
Some models offer Wi-Fi enabled smart functionality, which allows you to control your unit from a connected device such as a mobile phone or tablet.
Start your research using the ENERGY STAR Product Finder tool to find and compare certified room air conditioners. (NOTE: you will be redirected to the US ENERGY STAR website.
Helpful tips
Bigger is not always better: Buying an air conditioner that is too large does not provide better cooling. An oversized air conditioner is actually less effective — and wastes energy.
Consult a professional. A qualified air conditioning contractor can help to select the right sized unit and ensure proper electrical circuitry.
A room air conditioner needs adequate air circulation. Locate the unit away from doors, corners, drapes and furniture if possible. Choose a wall or window with northern exposure and/or plentiful shade if possible.
The location of the unit matters not just for installation, but also for cleaning, maintenance and removal. Removing and properly storing your unit over the winter will extend its life and help maintain its efficiency, saving you more money in the long run.
Make sure to seal large gaps with the panels or side curtains provided by the manufacturer. Stop up any remaining cracks with peelable caulking or other airtight sealant that will block air leaks and insects
Learn more in our booklet, Air Conditioning Your Home
What's in a label?
Room air conditioners in Canada can have two labels:

The ENERGY STAR symbol means the model is highly energy efficient.
The EnerGuide label shows the model's energy consumption and how it compares to similar models. Learn more about EnerGuide labels for room air conditioners.
The ENERGY STAR Promise
All ENERGY STAR certified products are tested to meet strict efficiency specifications and are certified by an independent third party. They perform the same as or better than standard products without compromising performance in any way.
Regulations set the energy efficiency minimum
Room, central and large commercial air conditioners are subject to Canada's Energy Efficiency Regulations, which set a minimum performance standard for their energy efficiency. Find details in the Guide to the Regulations.
---
The ENERGY STAR name and symbol are trademarks registered in Canada by the United States Environmental Protection Agency and are administered and promoted by Natural Resources Canada.