Regional Energy and Resource Tables
Canada's abundant natural resources and its ability to develop them – sustainably and inclusively – are significant comparative advantages in the global transition to a low-carbon economy. This means we have an unprecedented opportunity to create good, well-paying jobs, thriving communities and sustainable economic prosperity from coast to coast to coast – all while achieving our ambitious climate and nature goals.
The Regional Energy and Resource Tables (Regional Tables) are a key part of the Government of Canada's efforts to seize this historic moment and ensure Canadians reap the economic benefits of climate action.
Announced in Budget 2022, the Regional Tables are a collaborative initiative that brings the federal government together with individual provinces and territories, in collaboration with Indigenous partners – and with the input of key stakeholders – to advance the top economic priorities in the energy and resource sectors in each of Canada's regions.
By collectively identifying and advancing the most promising opportunities, both public dollars and private capital can be strategically directed with maximum effect to support economic growth, reconciliation, climate outcomes, diversity and equity, and the creation of sustainable jobs. Some potential sources of funding include the federal government's Strategic Innovation Fund – Net Zero Accelerator; the $15 billion Canada Growth Fund; the $35 billion Canada Infrastructure Bank; the $3.8 billion (in Budget 2022) to implement Canada's first Critical Minerals Strategy; and $3 billion (in Budget 2023) to replenish the Smart Renewables and Electrification Pathways Program.
The Regional Tables will help to align resources and timelines across all levels of government and better coordinate regulatory and permitting processes – all while respecting the rights and engaging the interests of Indigenous peoples, as well as enlisting the expertise of union partners, workers, industry, municipalities, experts and think tanks.
Getting started
The Regional Tables are proceeding in a phased approach. British Columbia, Manitoba and Newfoundland and Labrador launched the first Regional Tables in June 2022. Additional Regional Tables were established with the provinces of Ontario, Nova Scotia, New Brunswick and Prince Edward Island, as well as the Northwest Territories and Yukon, in October 2022.
The goal is to have Regional Tables established with every province and territory in 2023.
Text version

Map of Canada, highlighting the launch of Regional Tables by province and territory.

British Columbia, Manitoba and Newfoundland and Labrador launched June 2022
Yukon, Northwest Territories, New Brunswick, Nova Scotia, Prince Edward Island, and Ontario launched October 2022
Provincial and territorial updates:
The opportunities
Across Canada, regional growth opportunities will come from creating new products and processes that enable a low-carbon future, such as critical minerals, clean hydrogen, small modular reactors, carbon capture and storage, negative-emissions technologies, renewable energy, biofuels, electric cars and buses, battery technology and other clean technologies. They may also involve finding new uses for existing products, such as non-combustion applications for fossil fuels and continued innovations with Canadian wood and wood products. Other opportunities may come through increased demand for traditional goods produced in an ultra-low-emission manner, such as low-carbon steel and aluminum.
The Regional Tables will also provide a forum to discuss how partners can work together to ensure that electrical generation capacity and electrical grids will be capable of meeting the requirements of both decarbonisation and the increased demand associated with broad electrification.
In addition, the Regional Tables will inform Canada's approach to supporting workers and creating sustainable jobs, as well as co-operatively and collaboratively developing economic strategies that reflect Canada's regional diversity.
How the Regional Tables work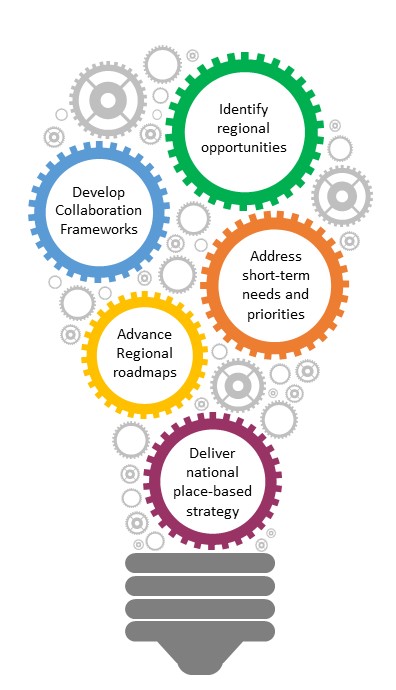 The Regional Tables are designed to be collaborative and include:
a partnership between the federal government and individual provinces and territories to identify and advance opportunities to build on their respective strengths and recognize their unique mixes of natural resources;

tailored Indigenous engagement to integrate perspectives at the outset and advance reconciliation; and

enlisting the input and advice of targeted experts, essential stakeholders, and other partners.
A key first step of this process is to identify regional opportunities and joint actions to advance them. This will lead to measures to address short-term needs and priorities, as well as laying the foundation for regional roadmaps and a national place-based strategy. In addition, these efforts will align with sectoral strategies – such as the existing Hydrogen Plan for Canada, the Small Modular Reactor Action Plan and the Critical Minerals Strategy – and include a commitment to ensure Indigenous partners in each province and territory are engaged both at the outset and throughout the process.
Progress to date
There is no one-size-fits-all approach to the Regional Tables. Each is unfolding according to the pace set by the participating province and territory.
The Government of Canada is collaborating with its partners according to their preferred approach, which is why the nine existing Regional Tables are progressing at their own speed. Where one province or territory may still be fine-tuning its priorities, another might already be looking at next steps to deliver on its opportunities. Additionally, Indigenous partnership and engagement is essential and is being integrated within the individual processes.
As these efforts proceed, introductory sessions have been held with representatives from national labour and industry groups, as well as various think tanks, to brief them on the purpose, scope, and early progress of the Regional Tables. Additional engagement sessions are being scheduled for wider consultations and more in-depth discussions.
Why use regional processes?
Canada is both a vast country and a decentralized federation where each region has a unique set of natural resources, energy systems, labour markets and regulatory approaches. The economic opportunities available to each region – and therefore the approaches they take to achieve net-zero emissions and a strong economy – will be different across the country.
Independent thought-leaders in Canada – such as the Transition Accelerator, Quest Canada, and the Canadian Climate Institute – have been calling on the federal government to play a convening role while each region of the country drives towards its net-zero future in ways that work best for them.
At the global level, the International Energy Agency has recommended the federal government coordinate closely with provincial and territorial authorities to identify region-specific opportunities and align key actions needed for long-term emissions reductions by 2050. Two examples stand out:
The Government of Australia, another decentralized federation, has pursued a similar initiative with state governments to accelerate low-carbon energy opportunities and clean electricity grid development with multi-party regional agreements.
The United Kingdom has developed an energy security strategy that aligns opportunities to invest in renewables, energy efficiency, hydrogen, clean electricity and nuclear with skills development and employment opportunities.
The Government of Canada is learning from these initiatives and developing its own best practices. For example, while the Regional Tables are partnerships between the federal government and the individual provinces and territories, they are also a whole-of-government initiative being led at the federal level by Natural Resources Canada and involving multiple institutions, including Innovation, Science, and Development Canada, the Regional Development Agencies, Employment and Social Development Canada, and the Canada Infrastructure Bank.
Through these regional processes, Canadian businesses, entrepreneurs, and investors will have even greater clarity from all levels of government to confidently invest the capital and expertise that spurs national growth and international competitiveness.
The Government of Canada also expects these regional processes to help it better predict what the jobs of the future will look like. This will assist us to better anticipate and develop the types of training programs and supports required to ensure Canadians can adapt their existing skills or acquire new ones to succeed in a net-zero world.
Investing in our future
To achieve net-zero emissions by 2050, Canada will need between $125 billion and $140 billion in combined annual investments from the public and private sectors.
The Government of Canada is committed to doing its part through a range of existing funding and financing tools that include:
Through the Regional Tables, Canada will develop a competitive and highly prosperous, sustainable natural resource-driven economy that creates wealth and jobs in every region while ensuring it achieves our ambitious climate and nature goals.
Contact us
If you have any questions or comments about the Regional Energy and Resource Tables, please send them to us through this contact form.