Carbon Management Strategy (formerly known as the Carbon Capture, Utilization and Storage Strategy)
Recognizing that carbon management can play an essential role in the transition to a prosperous net-zero economy, we are leading the development of a Carbon Management Strategy for Canada that will enable the Canadian carbon management industry to realize its GHG reduction and commercial potential.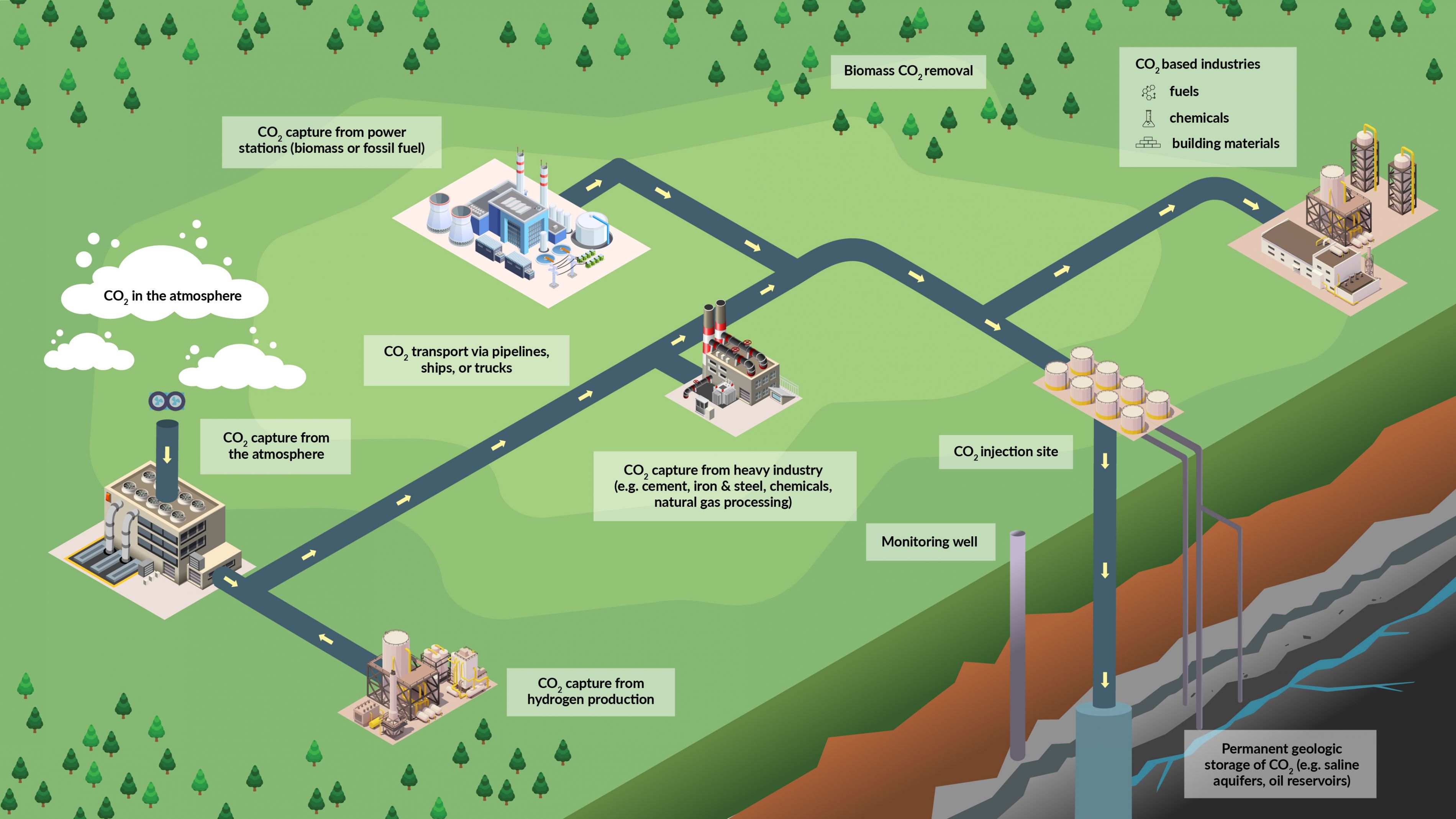 Text version

This graphic shows a network of interconnected facilities set in a flat landscape, surrounded by forest. A cross-section reveals deep geologic layers beneath the soil. The carbon capture process is illustrated at different sites. Carbon dioxide (CO2) already present in the atmosphere is captured from a direct air capture facility and naturally removed from the air by photosynthesis and incorporated in the forest biomass. CO2 is also captured from point sources: at a hydrogen production facility, power stations that use biomass or fossil fuels, and heavy industry facilities (e.g. cement, iron & steel, chemicals, natural gas processing). Arrows indicate that the captured CO2 from each of these facilities is being transported via pipelines, ships or trucks to either a CO2 injection site where the CO2 is injected underground, permanently stored in geologic formations (e.g. saline aquifers or oil reservoirs) and carefully monitored or to an industrial facility where the CO2 is used, in processes such as the creation of CO2-based products (e.g. fuels, chemicals, building materials).
Building Canada's Carbon Management Strategy
Canada is well positioned to advance our global carbon management leadership. We are collaborating with key stakeholders and partners to build a strategy with a vision and set of areas for action to help the carbon management industry realize its full potential.
Carbon management will be important in Canada's economic and environmental future as we strive to meet our net-zero by 2050 objective.
Why is this essential?
Carbon Management is critical to achieving global climate and energy goals and urgent steps are needed to significantly ramp up Carbon Management RD&D and deployment. According to the Intergovernmental Panel on Climate Change (IPCC) and the International Energy Agency (IEA), there is no viable path to net-zero emissions without carbon management technologies, but their deployment must be rapid and immense, scaling up by nearly 200 times by 2050.
Carbon Management is a significant opportunity for Canada, both in terms of economic opportunities and climate change action. Growing our Carbon Management industry will:
contribute to clean economic growth and to building an inclusive workforce
expand international market and trade opportunities 
address the emissions from the toughest-to-abate but crucial sectors of Canada's economy
enable other pathways essential to decarbonisation (e.g. electrification, hydrogen)
deliver carbon dioxide removal
Carbon Management is critical to five key pathways to a prosperous net-zero economy in Canada

Decarbonizing heavy industry
Low carbon dispatchable power

Carbon removal

Low carbon hydrogen production
CO2 based industries
Learn more about the ongoing CCUS research at NRCan's labs.