Innovation and Electricity Regulation Initiative (IERI)
The Innovation and Electricity Regulation Initiative (IERI) is one of Natural Resources Canada's initiatives to support the Government of Canada's Clean Technology Regulatory Review Roadmap. This initiative investigates the role of regulations and related programming for scaling successful innovations and accelerating grid modernization to meet net zero goals. The initiative's primary objective is to better understand Canada's energy regulatory landscape related to grid modernization, energy system innovation and net zero pathways. This includes investigating stakeholder needs and translating that into enabling policy and program considerations.
Importantly, provincial and territorial policy drivers will guide this initiative. This includes priorities outlined in the Clean Power Roadmap for Atlantic Canada and others which emerge from the Regional Energy and Resource Tables to foster innovation and enable grid modernization. The Initiative will also conduct its own targeted research and stakeholder engagement, with opportunities for collaboration and shared learning within the regulatory community.
As an output, this initiative will produce a framework for enhancing federal programs to support provincial and territorial processes which accelerate grid modernization, innovation and energy sector transformation in Canada. To develop that framework, this initiative will undertake research, participate in regulatory review, and conduct targeted stakeholder engagement.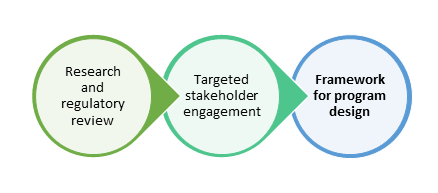 Text version

Three interconnecting circles presenting the two activities for the Initiative (research and regulatory review, and targeted stakeholder engagement) leading to a framework for program design
For more information, contact the Innovation and Electricity Regulation Initiative team at ieri-iire@nrcan-rncan.gc.ca
Links to other studies and work