Why are researchers interested in an earthquake that occurred over 300 years ago?
Hint: it's the largest earthquake that ever hit eastern North America… A case of trees helping researchers
by Pierre Naud, Regional Communications Manager—Quebec Region
February 2020
The Charlevoix area is the most active seismic zone in eastern Canada and the second most seismically active zone in Canada next to the Pacific Coast. This part of Quebec is also the playground of two Geological Survey of Canada researchers: Didier Perret, a geoscientist at the Quebec City office, and Greg Brooks of the Northern Canada office.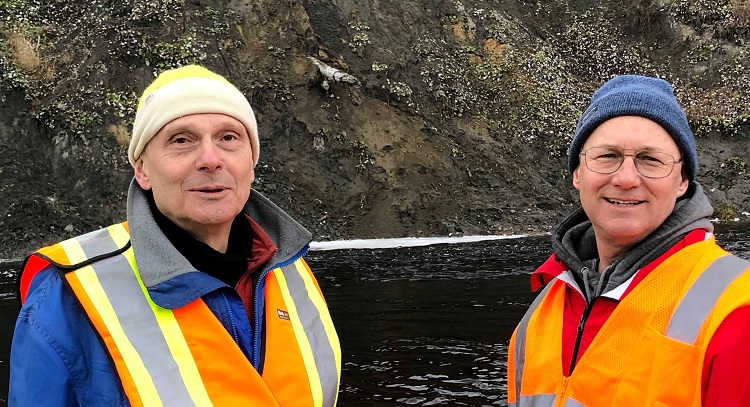 They're using various techniques to dig deep into Charlevoix's seismic history, with particular interest in the historic earthquake of 1663. Using boreholes, vibrator trucks and geotechnical analyses, they're studying the geologic sediments left behind by earthquakes.
They're surveying the banks of the Gouffre River in search of tree trunks buried by major landslides that may have been caused by earthquakes, including the natural disaster of 1663. These ancient trunks are the key to dating the landslides. The team gets to work, carefully sampling the outer few rings of well-preserved trunks. These samples are sent to a laboratory for radiocarbon dating, which will reveal when each sample was buried.
Magnitude 7.5 quake shook what is now Quebec
"With an estimated magnitude of about 7.5, the 1663 earthquake caused huge landslides not only in the Gouffre River valley but also more than 300 kilometres from the epicentre, which was probably between Baie-Saint-Paul and La Malbaie," says Didier. The landslides buried trees by dragging them along with the soil. The team is using this evidence to determine whether there have been events of similar magnitude in the last 10,000 years in the same area.
"Since the trees we've found so far are all apparently from 1663, we believe that before that quake, we would have to go back at least 5,000 years to find a comparable event," adds Didier.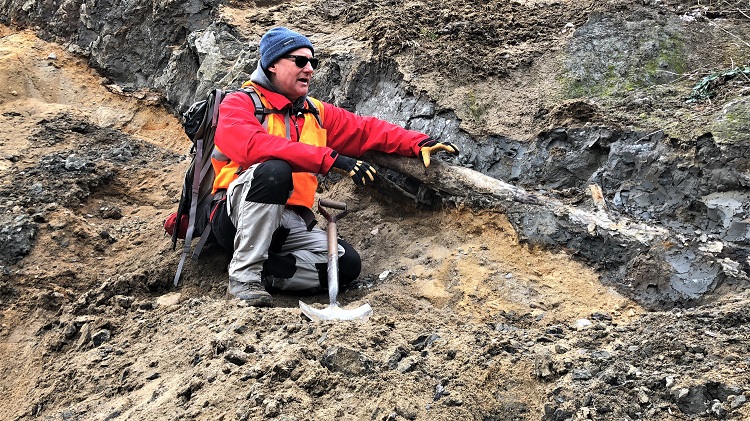 Could it happen again?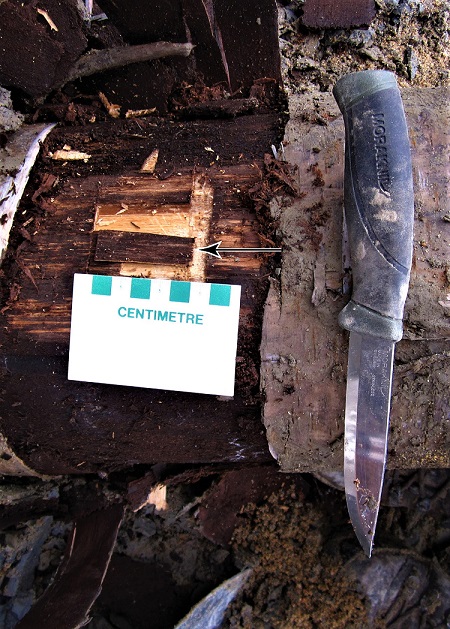 So why the interest? It's quite simple. By collecting and dating samples of wood and organic material buried in the debris of ground movements, the researchers can determine whether there have been other major quakes and thus measure the threat of earthquakes in the area.
According to the models used to assess seismic hazards, earthquakes comparable to the 1663 quake are expected to occur, on average, once every 1,000 to 2,000 years. In other words, we would expect that the area would have been hit by five to 10 similar earthquakes in the last 10,000 years, or since the end of the last ice age.
This historical research has great value. For researcher Greg Brooks, it could have a direct impact on the safety of Canadian buildings.
"The information we have about earthquakes in North America is relatively recent," says Greg. "To better understand the risk of earthquakes, we need to know and understand how often major seismic events can occur, how strong they might be and where they were located."
One way to gather that information is to study past earthquakes and their consequences, such as landslides.
Building to protect future generations
"The data we collect in these types of studies is extremely important, since it's used to update the National Building Code," says Greg. Under the Building Code, buildings have to be reinforced to make them more resistant to seismic events, which is an important part of Natural Resources Canada's Public Safety Geoscience Program. This contributes to the safety and security of Canadians.
You don't have to go very far to see new building construction that shows the advances that have been made in seismic resistance. Near where the scientists are conducting their research, there are X-shaped reinforcements embedded in the walls of the Baie-Saint-Paul hospital and a local school. These make buildings more resistant to earthquakes, even in an area that is seismically active.
This technique was developed as a result of extensive research on seismic events, and it protects Canadians.