Studying Seaweed Extract to Enhance Drought Resistance in Trees
By Chantal Hunter
January 2016
Natural Resources Canada (NRCan) is studying the potential of a liquid seaweed to ensure the survival of tree seedlings used in reforestation efforts.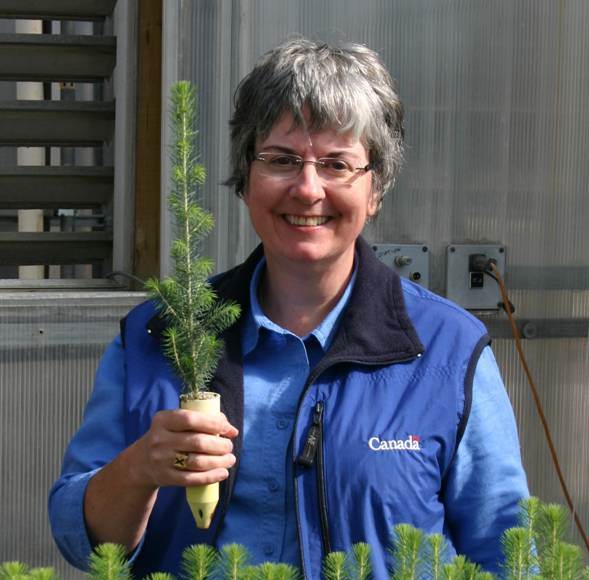 Successful reforestation after logging is an integral part of maintaining the sustainability of Canada's forests. However, changing climatic conditions could mean fluctuations in temperature and rainfall. Drier conditions may put newly planted seedlings used in reforestation efforts at risk.
Joanne MacDonald, a research scientist with Natural Resources Canada's Atlantic Forestry Centre (AFC) is testing the use of a liquid seaweed extract on white spruce seedlings to ensure their survival in a changing climate. Previous studies have shown that when applied to certain plants such as turfgrass, seaweed extracts can stimulate root growth. However, Joanne's research marks the first time that seaweed extracts have been studied for their effects on a tree species.
"New root growth supplies water and nutrients to tree seedlings that are very vulnerable to drier conditions during the first year after planting," says Joanne. "Vigorous root growth is essential for the seedlings to survive."
Research Methodology Using Liquid Seaweed Extract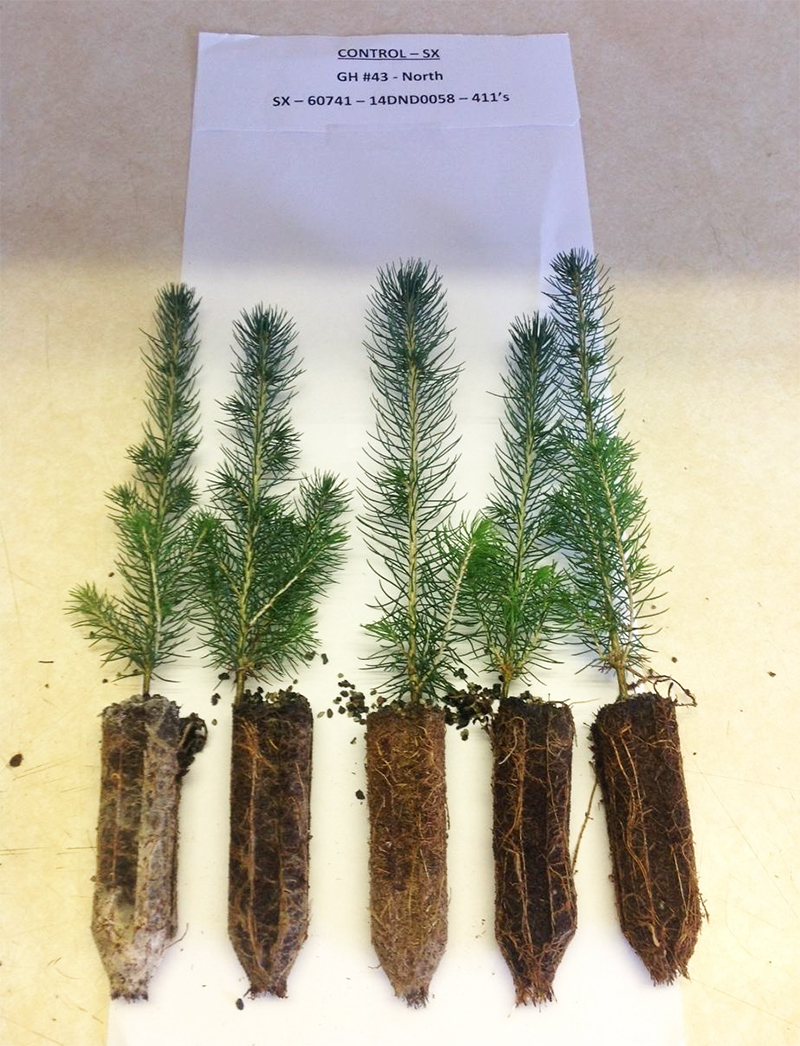 Joanne recently conducted a study of white spruce seedlings, one of the primary reforestation tree species in Canada, at the AFC's research nursery in Fredericton, New Brunswick. The goal was to determine if the application of a liquid seaweed extract could enhance root growth in these seedlings.
The seedlings were grown in peat-filled containers. As a seedling develops, its root system becomes incorporated with the peat and eventually forms what is known as a "plug". In late summer, seedlings were root drenched with varying concentrations of a commercially available liquid seaweed extract either four or eight times over a period of 17 or 43 days, respectively. A control group of seedlings did not receive the extract.
After growing under ideal conditions at the AFC greenhouse until the following spring, seedlings treated with the extract had more and longer new roots emerging from the plugs than untreated seedlings. In fact, the number of new roots increased by up to 63 per cent when compared with the control group.
"These results suggest that applying a liquid seaweed extract in the nursery may increase root growth after spring planting on harvested forest lands," says Joanne.
Next Steps for Seaweed Extract Research
As a next step in this research, Joanne is working as the scientific and technical advisor for a commercial nursery in British Columbia that recently received funding from the National Research Council's (NRC) Industrial Research Assistance Program (IRAP) to explore the commercialization prospect of NRCan's seaweed extract research protocol. This work will focus on white spruce and lodgepole pine seedlings,important reforestation species in British Columbia and Alberta.
In related research, Joanne is determining the effects of the same product on survival and growth rates of chokecherry seedlings, a shrub species that has shown potential for use in land reclamation projects.
"The use of a liquid seaweed extract has shown promise as a way to reduce the vulnerability of seedlings during that critical first year after planting," says Joanne.
For more information, visit the NRCan Web site.