Stories From the Land: Indigenous place names in Canada
A special team combed through thousands of possibilities in more than 70 different Indigenous languages from practically every corner of Canada to update the Indigenous Place Names Map with 125 new entries.
June 2022
What's in a name? Most of us probably already know the answer to that question: a lot! Take these three communities for instance: Coquitlam, Saskatoon and Kanata. These are three vastly different geographic locations in Canada, but they have at least one thing in common: they're all Indigenous place names. This year, the interactive Indigenous Place Names Map of Canada will have 125 new entries to coincide with the 125th Anniversary of the Geographical Names Board of Canada (GNBC), a federal-provincial-territorial body supported by Natural Resources Canada (NRCan).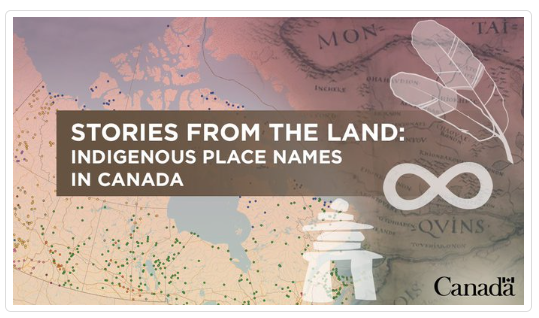 "It's rewarding to know that data that we work with comes from people and are used by people, fuelling so many relationships to the land, your neighbours, your own identity," says project lead Sarah Bannon. "A person can relate to place names no matter their background, identity or age. Place names are constantly around us, used every day."
Sarah is part of a team at NRCan's Centre for Mapping and Earth Observation (CCMEO) responsible for maintaining and managing all the geospatial data for the Canadian Geographical Names Database, which is the authoritative place names data centre of Canada. This team also conducts background research into Indigenous histories and languages, data-mines the data sets and prepares methods to extract information from the database. It's a huge undertaking that includes reviewing records for more than 20,000 place names with origins in First Nations, Inuit and Métis worldviews. Some of the records date back to the 1800s, when the GNBC was first established. The national database of names continues to be regularly updated with recently approved names.
Most people are familiar with maps that contain recognizable place names and information about geographical features, roads, boundaries and sometimes even climate zones. This map is different. It displays only Indigenous place names; identifies the Indigenous language used; presents the traditional spelling in the original language; and provides the meaning of the word. It also features Indigenous names that have replaced settler names and names for features that have, until now, never had an officially recorded name.
Text version

| | | | |
| --- | --- | --- | --- |
| Community | Coquitlam | Saskatoon | Kanata |
| Language: | Hul'q'umi'num' / Halq'eméylem / hən̓q̓əmin̓əm | Cree | Wendat |
| Dialect meaning: | From "kwikwitlem", may translate to small red salmon | Anglicization of Cree for Saskatoon berry, "misâskwatômina" | A collection or cluster of huts |
| Feature type: | City | City | Unincorporated place |
| Year adopted: | 1891 | | 1966 |
Some of the Indigenous names are already familiar, like Wasaga Beach, Niagara Falls, Kluane and Québec. "People often say they had no idea these names were Indigenous," says Sarah. But the map also includes unfamiliar entries, like:
Carla Jack, a CCMEO senior toponymist — a person who studies place names — from Penelakut Tribe on Vancouver Island, British Columbia, leads the Focus Group on Indigenous Geographical Names for the UN Group of Experts on Geographical Names. She has worked closely with Indigenous leaders to access and curate important and sometimes sacred information. It's important to make sure the new place names accurately reflect different communities, including their languages and locations. This means quality control, fact checking, going over the data and contacting experts and Knowledge Holders to ensure that the information presented is not just factual but also appropriate.
"I remember one of the most meaningful exchanges I had with an Indigenous leader," she recalls. "We had just finished a project to restore the community names, and the community leader turned to me and said 'This is the first time we can see ourselves on the map of British Columbia.' This was a really powerful moment that I'll never forget. Until that point, the community had been invisible on government maps. The value of being recognized in your own language on a map means so much, it's hard to put it into words."
Working to expand the knowledge of Indigenous place names helps contribute to the larger effort to recognize and reconcile the past. Many Indigenous place names — and, with them, their deep and meaningful connections to identity, culture, language and land — were forcibly disregarded by settlers. The recovery of these names is of great importance, as is the value of Indigenous languages in general: the United Nations has declared 2022–2032 the International Decade of Indigenous Languages.
Text version

| | | | |
| --- | --- | --- | --- |
| Community | Gid Gwaa GyaaGa GawGa | Kluane National Park and Reserve of Canada | Québec |
| Language: | Xaayda Kil | | |
| Meaning: | The ancestral Xaayda Kil name | Big Whitefish | Narrowing, or where it is blocked |
| Feature type: | Bay | Conservation area | City |
| Year adopted: | 2022 | 2001 | 1968 |
The CCMEO data sets are available on the open data portal. You can learn more about the more than 70 Indigenous languages that the names are from, many of which are endangered, or discover what Indigenous place names are used around your home. You might even find out that a place name you use every day originates from an Indigenous language.
Whether you want to dive into the raw data or simply click through the user-friendly Indigenous Place Names Map, this is a great resource for anyone who is curious about Indigenous cultures and languages.
And just as place names aren't static and landscapes change over time, so too will this map and the geospatial data that supports it continue to evolve.
Explore:
Indigenous Geographical Names Data
Geographical Names Board of Canada
Stories from the Land: Indigenous Place Names in Canada
Geographical Names Board of Canada's Indigenous Place Names
United Nations Declaration on the Rights of Indigenous Peoples