Satellite Navigation: The familiar blue dot could soon mark a better spot
By Dr. Simon Banville, Senior Geodetic Engineer
February 21, 2019
Getting from point A to point B using your smartphone's web mapping application with the familiar pulsing blue dot is part of our daily lives — thanks to satellite system receivers that use global positioning systems (GPS) to give location and time information.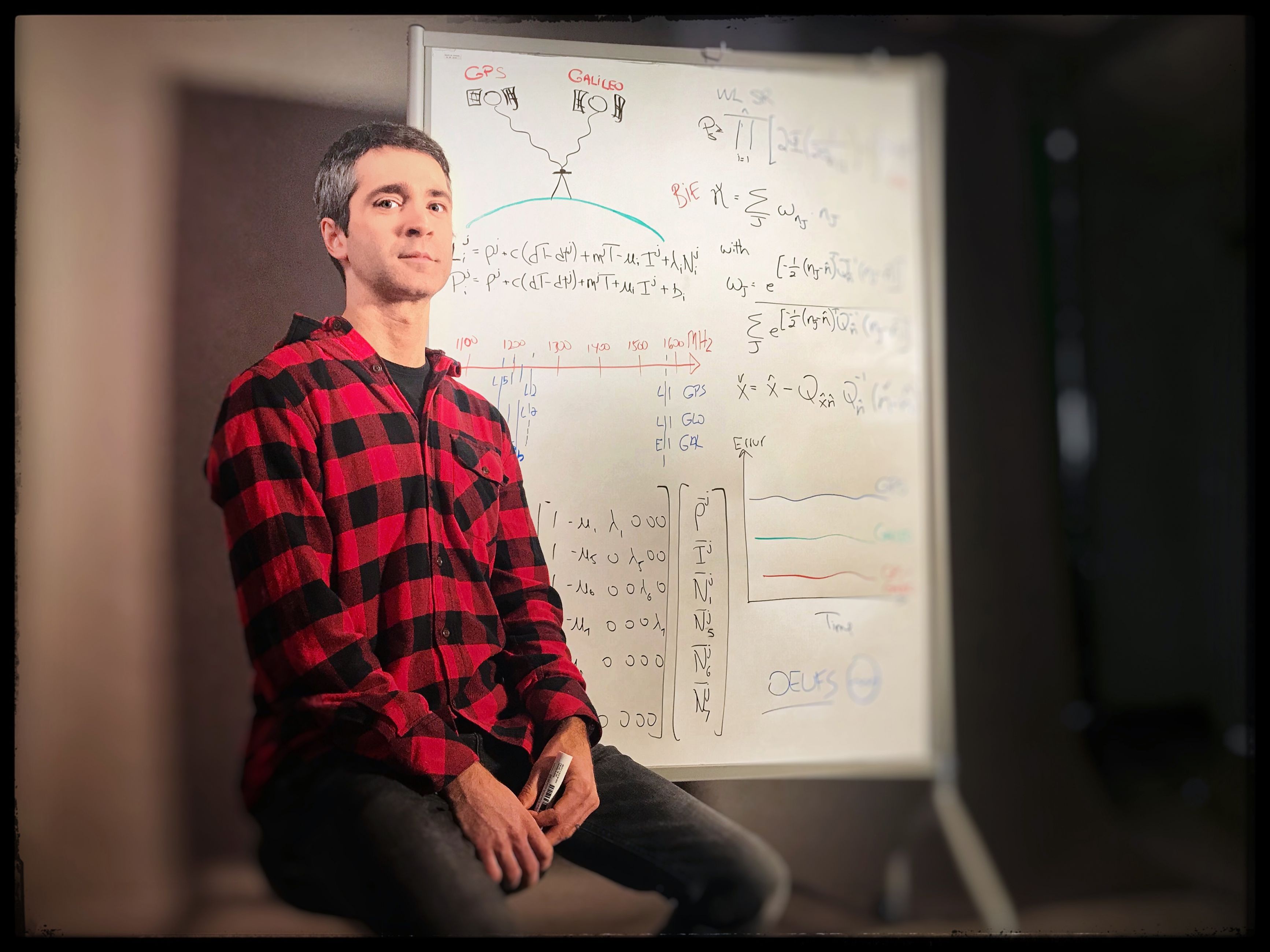 Positioning technology is evolving, and today a typical smartphone can pinpoint a person's location within a few metres, which is adequate for most personal use. But for a future that includes autonomous driving, precision agriculture and natural disaster early warning systems, centimetre-level accuracy will be crucial.
New satellite configuration, new signals, new data
That's one reason why the landscape of global navigation satellite systems (GNSS) is quickly evolving with the development of new satellite configurations. For example, the European Union provided open access to a new commercial-service signal for their Galileo GNSS, which will consist of 30 operational satellites in the near future. Harnessing this opportunity, NRCan's Canadian Geodetic Survey collaborated with France's Centre National d'Études Spatiales to develop positioning calculations — essentially an algorithm — that optimize the use of all available GNSS signals to enable instantaneous centimetre-level positioning using high-end equipment.
Opportunities beyond your personal cell phone
Accurate GNSS positioning within seconds can provide new opportunities and benefit several applications, including:
Tsunami Early Warning Systems
More timely alerts. Following an earthquake, GNSS receivers play an essential role for tsunami warning systems by providing real-time data on ground displacement. The timeliness of this information is, of course, critical and gives emergency responders the up-to-date information they need.
Precision Agriculture
Improved efficiency of farming. GNSS-guided equipment can plant, water and fertilize fields with centimetre-level accuracy — saving resources, reducing chemical spreading and minimizing environmental impacts.
Autonomous Driving
Reduced deployment and maintenance costs. While self-driving cars rely on positioning information from multiple sensors, only GNSS techniques can provide absolute positioning capabilities. For safety and integrity purposes, GNSS positioning requires a ground infrastructure, but this can be scaled down — saving significant costs — if vehicles can autonomously compute high-accuracy positions in a timely fashion.
A question of not if but when…
While your smartphone doesn't currently track all signals needed for centimetre-level instantaneous positioning, manufacturers are constantly improving GNSS chipsets to meet the positioning needs of mass-market users. Similarly, the Canadian Geodetic Survey is continuously modernizing services to meet the positioning requirements of Canadians. Thus, it's only a matter of time before accurate positioning from smartphones will be possible, thanks to NRCan initiatives.
So the next time you navigate using your smartphone, think of the rapidly advancing NRCan expertise behind that blue dot, guiding your way.