Inspiring minds, 17 ways to get excited about STEM
We could all use a bit of inspiration right now. In honour of the International Day of Women and Girls in Science this year, Simply Science asked Natural Resources Canada (NRCan) scientists about what, or who, inspires them. From pebbles to radio programs, creative cooking, YouTube stars and binge-worthy TV series, here are 17 super cool ways to get excited about STEM careers.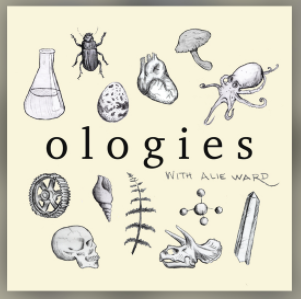 Ologies
"I would recommend the Ologies podcast. It's hosted by a female science communicator who interviews a different 'ologist' in each episode. The topics are wide ranging (from natural history and human physiology, to mechanics, history, space, and food) and interviewees are diverse and showcase a wide variety of career options and fields of study. Bleeped episodes are available on their website for younger audiences".
- Charlene Lloyd, Pacific Forestry Centre, Scientific Support Technician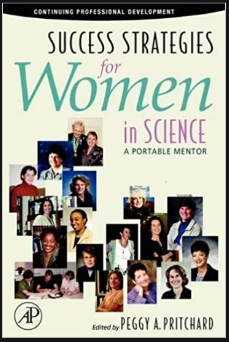 Success strategies for Women in Science
"I have a book that I actually started re-reading recently and would recommend for upper high school to early career scientists. While women are becoming more prevalent in STEM fields, we can face unique challenges during our education and later on as we develop our career. I like this book as it includes a range of topics and insights from several female role models in different fields. You can learn from and relate to their challenges and gain insights from their choices and successes. It helped me to wade through graduate school and balance my work while starting a family at the same time, I would certainly recommend it to budding scientists starting to think about university and starting up their early career in STEM."
- Lynn Dafoe, PhD., scientist at Geological Survey of Canada, Atlantic Region
"Against all odds, these female African-American mathematicians at NASA overcame constant oppression and made revolutionary contributions to the success of space flight missions."
- Prachee Misra, Research Scientist, CanmetENERGY Devon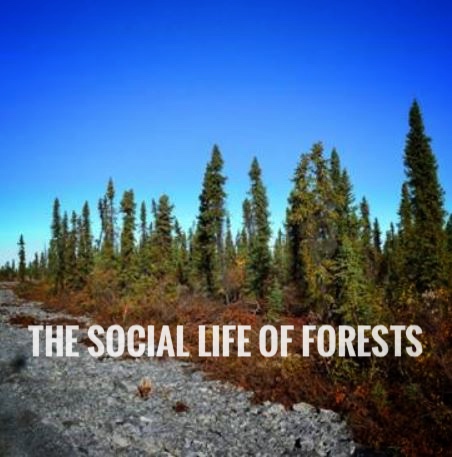 The social life of forests
"This is an amazing read on the work done by Suzanne Simard. Definitely a woman in STEM to read about. The New York Times Magazine article: The Social Life of Forests discusses the research of University of British Columbia professor of forest ecology Suzanne Simard on the relationships between mycorrhizal fungal networks and trees within a forest."
- Kate Van Rooyen, Forest Technician, Atlantic Forestry Centre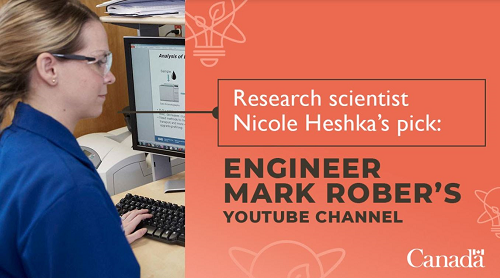 "I love Mark Rober's YouTube channel. He's an engineer using fun videos to explain STEM concepts. As a child, I was curious to learn how things work & I feel his videos encourage that curiosity, especially for kids."
- Nicole Heshka, Research Scientist, CanmetENERGY Devon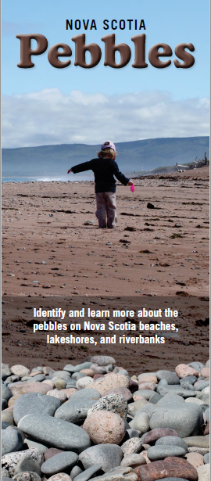 The Nova Scotia Pebble Guide
"It's a wonderful intro piece to geology. And beaches — at the ocean, river or lake edge — have pebbles to examine. What still intrigues me is the history of any pebble one picks up. Did it start as lava or as sediment in a stream or creatures living in warm water, or have many 'lives' beginning as granite, after a long time eroding to form sediment and then 'cooked and pressured' to form slate? Then, to discover the range of environments, (volcanic related to subduction zone, quiet river system, active folding and faulting due to active tectonics, etc.) in which these pebbles were formed and the vast amount of time required."
- Jennifer Bates, Science Planning Officer, Geological Survey of Canada, Atlantic Region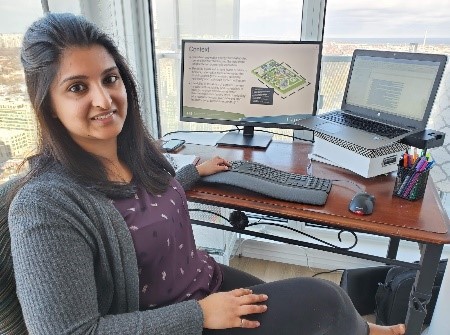 Early influences: puzzles and measuring cups
"I loved puzzles and playing with LEGO as a kid which led to my interest in problem solving and creating something using my creativity. Even cooking and baking in the kitchen, I enjoyed following a step-by-step process, tweaking things along the way to yield the best dish or baked good. These are all key skills I continue to use in my work: looking at different pieces of the puzzle that don't seem to fit together. At times, there are missing puzzle pieces that I may need to ask someone for help me find or collaborate with me. Having an idea in my head that I need to formulate 'on paper' (really on the computer by programming or a presentation or writing a paper or creating a graphic), and using logic to work through issues that come up as I'm trying to develop a solution."
- Anjali Wadhera, Researcher in Smart Grids, CanmetÉNERGIE-Varennes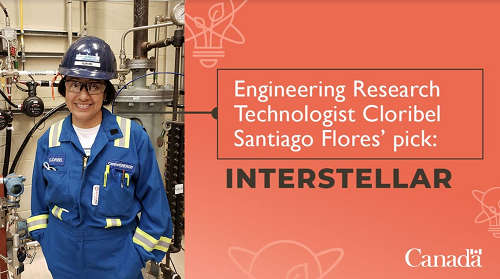 "Interstellar" really shows the power of resilience, creativity and hope for a better future, that even when we are not able to completely imagine, we can shape it through research."
- Cloribel Santiago Flores, Engineering Research Technologist, CanmetENERGY Devon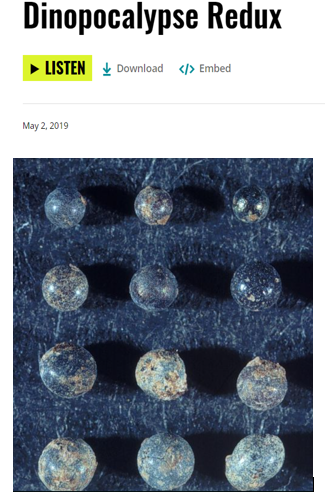 Digital inspiration
"I love the following two podcast episodes and often share them with my students: This first one, Dinopocalypse Redux | Radiolab, has the benefit of dinosaurs AND space — and I don't think it needs much more explanation than that! But really, it's fascinating and it's also relatively 'current' science, so a little more cutting edge. The Radiolab podcast in general gets a gold star for science communication."
"I like this second one because it's from National Geographic and is actually related to work we do at the Geological Survey of Canada – Atlantic, but with an archaeological angle, so there is a human story attached to it. The scientist is also female so that's an added bonus: Episode 1: Digging up Disaster
- Jenna Higgins, Laboratory Technologist, Geological Survey of Canada, Atlantic Region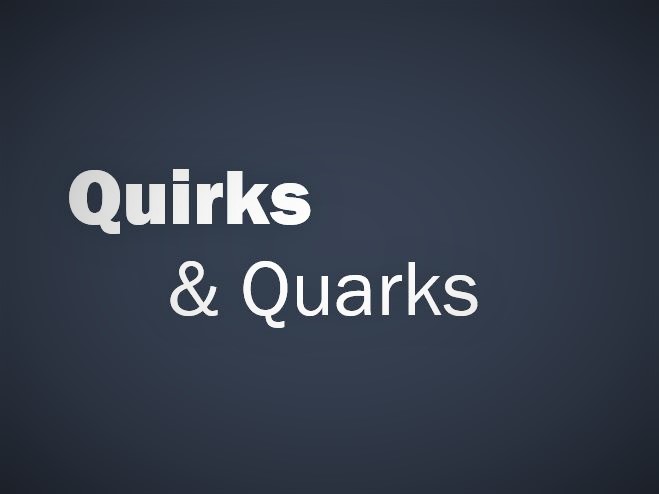 Quirks & Quarks
"I've listened to CBC's Quirks and Quarks weekly since I was an undergraduate student, never missing an episode. It's not the individual segments that I find important. It was/is a validation of being in science and hearing from others like me. Now, I listen to it to stay up-to-date on advances. Scientists have a different way of viewing the world, thinking about things — and patience to work on research that can take years to complete. Q&Q lets you hear how scientists think. It also highlights the breath of topics in STEM."
- Joanne MacDonald, PhD., Atlantic Forestry Centre
"Rien ne se perd" is a radio show with loads of scientific content. I believe that an up-to-date and accessible popularization of interesting subjects is a great gateway to science for everyone."
- Jade Bergeron, Chemist, Quebec Geoscience Centre, Quebec City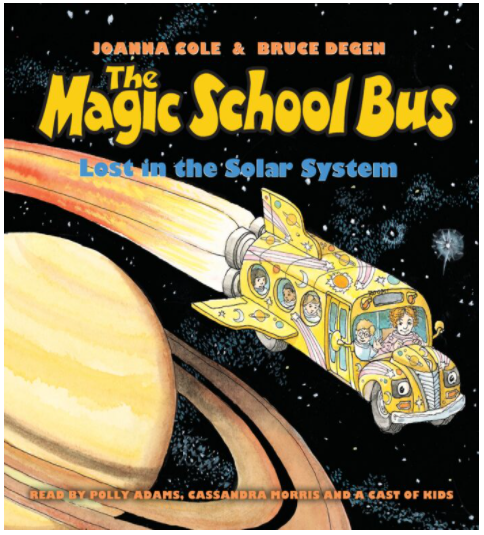 Words and books open minds
"My stepdaughter is 6 years old and wants to be an astronaut someday. All of these books spark interesting discussions about how our world and universe works, life as a scientist and what she wants to do when she grows up. We listen to the Magic School Bus audio books from the local library together. As for print, currently some of our favourite STEM-related books are The Darkest Dark by Chris Hadfield, Zog and the Flying Doctors, by Julia Donaldson and The Mysteries of the Universe by Will Gator."
- Karen Douglas, Marine Geoscience Physical Scientist, Geological Survey of Canada, Pacific Region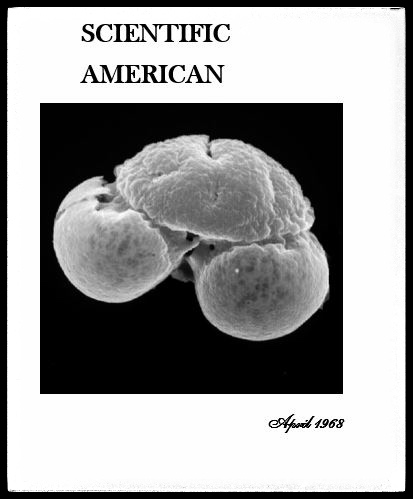 Scientific American Magazine
"The article that hooked me on to plate tectonics was published in Scientific American in 1968! A more recent article I can recommend is Kid of the Year 2020. It's about a 15-year-old girl having significant impacts in science already. A short video clip accompanies the article.
- Kristin Rohr, Geological Survey of Canada, Pacific Region, Retired Research Geophysicist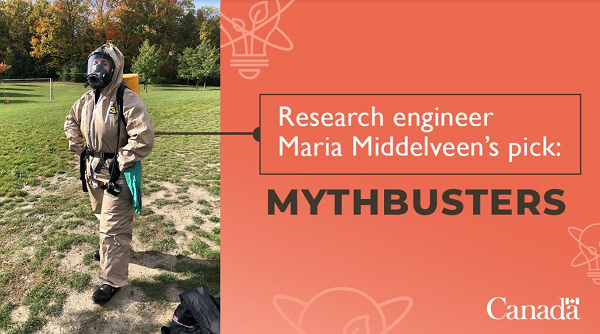 "I recommend the TV show "Mythbusters" since the program links the real world to scientific exploration. It encourages us to question what we see online and in the world around us."
- Maria Middelveen, Research Engineer, CanmetENERGY, Ottawa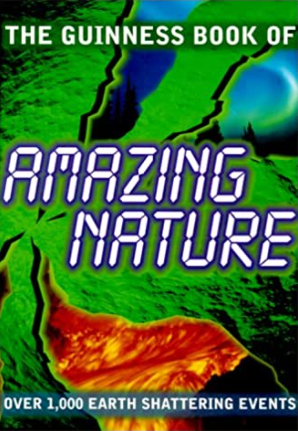 Amazing Nature
"Honestly, the biggest thing that inspired me as a child was the Guinness Book of Amazing Nature — I received it as a gift and I still enjoy reading through it! The book is filled with incredible stories and facts about weather, geology, genetics, entomology, bacteriology and more that still fills me with wonder and appreciation of the many fields of scientific exploration — and the fact that they all work together!"
- Brandi Kelly, Research Technologist – Standard Analytical, CanmetENERGY Devon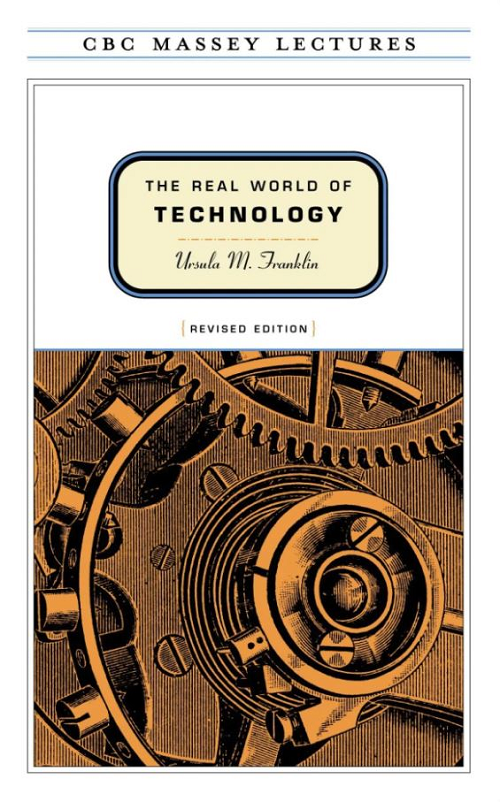 CBC Massey Lectures
"I was really inspired by the Ursula Franklin Massey Lectures from 1989, recently replayed on CBC's Ideas. She was an academic, a feminist and a pacifist."
- Dawn Kellet, PhD., scientist at the Geological Survey of Canada, Atlantic Region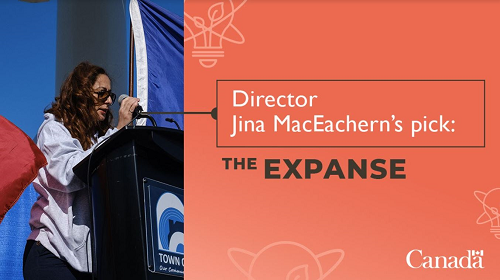 "The Expanse" has an impressive and diverse female cast in STEM-related leadership positions, from an engineer to a spaceship pilot, that girls can see themselves in. The future needs all!"
- Jina MacEachern, Centre for Mapping and Earth Observation, Ottawa