How a monk, a scientist and even a bit of cowboy inspired a new lithium extraction process
The Women in Cleantech challenge has recognized a Calgary team's groundbreaking technology to make lithium extraction more sustainable. The three-year-long competition to support women tech entrepreneurs was sponsored by Natural Resources Canada and powered by MaRS Discovery District.
February 2022
The race to a clean energy future has many challenging curves in the road ahead. For instance, what if the very process of striving for net-zero emissions leads to other unexpected environmental impacts? It's a complex puzzle with many moving pieces, one that scientists the world over are working to solve.
Take lithium, for example. Demand for the soft, white, lustrous metal used in batteries that power our electric vehicles (EVs), smartphones, tablets, laptops and other devices is growing exponentially. But extracting and processing it isn't always clean and green.
"There's a tidal wave of demand for lithium as the demand for electric vehicles grows," says Amanda Hall, a geophysicist and laboratory scientist who is now a business leader and CEO of Summit Nanotech. "We need to prepare for it with a sustainable extraction solution. Otherwise, if we continue using the old extraction methods, that's not being efficient or smart."
First step: the power of observation
Amanda's quest to green up lithium extraction practices started in a rather unexpected way. "I was on a retreat in a Tibetan monastery at the top of a mountain, and I saw a monk pull a cell phone out from his robe — and it just struck me, 'What is the future going to look like?'" she recalls. She also noticed many EVs in the Tibetan village. It dawned on her that lithium ion batteries had become so pervasive they could be found in every remote corner. "If there are lithium ion batteries used in monasteries, where the heck isn't there a lithium ion battery on this planet?"
Amanda had found her purpose. "One morning I woke up and said to myself: 'I have to do this,'" she says. "It was something I couldn't not do. So I quit my job, went to zero salary and started from scratch."
Having already built a successful career in the mining and oil and gas industries, she turned her attention to lithium — where it comes from and how it's extracted. She started a company, Summit Nanotech, and focused on a part of the world where much of the planet's lithium is located: the salt flats of South America.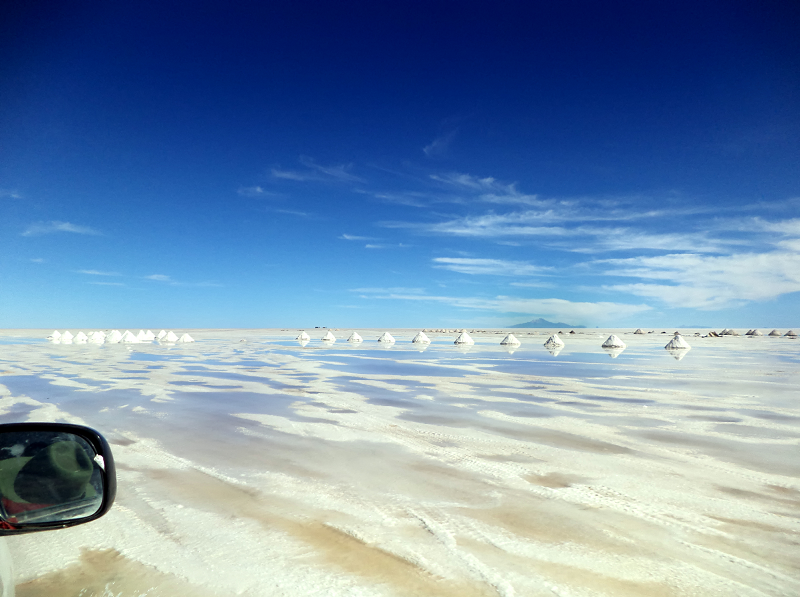 This also happens to be one of the driest places on the planet. Traditional extraction in this part of the world takes about 18 months from start to finish. It begins with pumping groundwater brines to the surface. The salty solution is left in evaporating ponds for months before the lithium is pulled from the salts. This method is resource-intensive since it involves a lot of groundwater: it can take thousands of litres to extract enough lithium to produce 100 EV batteries. This inefficiency can impact underground water pressures and local communities.

Dream big, think nano
Recognizing there had to be a more sustainable way, Amanda dove into the tiny world of nanotechnology — a highly specialized field involved in the design and production of materials and structures at a super tiny scale. Think of the incredible detail found at a microscopic level — now take that even further, to a nano, or an infinitesimal scale. "We call it molecular recognition technology," says Amanda. "We're actually moving atoms around at the nano scale."  
In doing so, her team created a new material containing nano-sized holes perfectly sized to selectively recognize and pull lithium ions out of briny solutions. These lithium-selective materials can be formed into beads or attached to a flat-sheet membrane. Once the lithium ions are captured, the next steps are to wash them with water and then purify the solution. "This makes it possible to convert the lithium to a crystalized power for safe transportation to a battery manufacturer," says Amanda. Anything that isn't lithium is either too big to pass through the holes or so small that it escapes, and these remaining components can then be disposed of responsibly.
Disruption with a purpose
This breakthrough technology disrupts traditional electrochemical lithium extraction in South America by making it possible to capture high-purity lithium (LiOH, LiCl, and Li2CO3) from raw brine early in the process. It would eliminate the need to leave brine in vast evaporation ponds."That's one of the things we focused on the hardest," she says. "The water recovery technology means twice as much lithium is extracted compared with the traditional method. Now we can reduce water use to zero." Eliminating the evaporation stages and capturing high-purity lithium in the process speeds up the delivery  from 18 months to one day, it also reduces land use dramatically and makes it possible to reduce greenhouse gas emissions.
What's more, as this technology advances it could have applications for Canada's oil and gas sector. It could also help green up lithium extraction at both ends of the life cycle and contribute to a circular economy.
This bold new approach rightly earned Amanda top place in the first-ever Women in Cleantech challenge, which included five other business leaders (see below). And along with her outstanding science, she brought an unshakable optimism to the challenge. "I've been in meetings with her where you can see a sparkle in her eyes if someone's telling her an idea is not possible or it's never been done like that before," recalls Jordan Elias a materials scientist from CanmetENERGY Devon who worked with Amanda as part of the Cleantech challenge. "Her response is always, 'I'm going to look into it really deep and see how to do it.' It's something she gets excited about; so that's really encouraging."
…. And a bit of cowboy…
This approach is one of the core values of Amanda's company, Summit Nanotech.
"Relentlessness. Nothing is insurmountable and we always seek solutions," she says. "It's not always going to look the way you thought it would look, but you'll always find a way." In Calgary, some people actually use the word cowboy as a verb. "Let's cowboy this! It just means you get 'er done. You just grassroots, get down to the fundamental foundational science behind what you're doing. Alberta is a great place to do this because we have the resource extraction experience and the technical expertise we can transfer to a new field."
It's the kind of attitude that leads to innovation. "They can get value where other companies aren't really there yet," says Jordan. "It's an emerging industry right now, and not many project developers in Canada are involved in it yet, so to see someone local get us into that space is pretty exciting — the next page in our book for Alberta."
This winter, a 12-metre tall processing unit and a team of 10 experts are on their way to South America with Amanda for the first round of field-testing. "Seeing the technology function in situ, where it's meant to be, is kind of like putting your kid on a two-wheeler bike and pushing them down a hill — like, 'Good luck!'" she says. "You have to trust the process."
The Women in Cleantech Challenge:
The first-ever Women in Cleantech Challenge, funded by NRCan and powered by MaRS Discovery District, supported six leading entrepreneurial scientists as they advanced their technology projects over the course of three years. Finalists received business advice, as well as technical and financial support to grow and succeed as cleantech entrepreneurs. Each finalist received up to $250,000 in federal government laboratory support and an annual stipend to help offset living and travel costs, in addition to business supports and advisory services provided by MaRS. The winner, Amanda Hall, received an additional $1 million to continue her work.
The challenge's five other finalists are advancing everything from autonomous boats and cleaning materials to nanofilms, green hydrogen and plastic created from food waste.
For more information:
Explore:
Women in Cleantech Challenge
MaRS Cleantech
Minerals and the economy
Natural Resources Canada CanmetENERGY
Listen: