Helping Canada's building sector go green
Researchers at CanmetENERGY Varennes have developed a new technology that could be a game-changer for building heating and cooling systems
February 2022
It's not always easy going green. Building developers, contractors and owners in Canada are adapting to meet climate change challenges, and they're constantly searching for innovative ways to reduce their greenhouse gas (GHG) emissions.
To help address these needs, Parham Eslami-Nejad and Arash Bastani, researchers at CanmetENERGY in Varennes, Quebec, are working on a new thermal energy management concept known as a CO2 thermal network. It's an approach that could transform the design of heating and cooling systems for buildings by fundamentally changing how thermal energy is distributed and exchanged. This breakthrough innovation could help the building sector cut energy use and reduce GHG emissions in the process. The Natural Resources Canada (NRCan) team has already applied for patent protection and is now ready to test the concept.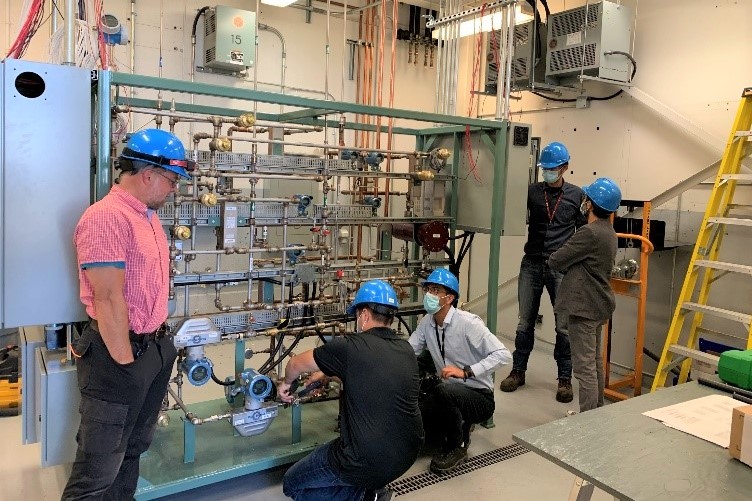 This requires a "paradigm shift"
It's clearly an idea at the right place, the right time. "Today, with the building sector's huge energy demand for heating and cooling and its relatively significant GHG emissions, the conventional HVAC [heating, ventilation and air conditioning] system requires a paradigm shift to accommodate efficient technologies such as heat pumps and renewable energy resources such as geothermal and solar," says Parham. "Our innovative single-pipe CO2 thermal energy network [CO2 loop] offers significant potential for improving energy efficiency and the design of conventional HVAC systems."
Reducing a big environmental footprint
The potential payoff could be huge. Buildings are a significant contributor to the world's total energy use due to the ongoing and ever-changing demands for heating and cooling. Day-to-day energy use, particularly heating and air conditioning account for nearly 30 percent of global GHG emissions every year. In Canada, residential, commercial and institutional buildings account for 17 percent of the country's annual GHG emissions, when the emissions associated with generating the electricity used to drive these systems are included.
Heat pumps are already part of the solution and are becoming more widely used as an effective way to support electrification, reduce energy consumption associated with heating and cooling in buildings and reduce annual GHG emissions. However, it's been a long-standing challenge to seamlessly integrate heat pumps in buildings while maintaining their operation at the highest level of performance.
That's why CanmetENERGY's CO2 loop represents a real breakthrough that could have industry-wide implications for energy use efficiency and GHG reductions.
This new technology consists of a relatively small single pipe that circulates a two-phase, liquid–vapour mixture of carbon dioxide through a building. As a simplified distribution system, it makes it much easier to integrate heat pumps and the use of solar and/or geothermal energy sources into buildings. Heat pumps connect to the loop and exchange heat, regardless of their physical distance within a building and their operation modes, as illustrated in the following video:
"This loop enhances building energy efficiency by exploiting heat recovery and improving local heating and cooling unit performance," says Arash. "This technology could potentially offer several advantages, such as reduced circulation energy consumption, increased thermal energy transfer density and reduced air handling–duct size."
Proof of concept
The CO2 loop is compact and easy to operate. It runs at the indoor temperature to minimize the heat loss of the distribution system and maximize the energy efficiency of the connected heat pumps. In the case of commercial and office buildings, which have complex and simultaneous heating and cooling requirements, this technology could be particularly beneficial since the CO2 loop now makes it possible to connect all heating and cooling devices in a building to maximize heat recovery.
"This concept reduces energy consumption by removing heat from one zone in a building and reusing it in another zone when needed," says Parham.
The CanmetENERGY team has built a state-of-the-art test bench to examine the CO2 thermal network operation and to evaluate how well it can be integrated into buildings. The test bench will showcase the concept and demonstrate its potential on a pilot scale.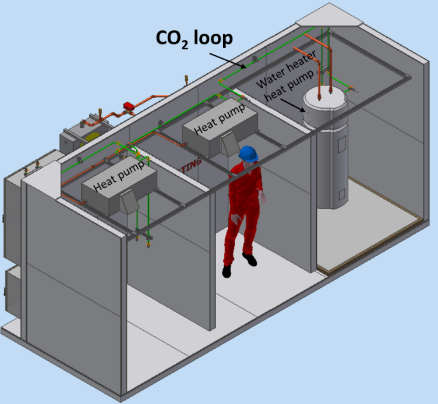 It's not just about energy savings
The project is already generating a lot of interest, for obvious reasons. "It's an innovative solution to improve the energy efficiency in the Canadian building sector and meet emissions reduction targets," says Arash. "But it's not just about energy savings. This technology will enhance flexibility and facilitate the extension of the HVAC system with its decentralized heating and cooling and its modular configuration."
Parham and Arash are working on the project with a team of engineers and technicians at CanmetENERGY. Parham applied for and received a Natural Sciences and Engineering Research Council of Canada (NSERC) Discovery Grant that will allow the team to hire two students to conduct further research on exploring optimal operations of the system and using this technology to integrate renewable energy sources in buildings.
"The interdisciplinary research program of this project encourages students to acquire skills in various fields — including numerical and analytical modelling, experimentation and experimental data analysis — and trains them for future opportunities in the field," says Parham.
"It's very exciting to conduct research on this interesting concept and contribute to the project," says Sepehr Gholamrezaie, who will soon join the team as a PhD student from Polytechnique Montréal.
In addition to these research activities, CanmetENERGY is reaching out to industry players for insight and expertise to address challenges and explore the rapid adoption of this novel concept in HVAC systems.
"Soon, eligible companies will be able to join us to help make the concept ready for real-scale projects and technology deployment to market," says Arash.
For more information:
Explore: