Parallel strand lumber
Parallel strand lumber (PSL) is made from parallel wood strands joined together using structural adhesives. It is a solid, highly predictable, uniform engineered wood product. PSL is high in strength and stiffness, and is a dimensionally stable product.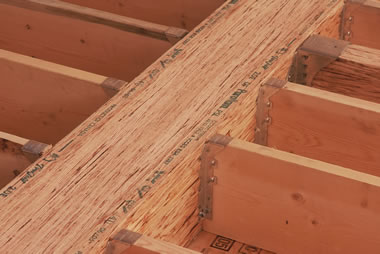 In Canada, PSL is made from Douglas-fir and is mainly used for:
PSL is an efficient use of wood, as its manufacturing process allows large members to be made from relatively small trees. It is an attractive structural material, used where appearance is important. Natural defects such as knots, slope of grain and splits are either dispersed throughout the material or removed altogether during manufacturing.
Technical information
Strands come from clipped wood elements with a width of ¼ inch (6.4 mm) or less and an average length of at least 300 times the width.
Combined with exterior waterproofing adhesives, strands are formed into a large billet then pressed together and cured using microwave radiation.
Given the proprietary nature of PSL, the manufacturer typically provides the dimensions and design values. Unlike glue-laminated timber (glulam) or cross-laminated timber (CLT), there are currently no common standards for the manufacturing of PSL in North America. Each producer develops their own engineering design values based on testing, analysis and design guidelines as provided in the Canadian timber design standard (CSA O86), as well as other relevant American Society for Testing and Materials (ASTM) standards.
To ensure acceptance in the Canadian market place, PSL manufacturers seek approval from the Canadian Construction Materials Centre (CCMC). Products approved by the CCMC receive an evaluation number as well as an evaluation report, which includes engineering design values. These products are then listed in the CCMC's registry of product assessments.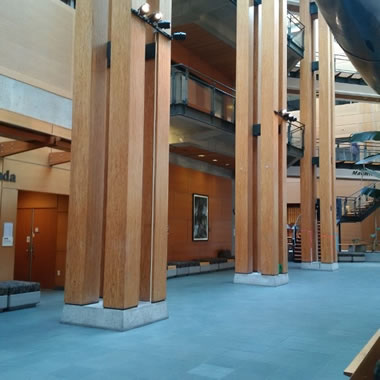 PSL is one of many products used in mass timber construction projects across Canada.
Canadian Forest Service publications