Dowel-laminated timber
Dowel-laminated timber (DLT) is an all-wood mass timber product made from lumber boards held together with hardwood dowels. DLT does not use any metal fasteners or structural adhesives.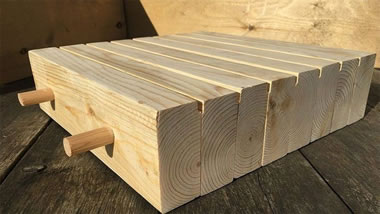 Species used to make DLT include:
Spruce-Pine-Fir
Douglas-Fir
Yellow-Cedar
Western Redcedar
By using hardwood dowels to friction fit pre-milled boards together, DLT creates a panel that allows for flexible architectural design. Large panels are pre-manufactured for floors, walls and roofs. Panels can measure up to 3.7 metres by 18.7 metres (12 feet. x 60 feet.), depending on shipping restrictions.
As there are no metal fasteners, computer numerical controlled (CNC) machines can easily process DLT panels. DLT is highly durable and can house pre-integrated acoustic materials, electrical conduit as well as other service interfaces.
Technical information
Connecting hardwood dowels to softwood boards started in Switzerland in the 1990s. Several European companies adopted this idea and began to manufacture DLT commercially by using automated systems to drill and insert the dowels. North American companies have recently started to use this technique.
The world's largest automated DLT manufacturing plant is located in Canada.
According to the National Building Code of Canada, DLT is classified as solid timber. It is structurally more efficient than cross-laminated timber (CLT) for one-way spans as the boards all face in the same direction. Different depths of lumber create different surface profiles. This can also be done by machining the edges of boards before they are joined, which creates an aesthetically pleasing profile that integrates with the exposed surface.
Plywood on one side of DLT walls enhances the shear capacity. On DLT floors, it provides diaphragm action. To absorb sound, insulation can be added inside grooves.
DLT is one of several products used in mass timber construction projects across Canada.
Canadian Forest Service publications