Ontario's Pipeline Regulatory Regime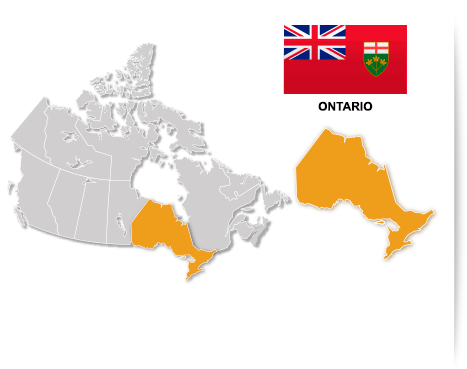 114,000 km of provincial natural gas transmission and distribution pipelines



100% of crude oil delivered by pipeline (2015)



216 million barrels/year - petroleum consumption (2015)

920 billion cubic feet/year - natural gas consumption (2015)
A product of the Energy and Mines Ministers' Conference
Provincial Pipeline Regulator
The Ontario Energy Board (OEB) oversees the province's electricity and natural gas sectors through effective, fair and transparent regulation and in accordance with the objectives set out in its governing statutory framework.
The OEB has regulatory responsibility for pipeline systems located entirely within the province. Consequently, the OEB's regulatory authority relates primarily to the province's natural gas distribution system. Major inter-provincial transmission pipelines located in the province for natural gas (e.g. the TransCanada Mainline), crude oil (e.g. Enbridge Line 9), and petroleum products (e.g. TransNorthern Pipeline) are all regulated by the Canada Energy Regulator (formerly the National Energy Board).
Prevention
The OEB ensures that pipeline operators comply with the province's Oil and Gas Pipeline Systems Code Adoption Document, which contains all national standards issued by the Canadian Standards Association that are applicable to Ontario.
The OEB's approval for construction of new pipelines is conditional upon compliance with all related regulatory requirements including the design, operation, maintenance, safety, and integrity requirements under the province's Technical Standards and Safety Authority (TSSA) mandate.
Pipeline operators in Ontario are required to have a Pipeline Integrity Management Program to ensure that pipeline companies have proper controls to mitigate safety risks. This includes in-line pipeline inspections, records of the pipeline history, operation manuals, and documentation required to develop and implement the integrity management program.
The TSSA audits oil transmission pipelines and natural gas transmission and distribution pipelines approximately every five years.
The regulator has a range of enforcement options to ensure compliance, including penalties under the Environmental Protection Act (EPA), suspension or loss of license, and prosecution.
Preparedness and Response
Ontario requires that every pipeline operator notify the Ministry of the Environment, Conservation and Parks Spills Action Centre and any municipality within the boundaries of an affected area in the event of a spill, unless the incident meets a set of specified conditions (e.g. a spill of not more than 100 litres in areas restricted to the public, or not more than 25 litres in areas with public access, and product does not enter and is unlikely to enter a watercourse).
All pipeline operators must have world-leading contingency planning and emergency response programs. Companies must develop and implement plans to prevent or reduce the risk of, and remediate any adverse effects that may result from, spills of pollutants. For pipeline segments located in high-consequence areas, regulatory requirements intensify.
TSSA investigates incidents in Ontario as required by regulation (i.e. involving death, injuries, fire, explosion, or substantial damage), and releases a follow-up report. Operators are required to clean up and remediate the site; the Ministry of the Environment, Conservation and Parks verifies that this has been completed in an acceptable manner.
Liability and Compensation
Ontario holds pipeline companies exclusively responsible for economic and environmental risks, including remediation.
Pipeline companies are required to provide financial assurance that demonstrates their capability to respond to leaks and spills under the EPA.
Disclaimer:
Users are reminded that this publication has no legislative sanction. It has been consolidated for convenience of reference only. Original Regulations should be consulted for all purposes of interpreting the law.