New Brunswick's Pipeline Regulatory Regime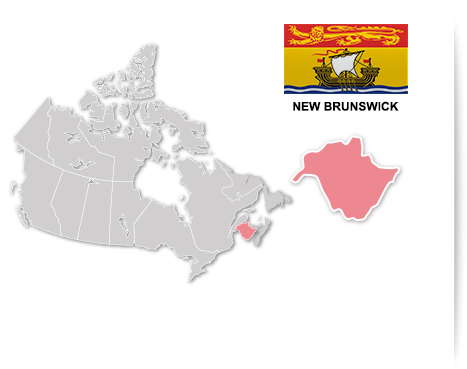 7 pipeline companies regulated



1,395 km of provincial pipelines



15.9 km of provincial crude oil pipelines



109.5 million barrels/year of crude oil transported by the Irving refinery (approx.)

6.3 billion cubic feet/year of natural gas transported by Enbridge Gas New Brunswick (2014)
A product of the Energy and Mines Ministers' Conference
Provincial Pipeline Regulator
New Brunswick Energy and Utilities Board
The New Brunswick Energy and Utilities Board (EUB) is an independent crown agency established to regulate the electricity, natural gas, pipeline, and motor carrier industries and to set maximum gasoline prices for the province.
Prevention
The EUB promotes safety to ensure that companies design, construct, operate, and abandon pipelines under its jurisdiction in a manner that provides for the safety of the public and company employees, as well as the protection of property and the environment. Pipelines must comply with New Brunswick's Pipeline Act (PDF, 192 KB), Regulation, and applicable Canadian Standards Association standards. Guidance Notes are provided to companies to assist in understanding these regulatory requirements.
The types, frequency, and location of integrity testing of pipelines depend on the products being transmitted, the age of the pipeline, and issues identified during past audits. Companies must clearly outline the testing specific to each pipeline owned in their pipeline integrity manual. The EUB inspects and audits company records and any pipelines and associated facilities to ensure compliance with regulation and integrity management plans.
The EUB holds supervisory powers over regulated companies and may inquire into any matter and issue orders where it appears there was non-compliance or where it feels it is in the public interest to do so.
Preparedness and Response
Pipeline companies in New Brunswick are required to have an emergency management program which must be comprehensive in nature with the main focus on protection of life, property, and the environment.
Companies are also required to have an emergency procedures manual, which must be submitted to the EUB. This manual must include, among other things:
List or map of areas susceptible to potentially adverse environmental effects that may require special attention during an emergency
Description of the types and locations of available emergency clothing and equipment
Description of training program for incident response
Identification of personnel to be deployed in the event of an incident
Companies are also required to conduct exercises to verify their capabilities to respond to incidents. The EUB participates in most training conducted by regulated pipeline companies. Companies are also required to be part of spill geographically-specific cooperatives, where those cooperatives exist.
The EUB must be notified immediately of any incidents, regardless of scale, and a detailed report must be filed with the EUB within 48 hours. Response standards vary and are specific to the location and type of pipeline. They are stated in the company's emergency procedures manual.
First-responders, such as fire or police departments, oversee more serious incidents; with the EUB ensuring pipeline related evidence is secured and remaining available to first responders as needed. The EUB also has the power to conduct its own investigations, and can issue orders as necessary.
Liability and Compensation
Under the Pipeline Act (PDF, 192 KB), the EUB may not issue a permit to construct or a license to operate a pipeline unless the applicant is insured by an insurance company licensed to do business in the province, and in an amount approved by the EUB. Comprehensive Pollution Legal Liability insurance is normally required.
The Pipeline Act is silent on whether companies are liable for costs associated with abandoned pipelines, so a condition is added to any EUB approval for pipeline abandonment stating that the EUB's consent to abandonment does not relieve the applicant from any liability with respect to the abandoned pipeline.
Disclaimer:
Users are reminded that this publication has no legislative sanction. It has been consolidated for convenience of reference only. Original Regulations should be consulted for all purposes of interpreting the law.