British Columbia's Pipeline Regulatory Regime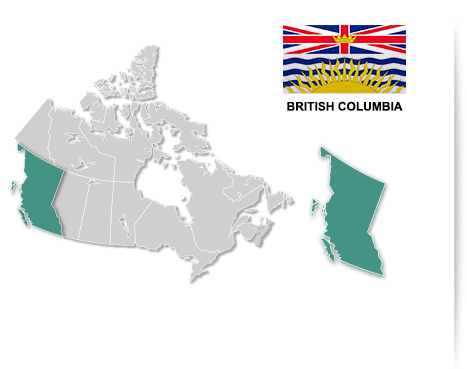 118 pipeline companies regulated



42,681 km of provincial pipelines



7.3 million barrels/year of crude oil transported via pipeline (2015)

1,748 billion cubic feet/year of natural gas transported via pipeline (raw gas, 2015)
A product of the Energy and Mines Ministers' Conference
Provincial Pipeline Regulator
British Columbia Oil and Gas Commission
The British Columbia Oil and Gas Commission (Commission) is an independent, single-window regulatory agency with responsibilities for overseeing oil and gas operations in British Columbia, including pipeline transportation.
Prevention
The Commission has jurisdiction over most pipelines within provincial boundaries with over 100 pounds per square inch pressure (psi). The Commission reviews most pipeline and facility applications for projects on provincial and private lands. The rules pertaining to pipelines in British Columbia are defined in the provincial Oil and Gas Activities Act, Regulation, and applicable Canadian Standards Association standards.
The Commission requires companies to periodically test pipelines to ensure compliance with regulatory standards. It also requires companies to carry out integrity management programs to ensure pipelines are fit for service at all times.
The Commission conducts pipeline construction inspections and employs a risk-based model for inspecting operational pipelines. Company integrity management programs are audited by the Commission. The province continues to increase capacity for inspections and audits via funding from industry and is developing a Compliance Management System to ensure lifecycle regulatory oversight for pipelines.
Quarterly and annual compliance reports are provided on the Commission's website. The Commission also reports annually on releases and spills in the province as part of their annual Pipeline Performance Summary.
The Commission and the Ministry of Environment have enforcement authorities, which include a host of options based on the significance and severity of the contravention (e.g. administrative penalties, orders, tickets, warnings). Penalties for non-compliance can be up to $1.5 million and/or imprisonment upon criminal prosecution.
Preparedness and Response
The Commission requires companies to have an emergency management program that anticipates, prevents, manages, and mitigates conditions during an emergency that could adversely affect property, the environment, or safety of workers or the public.
Emergency management programs must include wildlife and natural resource impact assessments, a mitigation and remediation plan, the identification of emergency response equipment and personnel, and the organization of annual exercises to evaluate incident response and emergency management systems.
The Commission ensures that companies respond effectively to incidents and that the interests of British Columbians are protected through a 24/7, 365 days per year, incident response program.
When a pipeline incident occurs, companies must report it immediately to Emergency Management BC and the Commission, and must take steps for the protection of safety and the environment as part of required emergency response programs. The Commission is actively involved in the management of incidents, and will issue enforcement orders if a company's response is deemed inadequate.
After the immediate response, the Commission (in cooperation with the Ministry of Environment) ensures the environmental effects of any product release are contained, mitigated, and appropriately remediated. The Commission also coordinates post-incident follow-up including reporting, investigation, best practice sharing, and communications.
The Commission is committed to full public transparency. Its interactive Incident Map shows where pipeline incidents have occurred since 2000.
Liability and Compensation
In British Columbia, unlimited liability exists for pipeline companies found to be at fault or negligent in the case of a pipeline incident.
The Commission maintains a Liability Management Rating Program to ensure operators in British Columbia have sufficient financial means to remediate a site used for an oil and gas activity. Operators with insufficient assets are required to submit a security deposit to the Commission to cover their liabilities.
There are rare occurrences where a permit holder for an existing well, facility or pipeline is insolvent or cannot be identified. These sites are classified as orphan sites and remediated using the industry-funded Orphan Site Reclamation Fund.
Disclaimer:
Users are reminded that this publication has no legislative sanction. It has been consolidated for convenience of reference only. Original Regulations should be consulted for all purposes of interpreting the law.