Alberta's Pipeline Regulatory Regime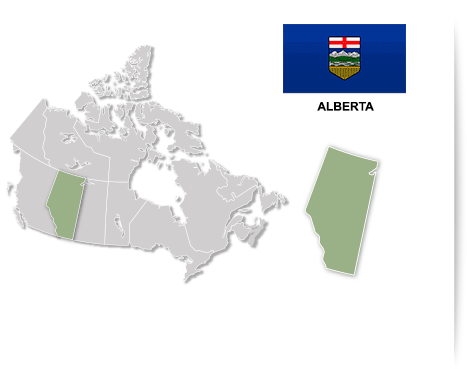 415,152 km of provincial pipelines



8,267 km of large-diameter provincial transmission lines

1,022 million barrels/year of crude oil transported via pipeline (2013) *majority transported via pipeline but some by rail

4,200 billion cubic feet/year of natural gas transported via pipeline (2013)

1,435 pipeline inspections and investigations (2012)
A product of the Energy and Mines Ministers' Conference
Provincial Pipeline Regulator
The Alberta Energy Regulator (AER) is a regulatory body with a mandate to provide for the efficient, safe, orderly, and environmentally responsible development of Alberta's energy resources.
Prevention
The AER ensures that the design, construction, operation, and maintenance - including discontinuation and abandonment - of regulated pipelines comply with Alberta's Pipeline Act (PDF 348 KB), Pipeline Regulation, and applicable Canadian Standards Association (CSA) standards.
The AER's pipeline-inspection program considers pipeline fluid characteristics, location, line size, failure history and the company's compliance history. Pipelines with greater potential risks are given a higher inspection priority.
Pipeline operators in Alberta are required to develop and implement integrity management programs to identify and mitigate risks associated with a particular pipeline, including corrosion mitigation and monitoring as well as other risk factors. Licensees must re-evaluate corrosion potential annually and keep records of the actions taken to ensure compliance with all regulations.
The AER's Compliance and Enforcement Program ensures operator compliance through its education, prevention, and enforcement activities. The regulator has a range of enforcement tools including administrative penalties (a monetary fine), restricting operations, and shutting down facilities. The AER may also prosecute a significant noncompliance under both the energy resource enactments and the specified enactments.
The AER employs field inspectors based in field centres throughout the province. They inspect construction, operation, and abandonment operations at oil, gas, and oil sands facilities (including pipelines, compressors, and processing plants).
Preparedness and Response
Operators in Alberta have a responsibility to ensure that they are fully prepared and capable of responding to any level of emergency. To fulfill this responsibility, all license holders are required to have an emergency management program and to have extensive maintenance and repair programs, leak detection systems, and trained emergency response personnel. When pipelines pass through or near populated areas, roads, railways, or water bodies, regulatory requirements intensify.
Alberta is unique in North America in that it requires all pipeline failures, including test failures, or any contact or damage to a pipeline to be reported, regardless of the size of the spill, area affected, status of the pipeline, or type of fluid released. The AER's public incident reporting helps to ensure Albertans are informed about energy incidents in the province.
The AER conducts comprehensive incident investigations after serious incidents occur to determine the cause of a pipeline failure and what can be done to prevent a similar situation in the future.
Liability and Compensation
The AER works collaboratively with government and industry stakeholders to develop and implement appropriate liability management programs for all energy sectors regulated by the AER.
Alberta holds all licensees responsible for spill clean-up and remediation regardless of fault. The AER has an absolute no-fault liability which requires the licensee pay for all costs associated with emergency response, clean-up, and restoration.
Alberta's Orphan Fund pays for the abandonment and reclamation of wells, facilities, and pipelines if a licensee or working interest participant becomes defunct. The Orphan Fund is fully funded by industry.
Disclaimer:
Users are reminded that this publication has no legislative sanction. It has been consolidated for convenience of reference only. Original Regulations should be consulted for all purposes of interpreting the law.