Electric vehicle chargers
Buy ENERGY STAR® to save you money!
You can save a lot of energy in Canada driving an electric vehicle and now you can save even more with ENERGY STAR certified electric vehicle supply equipment (more commonly known as electrical vehicle chargers or EV chargers). On average, certified models use 40% less energy than standard models in standby mode (i.e., not actively charging a vehicle) – which is typically 85% of the lifetime of the product. Saving energy saves money and reduces your carbon footprint.
Electrical vehicle chargers deliver energy to both all-electric vehicles (EVs) and plug-in hybrid electric vehicles (PHEVs). Both types of EV chargers covered under the ENERGY STAR specification (Level 1 and Level 2) provide alternating-current (AC) electricity to the vehicle.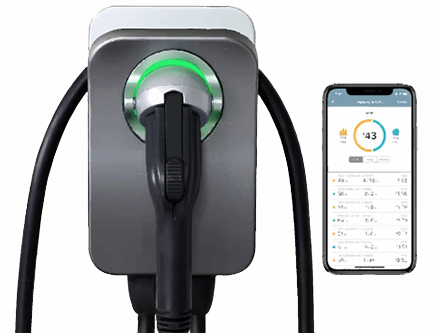 For more information on electric vehicle chargers, read Plugging in.
Key features
Sold with basic features such as auto-restart and LED status indicators. Additional features include programming and timers to manually schedule delayed starts.
Can be installed indoors and outdoors, including home garages and parking lots. In addition to the convenience of charging at home or work, there are over 2,200 Level 1 and Level 2 EV chargers in Canada. Locate the nearest one here.
Some have Wi-Fi technology to allow for remote power monitoring. With these 'smart-grid ready' products, households and property managers can take advantage of special energy bill savings programs offered by some local electric utilities.
Start your research using the ENERGY STAR Product Finder tool to find and compare certified electric vehicle supply equipment. (Note: you will be redirected to the US ENERGY STAR website.)
Helpful tips
Contact your local electricity provider to see if they offer any special EV charger incentive programs. Start your search in the ENERGY STAR rebates and incentives finder.
Check if your utility offers time-of-use plans. Charging overnight or on weekends, when the cost of electricity is lowest, can further increase your savings. Make sure to look for an EV charger that has the ability to control charging times. This will be important if your car does not already have this feature.
If your parking spot is outdoors (but NOT in a garage), an outdoor rating will be essential.
Most plug-in vehicles come with a Level 1 charging station which allows the vehicle to be charged from a standard household outlet. If your vehicle is a plug-in hybrid with limited electric range, or you don't drive much, this is likely all you will need. Make sure to ask your dealer for an ENERGY STAR certified EV charger. Upgrading to a Level 2 charger provides you with faster charging times, which may be necessary to charge larger battery EVs overnight.
Consider having a certified electrician install your charger and have them install one that carries at least 50 amps. It will likely only cost slightly more, but will save you significant money in the future if you end up with a future electric car that can charge at a higher rate than today's offerings.
The ENERGY STAR Promise
All ENERGY STAR certified products are tested to meet strict efficiency specifications and are certified by an independent third party. They perform the same as or better than standard products without compromising performance in any way.
---
The ENERGY STAR name and symbol are trademarks registered in Canada by the United States Environmental Protection Agency and are administered and promoted by Natural Resources Canada.