National Solar Test Facility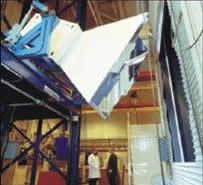 National Solar Test Facility
Element Materials Technology
The National Solar Test Facility (NSTF) is North America's leading centre for testing and rating solar technologies under controlled sunlight, temperature, and wind. The NSTF houses one of the world's largest indoor solar simulators.
CanmetENERGY and its project partners use the NSTF for the testing, research, product development, standards development, and model validation of solar thermal and photovoltaic technologies.
Qualified staff can support NSTF projects with software applications such as Enerpool, a design tool that models the performance of indoor and outdoor solar heated swimming pools, and SWIFT, a design tool that models the performance of Solarwall air heating systems.
NRCan at NSTF
NRCan works collaboratively with Element Materials Technology (formerly Exova Inc.) to deliver quality services to clients testing their solar energy products at NTSF. Test equipment is owned by NRCan and operated under contract by Element.